Dressed in a cream-colored suit from Christian Dior, a matching blouse from Dolce & Gabbana and nude pumps from Christian Louboutin, one thing was missing from Melania Trump's State of the Union outfit: anything made by an American designer.
For a night where her husband, President Donald Trump, was revealing his plans for the country's future and confirming his nationalist point-of-view, Melania made quite a statement with her haute European suit. It was as if she was snubbing domestic designers, which stands in stark contrast to the president's decidedly "America First" stance.
Michelle Obama almost always wore frocks designed in the U.S. for her husband's State of the Union Addresses, save for 2014 when she wore a jacket and skirt by Azzedine Alaïa, who hails from France and Tunisia. In 2016 she wore a vibrant yellow shift dress by Narciso Rodriguez, an American designer born to Cuban parents; years prior she showed up at the United States Capitol wearing looks from Michael Kors, Isaac Mizrahi, Jason Wu and Barbara Tfank.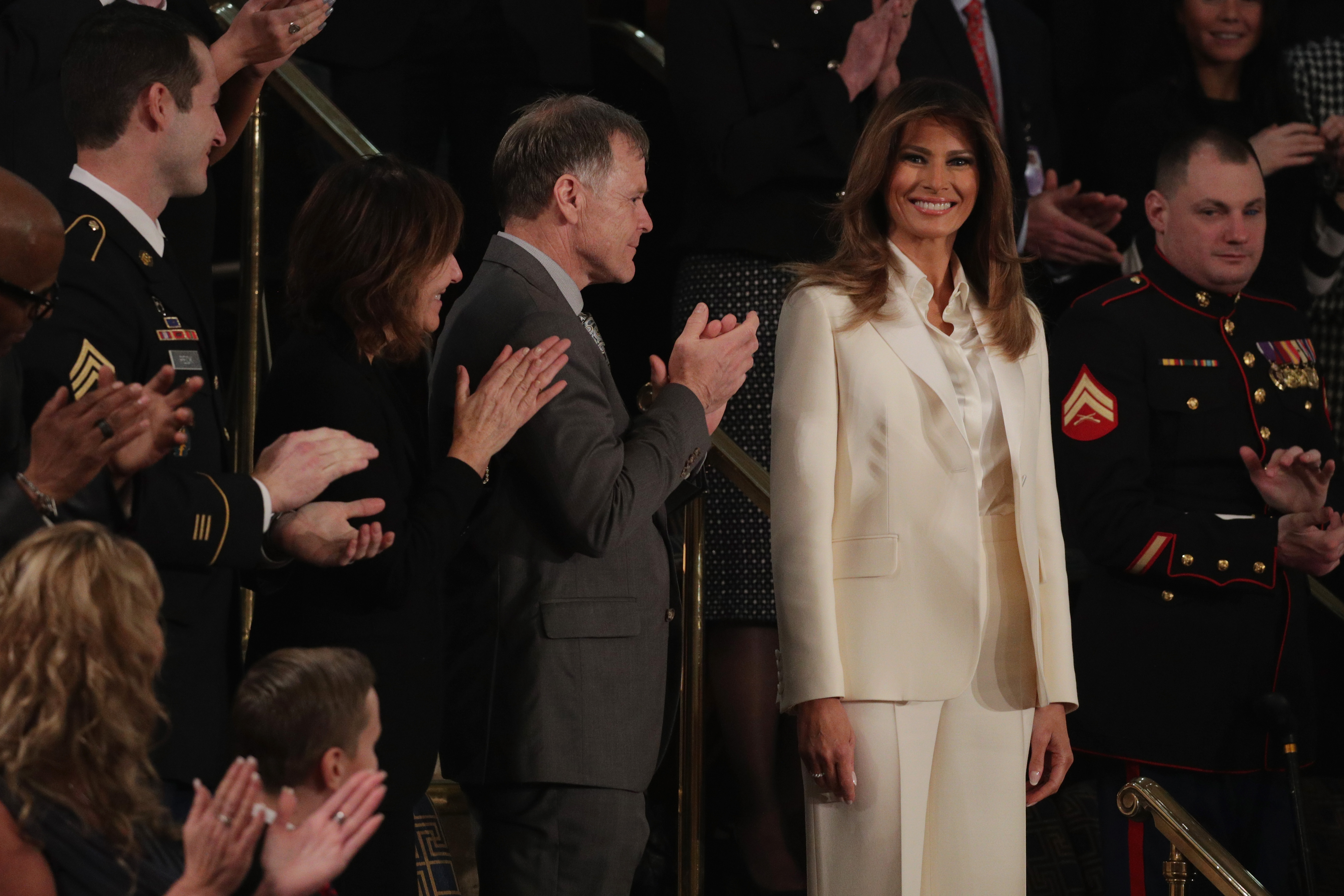 Melania's lack of national sartorial support isn't the only thing that got people talking. The New York Times pointed out that a pantsuit is Hillary Clinton's go-to look and that, in a way, Melania was supporting her husband's rival in the 2016 election. Others noted that her all-white getup stood in direct opposition to the black outfits worn by Democratic congresswomen; they chose to wear the somber hue in solidarity with the #MeToo movement. On the other hand, the GOP congresswomen agreed to dress in shades of red, white and blue in support of the troops, so it could be argued that Melania's Dior suit was her way of supporting the GOP.
Considering her decision to wear a symbolic pussy-bow blouse during the presidential campaign, snakeskin stilettos to a flood zone and a $10K Michael Kors suit to the Joint Union of Congress, Melania sure knows how to wear an outfit that will spark conversation—and controversy.