Michelle and Malia Obama went on a mother-daughter trip to Miami. Click through to see inside their hotel.
Four Seasons
Barack Obama skipped this one.
Four Seasons
The pair reportedly stayed at the Four Seasons at the Beach Club in Surfside.
Four Seasons
It's comprised of just 77 rooms.
Four Seasons
They spent plenty of time on the beach.
Four Seasons
The hotel opened in 2017.
Four Seasons
There's an amazing spa.
Four Seasons
Malia Obama is making the most of the final days of her winter vacation.
The Harvard student jetted far away from the frigid northeast temperatures, enjoying a mother-daughter trip to Miami with Michelle Obama.
The entire Obama family has gone on plenty of envy-inducing vacations, especially the former president and first lady—never forget when Barack Obama became a true Instagram husband aboard David Geffen's yacht.
The family went on their usual trip to Hawaii for the holidays, but this Miami jaunt looks like it was a girls-only getaway. The younger Obama daughter, Sasha, wasn't there, but perhaps she's already back in her high school classes.
https://www.instagram.com/p/Bd9ItG-Hlem/?taken-by=the_obamas_
The pair spent the weekend partaking in normal mother-daughter activities, per Page Six, like lounging on the beach at their luxe hotel, the Four Seasons at The Surf Club, albeit accompanied by plenty of Secret Service and Obama's former senior adviser, Valerie Jarrett.
They opted to stay at this Four Seasons in the more low-key locale of Surfside, as opposed to a more scene-y South Beach destination.
Architect Richard Meier designed the hotel, which opened in 2017 and is comprised of 77 guest rooms, including 72 tower rooms and 5 cabana studios. The Four Seasons is actually composed of three towers total—two are private residences, and the other is the hotel.
The hotel encompasses eight acres, including 900 feet of beach frontage, which the Obamas made good use of. There are also three pools (family, quiet and cabana), in case the beach isn't your thing.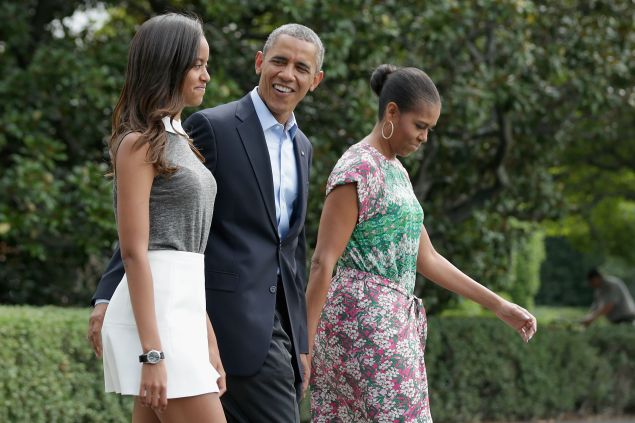 If the Obamas wanted even more relaxation, there's a spa with six treatment rooms and two cabana suites. The hotel is also home to Le Sirenuse Miami, but the duo didn't spend all of their time at the resort—they did make the drive to South Beach, where they dined at Prime 112 in a private dining room.
Michelle and Malia Obama left the hotel on Sunday with lots of bags, reports Daily Mail, but that doesn't mean they're finished with vacation altogether. After all, Malia doesn't start classes at Harvard until January 22, leaving plenty of time for another quick getaway.