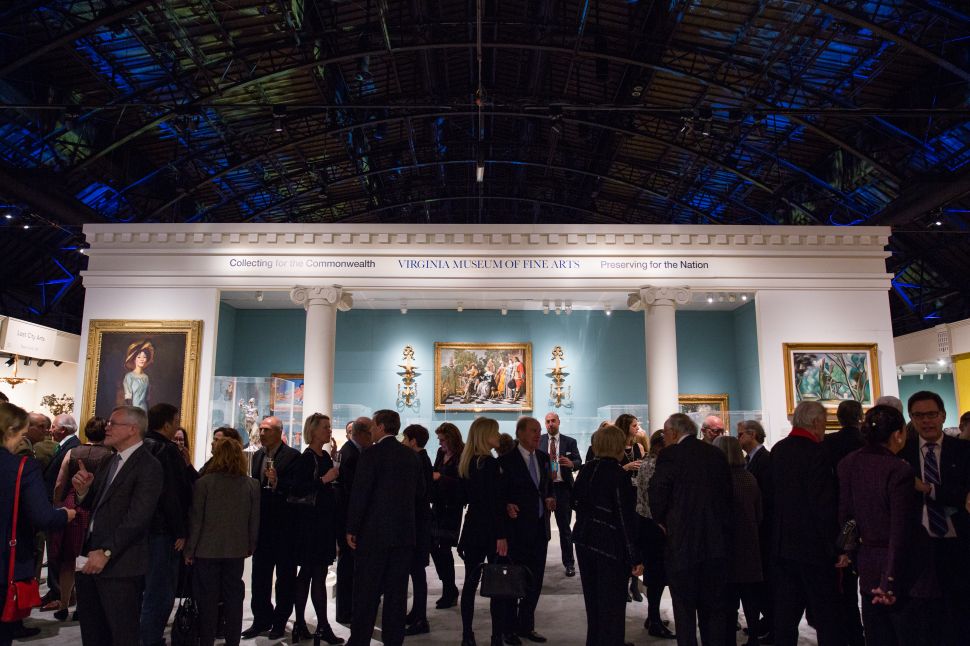 Each year, over ten days in January, Manhattan's Park Avenue Armory becomes steeped in history. It's where shoppers like Drew Barrymore and Martha Stewart snap up vintage home goods and assorted artifacts, but it's also where a younger set of aspiring collectors gather.
During last evening's 2018 Winter Antique Show Young Collectors Night, 20- and 30-somethings swilled champagne and wandered through rows of paintings, furniture, fine jewelry and other baubles from days of yore, all while DJ Brendan Fallis spun tunes by Drake and a cart of square pizza slices made the rounds. It's the type of party where the remnants of abandoned glasses are sometimes spilled on delicate rugs and discarded cocktail napkins are found crumpled atop 18th-century walnut bureaus. It makes for a striking contrast, and begs the question: Do these young partygoers actually purchase any of these sought-after treasures while they're wandering about? Or are they just showing up for the free-flowing bubbly?
It's a query that has beguiled exhibitors—and also led them to adapt. "The show has certainly evolved over time to incorporate 20th-century material," Laura Doyle of Chubb Insurance, which sponsors the festivities alongside Brooks Brothers and Benjamin Moore, told Observer. "Young collectors are turning to contemporary and emerging artists as their preferred genre, but there are still many of them who appreciate the value and history of the pieces showcased here."
The intimidating 55,000-square-foot space can be daunting for newcomers and young patrons alike thanks to the equally formidable price tags, but this time around, available lots had been made more approachable through a color-coded sticker system. Anything with a red dot would ring in under $3,000, while green dots asked for $5,000 and under and any items displaying a purple dot were under $10,000. However, 27-year-old collector Robert Khederian advises his fellow patrons to throw caution to the wind, stickers be damned.
"Don't think that you can't start collecting unless you have a certain amount of money," the born and bred New Englander, who grew up antique hunting with his parents at auctions and roadside shops, told Observer. "I find all of my pieces at auction, where prices tend to be more accessible and the pieces are quite varied. Research local auction houses and start following them. Then, if they have a preview for an auction—even if you don't think you're going to buy anything—go and take a look at the pieces to familiarize yourself with them in person. Open up drawers in dressers! Check glassware for labels. Handle the antiques. Start to get a feel, literally, for the pieces so you can figure out what you like."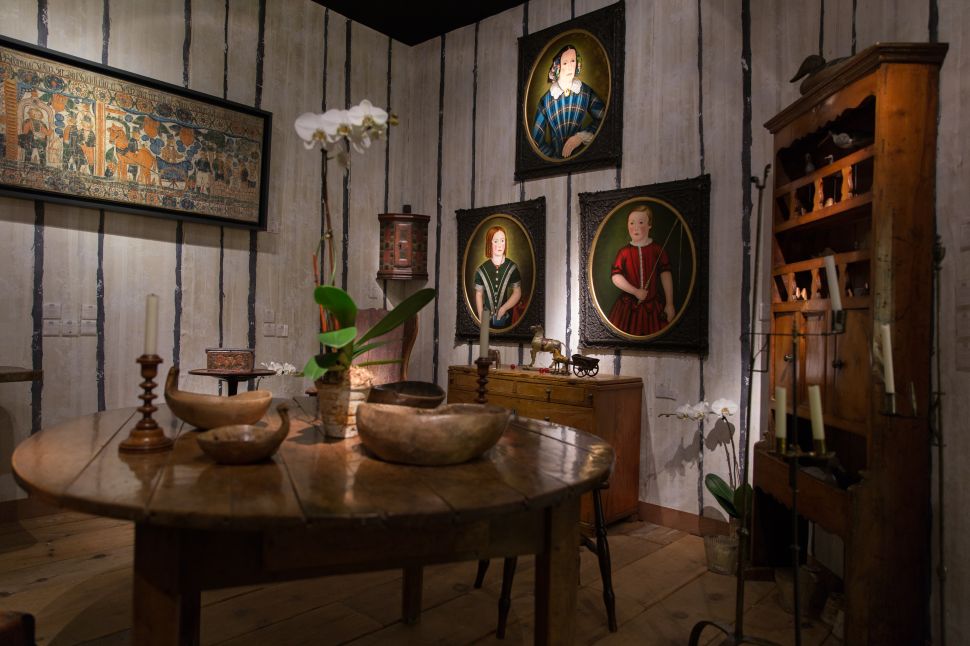 For 24-year-old Madeline O'Malley, the night is both a chance to scout for inspiration and take home a small item or two for her downtown apartment. "I'm obsessed with the pair of 18th-century German beadwork plates at Cove Landing," she said, before revealing her pie-in-the-sky splurge. "Also, I read the Bunny Mellon biography over the holidays and now consider owning Paul Mellon's collection of Country Life magazine quite necessary."
The set of ivory leather-bound tomes, dating back to 1897, are ornamented with the Mellon family's Oak Spring Farm estate logo, and thanks to Thomas Heneage Art Books in Booth 71, can be yours for a cool $250,000. For now, it would remain on O'Malley's wishlist. "A great collection is edited," she advised when asked to share her long-term strategy for young collectors. "Inside every mediocre collector lies the looming fear of a Hoarders special episode."
Of course, there are rare birds like Guy W. Tunnicliffe III, whose personal collection includes a slew of standout items that have been either inherited or acquired over the years, including a Chippendale sofa, chairs from the former Southampton estate of Anne Eisenhower and a pair of one-off silver gelatin prints of Yousuf Karsh portraits depicting Winston Churchill and General Eisenhower. It's an impressive assortment for anyone, let alone a 26-year-old, but it's Manhattan's race for space that keeps him in check.
"Fortunately, I have a limited amount of space in my current apartment, meaning I have a very realistic idea of what is feasible to fit, let alone afford," he explained. "But with that said, one of the greatest pleasures of the show is having access to, and developing relationships with, some of the top dealers in the country. These are the experts in the field, and they're excited to share that knowledge. They're people who are happy to help cultivate a new generation of informed collectors—not to mention future clients."
But it was 28-year-old Catherine Smith, the founder of the fashion e-commerce site Plan de Ville, who summed it up best when speaking to viewers of her Instagram Story as she panned over a glass case full of diamonds. "One day when I'm a grown-up, I'm going to collect vintage, beautiful, Art Deco diamond bracelets," she quipped. "But until then, I'm just going to come to Young Collectors Night to look at them."