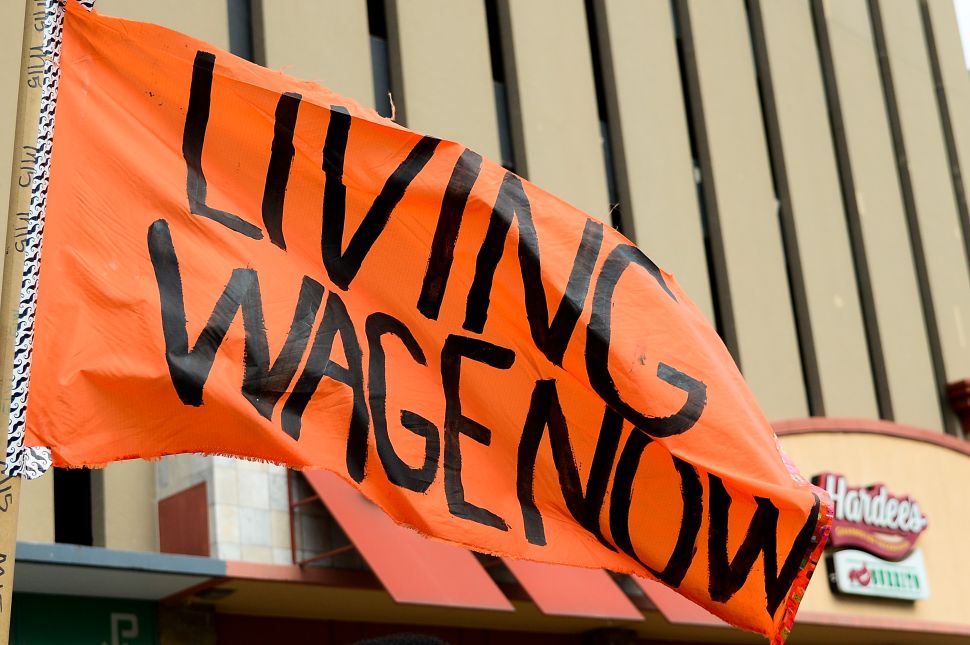 As the world rang in the new year, minimum wage workers in 18 states were promised a pay raise. On one hand, the increase seems long overdue and a victory for wage movements like "Fight for $15." On the other hand, the news accentuates the stagnant wage level in the rest of the country, and, even in states with wage increases, their long-term impact on economy leaves much for debate.
The Economic Policy Institute (EPI) estimates that the 2018 raise will infuse more than $5 billion in the nation's payroll and benefit 4.5 million U.S. workers.
Among the 18 states that implemented the increases, 10 were pushed by legislative or ballot changes (Maine, Vermont, Washington, Michigan, New York, Rhode Island, California, Colorado, Arizona and Hawaii), and the other eight imposed smaller increases in line with inflation (Alaska, Florida, Minnesota, Missouri, Montana, New Jersey, Ohio, and South Dakota).
So, minimum wage in the rest of the country—32 states and the District of Columbia—are lagging behind inflation, which means the real wage is declining.
The need for a hike in minimum wages is obvious from the workers' perspective. The current federal minimum wage has stuck at $7.25 per hour since 2009. Although 29 states and the District of Columbia have raised local wages above the federal level, according to EPI data, they still fall far below the desired level.
"If it had kept up with productivity since the late 1960s, the federal minimum wage would be worth about $19 an hour in 2018," a December report by the EPI read.
The inflation-adjusted minimum wage reached its highest point in history in 1968. In today's dollars, it would equal $9.68 per hour, an EPI report shows. "Workers' productivity (how much a worker produces for a given hour of work) has nearly doubled since then. So, if we had increased the minimum wage along with productivity, the federal minimum wage would be about $19 per hour," Ben Zipperer, an economist at the EPI, told Observer.
Critics counter that the reference point of the 1960s is problematic for a capitalism society. "The Economic Policy Institute estimates begin with a Soviet-Maoist era premise that everyone is entitled to a 'living wage,'" Panos Mourdoukoutas, an economics professor at Long Island University, told Observer.
"The problem with this premise is that it disconnects pay from performance, turning business enterprises into welfare agencies," Mourdoukoutas continued.
In an op-ed for Forbes on Monday, Mourdoukoutas argued that a higher minimum wage would incentivize business owners to replace low-skill human jobs with artificial intelligence robots, a trend seen in big-box retailers like Wal-Mart and Target.
"Unlike welfare agencies, business enterprises do not have taxpayers to pay the bill. This means they have two choices: either pass the higher costs to consumers in the form of higher prices or substitute workers with machines," he told Observer.
"Raising prices is easier said than done, especially in highly competitive industries like the fast food and retailing industries. That's why replacing labor with machines is the only viable option. And we see it all over the retail and food industries."
Even tipped wage workers like restaurant servers aren't immune, because "full-service restaurants will be replaced by fast food chains," Mourdoukoutas said. "Just take a look at New York City, which is turning into a fast food land."
While the rise of artificial intelligence is inevitable, Zipperer said it's still too soon to fear the robots. "Expenditures on capital equipment like robots are actually a very small fraction of total labor costs at low-wage businesses. So, even if there a large incentive towards substituting away from human workers, the total employment effects don't amount to much, because capital equipment is a small part of business costs," he said.