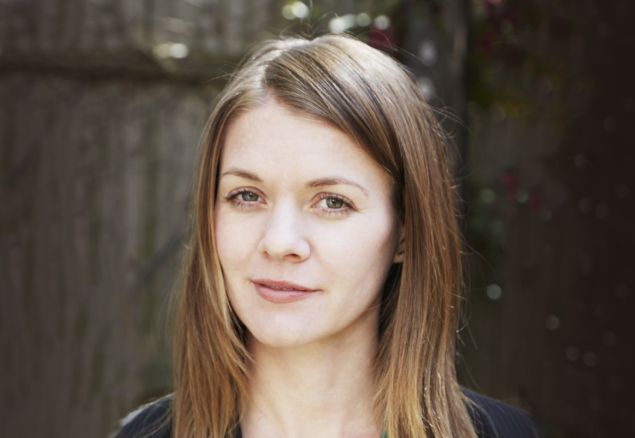 For spiritual healer Holly Star, the key to a peaceful home starts with what you bring into it—and with a new year upon us, clearing out the negative energy from 2017 is definitely a good idea.
Star, who counts Miranda Kerr as a devoted client, uses crystals, oils, elixirs and candles to create a holistic space at home, for both herself and her clients. "I began working with Miranda in New York City," Starr told Observer. "I only work through word of mouth, so I found her through mutual clients."
Star drew on her background in herbal medicine, flower and gem essences and energetic healing when launching Matter & Home, her home accessories and healing line, in 2013. The brand includes themed candles (such as Activate, Align and Balance) that are infused with essential oils and gem elixirs, as well as herbal medicinal boxes filled with special crystals (Spirit, Heart, Mind and Energetic) and clearing sprays.
Star, who describes her own home aesthetic as "minimal, simple, zen with a touch of the world," keeps a home in Florida, but is based in New York. The Florida house was built specifically to be a production spot for Matter & Home, Star told Observer. It's a "place to dream up new ideas. I like to fly there at least once every two months if my schedule allows," Star said. "Usually I am going from New York to L.A. a lot, so I try to sneak off and work on new ideas down there and get things moving for Matter & Home.
The celebrity healer spoke with Observer about how she creates a harmonizing, peaceful atmosphere and positive energy in her own home, the best ways to use crystals and how to clear out the negativity with healing.
What is the most important space in your home? 
I have two. One is my altar, for repose and centering, and the other is the bath, for similar reasons. [After] working long days with clients, these are the two places in my home that allow me to let go. I think the place where one can connect to themselves and their loved ones, is where a person can find well being.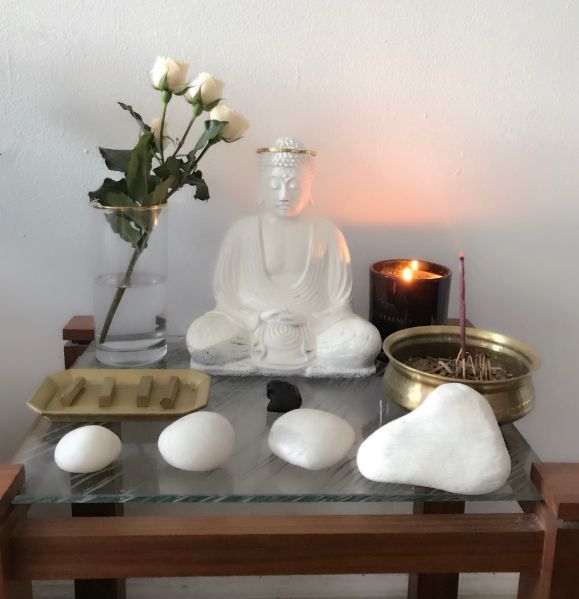 What's your favorite object in your house? 
A Quan Yin statue I have had for so long that she is falling apart. Out of all of my moves, even a house that was destroyed by fire, she is the only thing that survived. So she's my rock.
What inspired you to launch Matter & Home? 
I was traveling a lot with clients for my healing work, and wanted to give clients something to take home to build their practice when I'm not there. So I started creating meditational boxes and candles that were made just for them and their intentions.
How did you translate your meditation and healing ethos into the products?
My background is in herbal medicine and energetic medicine. I have also taught meditation for many years, so it was an easy translation into this form of making healing products. The herbal medicines and also energetic medicine are formulated for each area of need. For example, the Fearless products include frankincense for higher vibrations to create courage and sandalwood to ground. The Love products include jasmine to soften the heart to open, while ylang-ylang acts as an aphrodisiac and helps balance masculine and feminine energies. All products are paired with a depiction of a symbol and a word that holds the intention. We also offer prayers and wishful intentions for whomever burns the candle or sprays the medicine.
How were you first introduced to crystals?
It's kind of a silly story, but when I was a kid, maybe 13, I met someone who had a bunch of crystals and said we could astral travel with crystals. I thought he was nuts! I held all these crystals in my hands, and he did a guided meditation and I had the most powerful experience. When we were finished and I got up to collect my things, I couldn't believe it was four hours later. I then realized the power of crystals in conjunction with our own power and clear intention.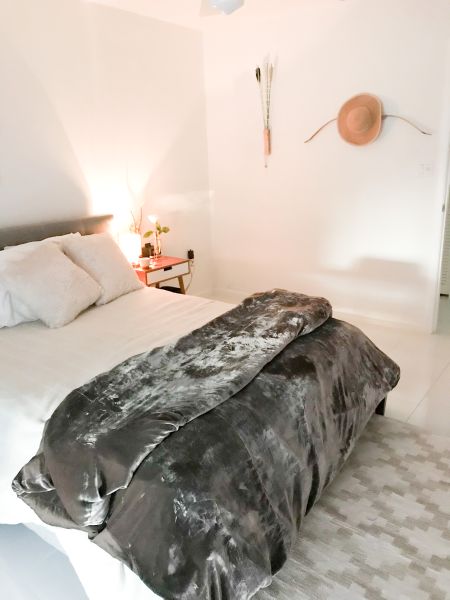 What crystals do you have in your home, for keeping an inspiring and healthy space?
I love keeping black tourmaline in my space, and think it's great for a healthy space to absorb lower frequencies. I also love amethyst to keep things high and lifted. I keep celestite by my bed for higher dreams, and yet staying grounded.
Are there crystals you keep with you at all times? 
I have a rose quartz, the stone of love, in my pocket a lot. When I am doing space clearing I keep a tiger's eye in my pocket and wear turquoise on my malas.
What do tiger's eye and turquoise help with?
I like to use tiger's eye for protection and I always feel like it is a telling stone. If I need to watch out for something or someone, it is like having another eye on the moment. Turquoise I always think of [for] wisdom, it's close to the heart but connected to the throat, so maybe more about speaking from your heart. I also feel like it is the old wisdom, so helps when speaking from a place of remembering.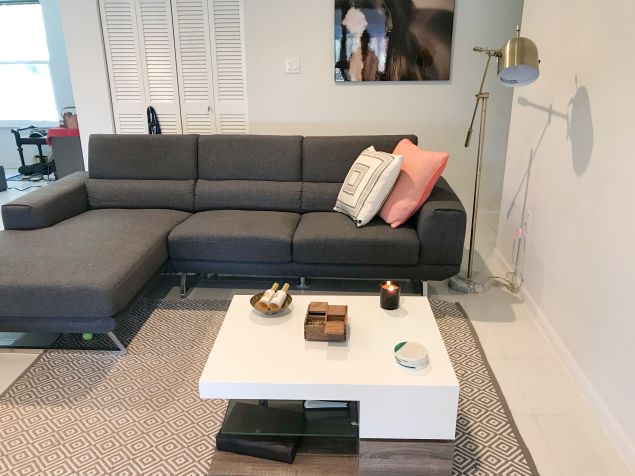 How should someone go about creating a peaceful, positive energy space at home?
I think to maintain a peaceful home, it is setting a tone and an intention, and noticing what you bring into your home at all times. It should feel like you, inspire you or an aspect you get to express yourself by. I like to renew things in my home even if it is something simple like flowers, pillows, things that kind of 're-start' the space. During that time I like to reset my intention of my home. I am also crazy with burning herbs and medicines. So I like to burn what's in season, maybe some rosemary to clear and purify, or rose hips and lavender to bring in softness and loving intentions for my home and self.