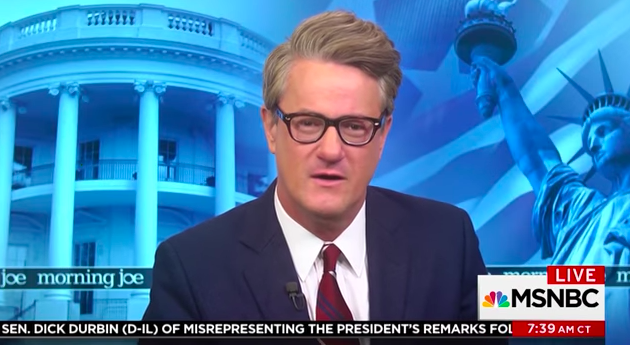 On Morning Joe on MSNBC, host Joe Scarborough merged the Cold War poetry of Bob Dylan with the bigotry of the current president by saying "a hard rain is going to fall on Donald Trump and the Republicans who enable this sort of racism."
Scarborough was referring on Martin Luther King, Jr.'s birthday to Trump's words last week in the immigration debate in which he compared the homelands of brown and black people to human feces.
"Shithole countries," Trump said of El Salvador, Haiti and all of Africa.
He wondered aloud why the United States couldn't get more immigrants from places like Norway. No need to mention that that European nation is filled with folks even whiter than the orange-faced, yellow-haired demagogue in the White House.
The feud between Morning Joe and Trump has been a constant of Trump's chaotic first year in the White House. It was spoofed with uneven results last weekend on NBC's Saturday Night Live. It flared again Tuesday morning. But it might have turned out much differently, according to author Michael Wolff in the hot hit book Fire and Fury.
In the second week of his presidency, Trump hosted Scarborough and co-anchor Mika Brzezinski at the White House and sought their approval and praise for his first days in office.
Scarborough said it was "a rough period," Wolff reports, what with the Muslim ban and the chaos and the protests and the confusion and the bigotry and what have you.
Wolff presents it as a fork-in-the-road moment. In Trump's game, flattery brings access. They wouldn't play.
"Trump, surprised, plunged into a long monologue about how well things had gone, telling (Steve) Bannon and (Reince) Priebus, with a gale of laughter, 'Joe doesn't think we had a good week,'" Wolff reports. "And turning to Scarborough: 'I could have invited Hannity!'"
Of course, Sean Hannity of Fox News Channel has become Trump's leading hand puppet and propaganda spout. Scarborough and Brzezinski are among Trump's fiercest critics, often questioning his ability, his morality and his sanity.
Their anti-Trump approach was mocked on SNL's opening sketch with Alex Moffat playing Scarborough and Kate McKinnon playing Brzezinski. The bit got off to a bad start when the "chyron" nameplate displayed for Brzezinski was spelled wrong as "BREZINSKI."
They spoke with author "Wolff" (Fred Armisen) of Trump holding "baby races" on the carpet of the Oval Office and betting on the black one. It went on for seven minutes, which felt like two too long.
The funniest moment was "Scarborough" interviewing "Eddie Glaude of Princeton" about race relations and asking one of his rambling questions that turn into sermons.
"Glaude" tried to speak three or four times but "Scarborough" cut him off.
"Great points," "Scarborough" said, ending the segment. "Thanks for joining us."
The worst moment was the emphasis on sexuality between the two co-anchors, who are engaged to be married. They discuss lunch plans on air.
"You gonna feed me my meat?" she asks.
Naturally, that creepy piece was featured on FOX (FOXA) News Channel when Hannity's show ended and Laura Ingraham's began at 10 p.m. Monday. Ingraham focused on McKinnon's portrayal of Brzezinski as a breathless, stunned female so horrified she's about to faint.
"I find that to be very misogynistic," Ingraham said, with sarcasm. "I find that to be very biased against women. Me too."
Hannity egged her on to mock Brzezinski. Ingraham complied.
"Trump is so upsetting!" she said, leaning to the right and flipping her hair. "It's not funny! It's not funny!"
The same could be said of Ingraham's impression of McKinnon mocking Brzezinski. Perhaps it will be funnier when people start imitating Ingraham.
What, pray tell, might they find funny about The Church Lady? Her militant religiosity? Her lack of civility to all who disagree with her? Or is it her bitter, anti-immigrant bigotry? There's so much there. As Ingraham herself might say, "Good Lord!"
Normal dialogue resumed Tuesday morning, on Morning Joe with little sarcasm but plenty of anger from Scarborough in a table-thumping rant that lasted 2 minutes and 30 seconds.
He denounced Trump's immigration and deportation policies while MSNBC showed a Detroit Free Press video of a Mexican-born man being deported from Detroit despite living there for 29 years.
Jorge Garcia arrived from Mexico at age 10. He works as a landscaper. He has a wife and two teenage children, all U.S. citizens. They were OK under Obama. Under Trump, their lives were overturned. They were weeping at the airport as stern ICE agents stood by.
After saying Trump was "spewing out racist comments," Scarborough said Trump "wants to keep out people who are not white." In addition to blocking justice for the DACA Dreamers, Trump has urged deportation of even undocumented immigrants like Garcia who have lived here a long time without crime.
As if exhorting volunteers at a campaign rally, Scarborough urged Democrats to use Trump's words and deeds to attack Republican candidates in the November mid-term election.
"Stand up and have a spine," Scarborough, a former Republican congressman, urged Democrats. "Talk about the president's racist comments for 24 hours a day… Show other images of family members being dragged away from their children."
The screen again showed the Garcia family hugging at the airport checkpoint while Scarborough cited the Republican Speaker of the House and the Republican Senate Majority Leader.
"This is Mr. Trump's America," Scarborough said. "This is Paul Ryan's America. This is Mitch McConnell's America. No! We're not going along with this."
He called Trump's immigration policies "craven and immoral." Heidi Przybyla, also on the M.J. panel, recalled an old Republican battle cry.
"Family values," she said.
Joe Lapointe spent 20 years as a sports reporter for The New York Times and worked as a segment producer for Countdown With Keith Olbermann—read his full bio here.