A year after President Donald Trump signed his first executive order barring entry to people from Muslim-majority countries—and amid a legal challenge to the latest iteration of the travel ban—Muslim and immigrant advocates, as well as elected officials, vowed to continue resisting the policy.
On Jan. 27, 2016, Trump signed his first executive order barring entry to people from Muslim-majority countries. Those countries were Iraq, Syria, Libya, Iran, Somalia, Yemen and Sudan. Thousands—including the New York Immigration Coalition, which is among groups leading numerous protests against the travel ban—flocked to John F. Kennedy International Airport to assist individuals from impacted countries and protest the ban.
Two days before Trump signed the fiat, the New York Immigration Coalition, the New York City chapter of the Council on American-Islamic Relations and other groups held an emergency rally in Washington Square Park that drew more than 10,000 Muslim and non-Muslim New Yorkers.
Last week, the Supreme Court announced that it will be taking up a legal challenge to Trump's third travel ban in the spring.
One year later, the New York Immigration Coalition and groups such as the Arab American Association of New York, the Islamic Center at New York University and HIAS, a global Jewish nonprofit that supports refugees, again gathered in Washington Square Park to mark the one-year anniversary.
Murad Awawdeh, the New York Immigration Coalition's director of political engagement, said the day after the ban was signed, more than 5,000 people made their way to JFK to help get the 12 to 20 people who were detained in the airport out.
The day after, 30,000 New Yorkers marched from Battery Park to DHS and back, he said.
"Twelve consecutive actions every single day after that ban [was] signed and every day, people kept showing up like you are today," Awawdeh said. "So we all have to take this moment to recommit ourselves. Last year's our year of resistance. This year's the year that we all rise together."
He also pointed to ongoing negotiations between Trump and Congress over a bipartisan DREAM Act, noting that there is currently a stalemate.
"They're discussing an immigration plan that is not an immigration plan that our communities will ever be able to live with because they are talking about destroying the fabric of families," Awawdeh continued. "The party of family values has turned it's back on its own values, and we're talking about ending family reunification, ending the diversity visa, criminalizing the 11 million people who are here undocumented and this weak thing they are trying to do is pit us against each other and that will not work."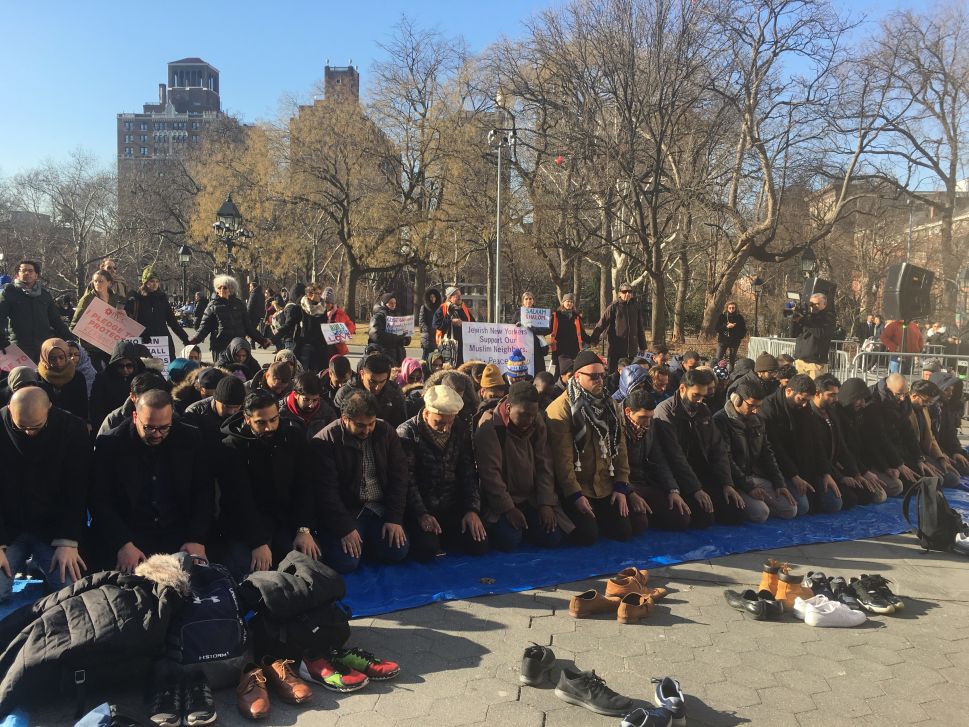 Speakers noted the ongoing fight for Temporary Protected Status, a program for people from nations experiencing humanitarian crises. Trump ended TPS for Sudan, Haiti, Nicaragua and El Salvador.
The New York Immigration Coalition also hosted a Jummah prayer—a congregational prayer Muslims hold every Friday—where Muslims were seen praying along with non-Muslims encircling them in a show of solidarity.
Brooklyn Councilman Carlos Menchaca, chairman of the City Council's Committee on Immigration, told the crowd he expects to have a tough job in the coming year dealing with the Trump administration's immigration agenda.
"The work we have in front of us is gonna be difficult and the kind of work and the kind of resistance is not just in Washington, it's in New York State in Albany and it's here in our own city," Menchaca said.
On Sept. 24, the third iteration of the travel ban included Chad, Iran, Libya, North Korea, Syria, Venezuela, Yemen and Somalia. Six out of those eight countries are Muslim-majority countries. On Oct. 17, two federal judges issued temporary injunctions, and on Dec. 4, the U.S. Supreme Court struck them down.
Mariyamou Drammeh, 21, a student from NYU who is Gambian and Muslim, told Observer she felt encouraged by the presence of non-Muslim supporters. She encouraged Muslims and non-Muslims to continue showing up and making their voices heard.
"We don't recognize how even that one phone call, that one presence at a rally can make a difference but it does," Drammeh continued. "So I think that's sort of how we have to operate moving forward, and we've been really successful in doing that [in] the past year, with rallies and people really responding quickly to things that are going on in the immigrant community."