It seems like every week a new report comes out about how, as a society, we are too consumed with our newfangled technologies for our own good. Watch an episode or two of the latest season of Black Mirror, and you'll find yourself tiptoeing around your toaster, fearing that even the most basic tech will turn on you in an instant. But before falling into despair about our impending dystopia, pause to consider the kind of privilege it takes to be paranoid.
The latest exhibition to open at New York's Cooper Hewitt Smithsonian Design Museum asks visitors to do exactly that. "Access + Ability," on view through September 3, showcases some of the latest design developments for people with physical, cognitive, and sensory disabilities. Through 70 objects—most of which have been created within just the last five years—the exhibition explores how simple design tweaks and considerations can make a huge impact on how we engage with the world around us.
"There's a lot more attention being paid to socially conscious design, especially when it comes to creating products for the disabled," Cooper Hewitt's director of curatorial, Cara McCarty, told Observer, noting this trend has been on the rise since the 1990s. Some of these design upgrades seem so simple that it's a wonder it took so long for them to hit the market, such as the Matthew Kroeker-designed Top & Derby walking cane with a silicone handle grip that is not only more comfortable for the user to hold, but stays upright when set against a wall thanks to the material's viscosity. Bonus: it has a sleek profile design and comes in a wide array of appealing colors.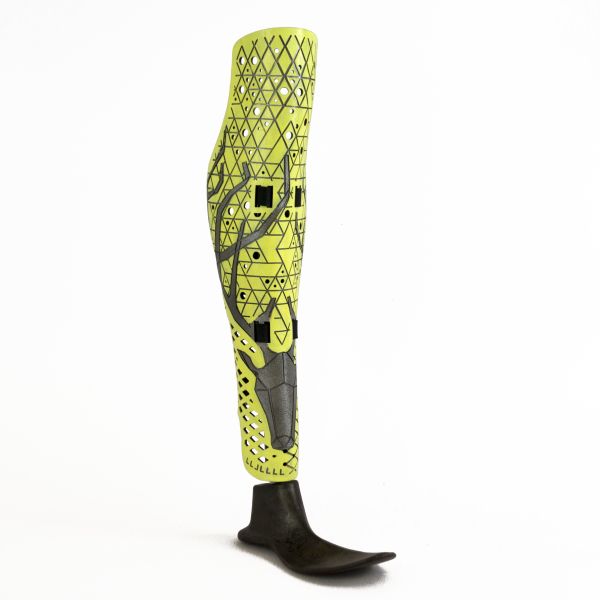 Even having a choice in color and appearance is a step forward, since some products can become a significant part of a disabled person's identity, according to McCarty, for better or for worse. "We all buy things based on their design, oftentimes to stand out; but when you have a disability, you often want to fit in."
Indeed, products created to meet the needs of disabled people have often focused on function over form. Take, for instance, hearing aids, which have long been cast as clunky pieces of (usually white) flesh-toned plastic. Last May, these devices were deregulated by the U.S. Food and Drug Administration in an effort to spur market competition and lower their often steep cost. But it's also prompted many new streamlined designs, including some that simply look like wireless earbuds and others that are Swarovski studded, becoming fashion statements in and of themselves.
More often than not, the advancements fueling these changes are facilitated by the very technological developments many of us spend time fretting over. Consider the BlindWays app created by the Perkins School for the Blind in Watertown, Massachusetts, which collects crowd-sourced data on bus stop geographies in Boston, noting potential hazards like wayward newspaper kiosks for those with sensory or mobility impairments.
Perhaps some of the most impressive advancements are evident in wearable technologies. The Wayband, developed by the Brooklyn-based company Wear Works, uses a haptic vibration technique to alert the user to objects in their immediate surroundings. Just months ago it helped a blind runner compete in the 2017 New York City marathon. Others, like the SoundShirt by CuteCircuit firm in London, is a long-sleeve tee that transmits vibrations across the body in response to music so that hearing-impaired concert-goers can experience sonic events in real-time.
Other objects in the exhibition, however, are more mundane. But that doesn't mean the designs behind them are any less seismic. Consider the revamped voter booth, designed for Los Angeles County by IDEO in 2015 and to be debuted across the country in the 2020 election, which is wheelchair accessible and boasts a large touchscreen ballot that can be displayed in numerous languages. "It really shows how more inclusive design can benefit everyone," said McCarty, adding that inclusivity is what "Access + Ability" is ultimately about since.
"For so long, there was a focus on what people with disabilities couldn't do," she said. However, with the aid of new technologies, product design is reaching a point where it can better underscore what people can do. "It's ultimately about enabling each and every one of us to reach our full potential."
Margaret Carrigan is a freelance writer and editor. She planned to go to law school but she did terribly on the LSAT, so she got a master's in art history instead. She lives in Brooklyn with her cat, who is named after Alyssa Milano's character from the early aughts CW smash hit series Charmed.