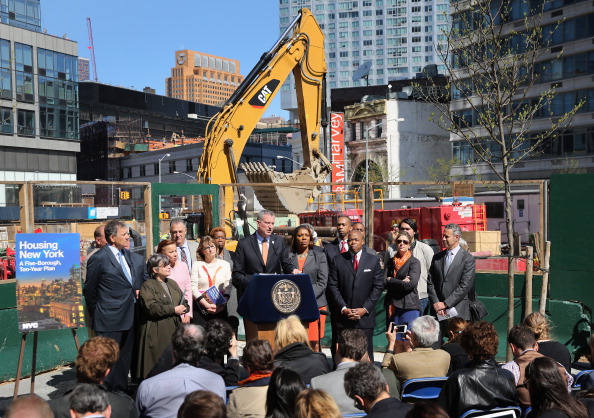 New York City created or preserved more than 24,500 affordable homes in 2017—the largest number of affordable homes the city has built in any given year in nearly 30 years, according to Mayor Bill de Blasio.
Last year, the city created or preserved 24,536 homes, de Blasio told reporters at Cypress Hills Senior Residences in Brooklyn on Tuesday morning. The de Blasio administration broke an all-time record previously set by the late former Mayor Ed Koch in 1989. That year, the Koch administration funded more than 23,100 affordable homes.
Of the 24,536 apartments the city financed in 2017, 17,359 were preserved and 7,177 were new. Nearly half of the homes—48 percent—serve individuals making less than $33,400 a year, or $43,000 for a family of three. In the past four years, the city has financed 87,557 affordable apartments, the mayor noted.
A week after winning reelection in November, de Blasio released a new roadmap for building and preserving 300,000 affordable homes by 2026 after exceeding the initial goal he set in 2014 of building 200,000 affordable homes by 2022.
"I am very happy to report that in the year 2017, we financed the most affordable apartments in the history of New York City in any one year," the mayor said.
He noted that four years ago, his administration understood there was an affordability crisis that had to be confronted and that it would take a "very big and ambitious plan to confront it."
"The plan we put together was audacious, it was meant to be a stretch goal from the beginning, and we intended to meet that goal," de Blasio continued. "I will tell you there were many naysayers, there were many who said the goal was too ambitious… but we persevered."
The new plan, "Housing New York 2.0," is a revised and expanded housing plan.
The proposal will create more homes for seniors by using underutilized public lots and making affordable housing accessible to seniors and people with disabilities. It will also help nonprofits buy at least 7,500 traditional rent-stabilized apartment buildings and maintain affordability for residents to protect against displacement amid gentrification.
Brooklyn Councilman Robert Cornegy, who was recently named chairman of the City Council's Committee on Housing and Buildings, referenced the late Dr. Martin Luther King, Jr.'s Poor People's Campaign, which King launched in 1968 to fight for economic justice for poor people in the United States.
"As you all know well, we are in the midst of an affordability crisis in New York City," Cornegy said. "For many New Yorkers—especially New Yorkers of color—this crisis has forced them out of the neighborhoods they were raised in and for some, it's forced them out of housing altogether. But today, with our mayor, we pause to take stock of the important progress we've made as a city ensuring all New Yorkers will be able to afford to call this city home for years to come."