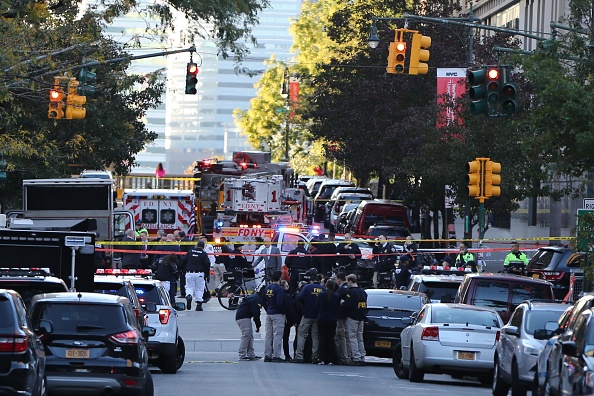 New York City is spending $50 million on installing 1,500 security bollards throughout the city in an effort to prevent vehicle terror attacks and ensure tourists' and New Yorkers' safety.
Mayor Bill de Blasio and the city's Security Infrastructure Working Group unveiled plans on Tuesday to install permanent perimeter barriers, known as bollards, around prominent sites and come up with a process for streamlining their design and construction.
The administration will double its $7.5 million commitment in the September Capital Plan for permanent bollards in Times Square and commit more than $50 million to start the rollout of new protective measures in public spaces, including 1,500 new bollards as part of an initial installation phase.
De Blasio told reporters on Tuesday afternoon that New York City is the safest big city in the United States but acknowledged that more work must be done.
He referred to the truck terror attack that claimed eight lives at the end of October as well as an attack in May in which a Navy veteran who was said to be under the influence of drugs rammed into pedestrians in Times Square, killing one.
"We know, though, we have to keep working to make this city even safer, and we understand what's happened around the world, and we even saw some tragedies here," he said. "The horrible attack in November on the West Side and the tragic incident here in Times Square in May. We know we have to do even more to keep people safe."
The city conducted a review of how to best secure its streets and public spaces and formulated a plan of action. Over the past few months, de Blasio said, the city installed temporary barriers in key locations to immediately secure the areas "in light of these new trends we've seen."
Those barriers will be replaced with permanent fixtures under the new plan. The city previously installed metal bollards near the Times Square pedestrian plazas as part of a $50 million capital project completed in late 2016, and similar bollards will be added to other areas in Times Square as part of this project.
The Security Infrastructure Working Group will coordinate with agencies tasked with evaluating and approving bollard installations to carry out their reviews. The group includes the mayor's office, the NYPD, the Department of Transportation, the Parks Department, and the Office of Management and Budget.
The installation process includes procurement protocols and engineering reviews.
"We needed long-term solutions," de Blasio stated. "We needed permanent barriers. And [we believed] that they had to integrate into the life of the city. They had to still allow people to get around because these are some of the busiest streets in the world. People have to be able to get around, but they have to be safe at the same time. These new bollards will allow us to do that."
Police Commissioner James O'Neill said the additional safety bollards will allow the city to better protect many of its landmark locations and maintain order.
"It will also help us keep order as it relates to all the competing vehicular, bicycle or pedestrian traffic that defines our great city," O'Neill said. "We need to keep as many of our spaces as welcoming as possible."
DOT Commissioner Polly Trottenberg maintained that the agency is aimin to ensure everyone's safety.
"From DOT's point of view, we obviously want to make sure that these spaces are inviting, that pedestrians can flow, that people feel safe but can also enjoy the public spaces," Trottenberg said.
In November, Sen. Kirsten Gillibrand introduced legislation that creates a U.S. Department of Transportation grant program to provide grants to states and local governments for installing traffic barriers, including bollards, jersey barriers and planters. The legislation permits $50 million per year over the next decade to finance the grant program.