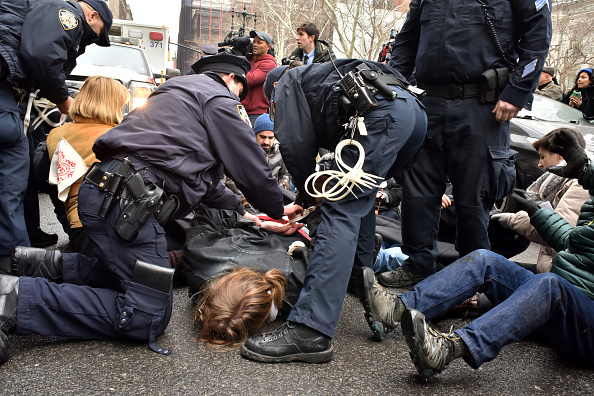 New York City lawmakers are demanding answers about alleged "collusion" between President Donald Trump's immigration authorities and the New York City Police Department in response to behavior witnessed during a recent rally for an immigrant activist.
They also vowed to ensure the city is a true "sanctuary city" for undocumented immigrants.
On Wednesday, Mayor Bill de Blasio said decisions on how to handle city encounters with U.S. Immigration and Customs Enforcement (ICE)—whether it is the NYPD, FDNY or other city officials—will now be made by a senior police department official. He maintained the city only cooperates with ICE if individuals have committed one of 170 serious or violent offenses and insisted ICE engaged in a "very purposeful and provocative action" at the rally in question.
NYPD Commissioner James O'Neill also announced an officer was transferred out of the Strategic Response Group—a rapid reaction force that deals with terrorist attacks, large protests and other emergencies—back to patrol.
While reporting to ICE for a routine check-in at 26 Federal Plaza on Jan. 11, Ravi Ragbir, executive director of New Sanctuary Coalition of NYC—an interfaith organization that helps undocumented immigrants fight detention and deportation–was detained. On Monday, U.S. District Court Judge Katherine Forrest ordered his immediate release.
At the rally, the NYPD arrested 18 people, including Brooklyn Councilman Jumaane Williams and Upper Manhattan Councilman Ydanis Rodriguez. Officers pushed Williams onto the front of a car and placed Rodriguez in a headlock. City Council Speaker Corey Johnson was shoved and said he saw ICE shoving protesters.
Queens Councilman Donovan Richards, chairman of the Committee on Public Safety, described what happened to Williams, Rodriguez and other protestors as "unacceptable" and a "violation of the [U.S.] Constitution."
"What we saw last week, which I believe was some collusion between ICE and the NYPD should have never been tolerated in a sanctuary city," Richards said during a rally in support of Ragbir at City Hall on Wednesday afternoon. "This cannot—we cannot be a sanctuary city on a piece of paper. We can't be a sanctuary city based on words. We have to be a sanctuary city based on deeds."
He noted the committee is holding a hearing on the NYPD's policing of protests "to get to the bottom line of this."
Brooklyn Councilman Carlos Menchaca, chairman of the Council's Committee on Immigration, told Observer he received the NYPD's protocols and will be coming out with a formal statement soon. He anticipates that the situation is "gonna get messy."
"I'm gonna continue to work with the speaker and all the colleagues here to make sure that we keep an eye on City Hall," Menchaca said. "That we keep an eye on City Hall to make sure that we get the resources that we need, that we make sure we have the oversight of all the laws that we passed that actually define the relationship between our police and the federal agents."
He recalled seeing the incidents that occurred during the rally.
"I watched as the gruesome, violent even, for public safety officers to be violent, I don't care what level of government you're in, that's wrong, and we're gonna call you out and we're gonna keep calling you out," Menchaca continued. "This is a sanctuary city because we make it, and it's the people who speak and it's the people who will continue to speak."
And he is working to ensure the preliminary budget de Blasio is set to unveil on Thursday has sufficient funding to "keep our communities pumping" with resources.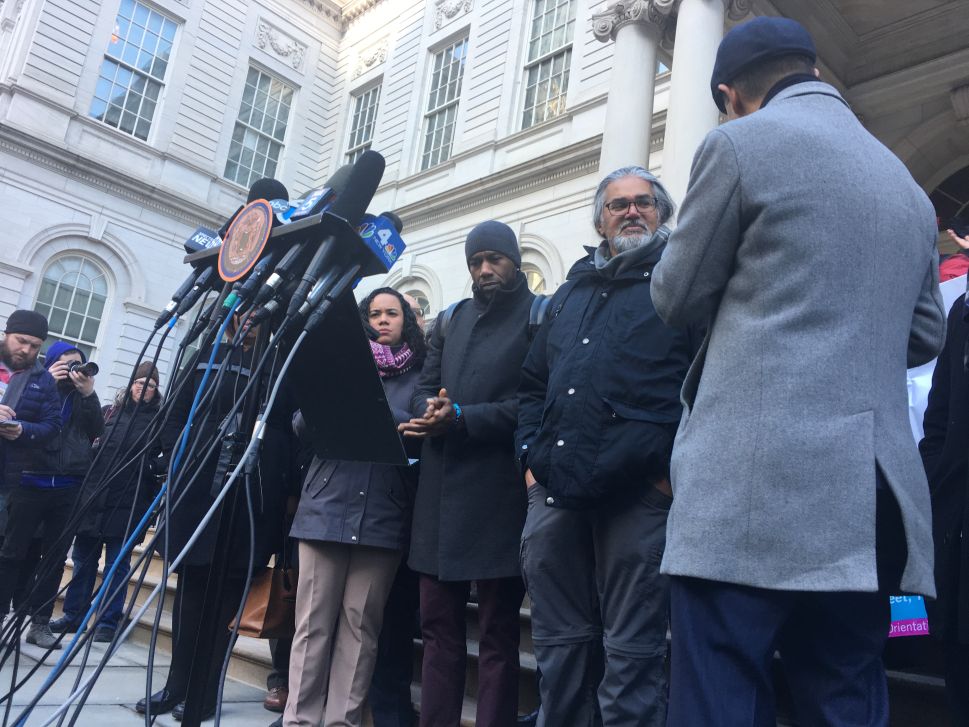 Ragbir said it is "evident" the goal is to take away all the leaders of the immigrant rights movement and create fear among immigrant communities. And he questioned the amount of resources used to "take me away."
"They had 20 people at the hospital looking at me, 20 people," he said, referring to his fainting upon learning he would be detained. "Half of them from the NYPD Strategic Emergency Response Unit. Why were they there? Why were they colluding with them? When they took me from the airport, they had 10 cars taking me, 10 vehicles. When they pulled up at the airport, it was like Fast and Furious in real life."
Williams said that he, Rodriguez and the City Council's Black, Latino and Asian Caucus submitted questions to O'Neill. One of those questions, he said, is what the officers were told when they responded to the scene. The NYPD said officers were trying to get to someone "who they thought was possibly having a heart attack."
"If the officers and Strategic Response Group are getting false information, someone can get killed," he said. "And so we have to know what were they told that particular day, what are they told on a regular basis, what is the chain of communication that happens on a minute to minute basis."
He also said there were no lights or sirens on the ambulance that took Ragbir away, indicating it was not an emergency vehicle but rather a van with passengers in it. He wondered why "so much force" was used to move people out of the way if that was the case.
"I will say it did start with the federal whatever they were agents," Williams added. "They [federal agents] started with the pushing, seemed like NYPD just got very much involved and swept up in that."
Williams argued the changes City Hall and the NYPD made were because "people got in the street" and should have been implemented before the incident.
"I am appreciative of some of the changes, but one, they should be communicating wth us," he continued.
Rodriguez said he hopes there will be no collaboration between the NYPD and ICE again.
"I hope that we can learn from this," he said. "We believe that the city has a great opportunity to be a role model to the whole nation."
When Observer asked about specific reforms they would like to see, Rodriguez said those questions would be answered at the hearing on the issue.
Ragbir, who got his green card in 1994, was detained by ICE for nearly two years when he was put in removal proceedings in 2006 for an old wire fraud conviction. He was released in 2008. In March, he staved off deportation.
Ragbir's next hearing is on Feb. 9, when the stay on his deportation could be removed and lead to his deportation.