From January 22 to February 9, New York heralds the joyous return of Restaurant Week, a semiannual tradition that allows fans of delicious food to dig in at many of the city's top restaurants, for a fraction of the usual cost. This winter over 375 eateries are participating, offering up three-course menus for just $29 at lunch and $42 at dinner. Many of this year's Restaurant Week venues boast significant public esteem and impressive critical accolades—and for nine restaurants on the list, these honors include a 2018 Michelin star.
If you want a Michelin-approved pick for Restaurant Week, here's where to go and what you'll find there. You might want to make a reservation now…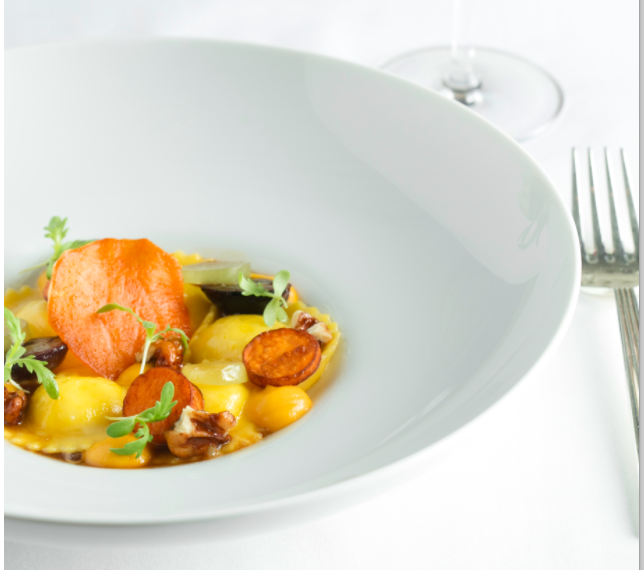 A slightly more casual offshoot of Daniel Boulud's eponymous French restaurant, Café Boulud provides beautifully-executed Franco-American cuisine that's ideal for a lavish post-museum bite. From now through February 9, they'll offer a Restaurant Week prix-fixe during weekday lunch service, serving seasonal three-course meals. Guests can select from options like Pâté de Campagne with whole-grain mustard, pickled vegetables and grilled sourdough or Swiss Chard Ravioli with pearl onions, mushrooms, and Madeira cream. There's also the Beef Bourguignon with bacon, carrot, mushroom, pearl onion and pomme purée.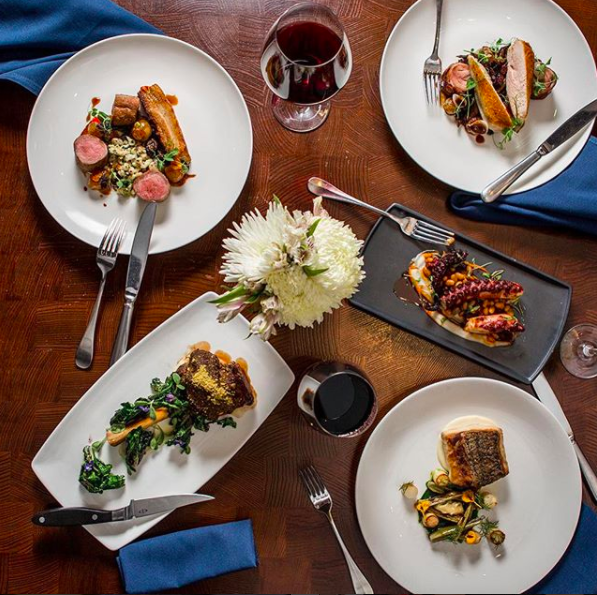 Chef Charlie Palmer is serving a three-course Restaurant Week menu for both lunch and dinner at The Liberty Room, the laid-back eatery adjacent to his fine-dining concept, Aureole. The available dishes include highlights from Palmer's celebrated New American repertoire, such as Brown Butter Sweet Potato Soup with pomelo-vadouvan granola, pickled Fresno chili and coconut crema, 48-Hour Braised Veal Cheeks with mustard greens, white polenta and roasted roots, and Winter Tangerine Cake with cranberry sorbet.
Pasta master Michael White dishes out upmarket Italian cuisine with Riviera influences at Ai Fiori, his elegant white-tablecloth restaurant in Midtown. Ai Fiori participates in Restaurant Week during weekday lunch service, and their prix-fixe menu contains delectable dishes like chicken liver mousse with apple mostarda and toasted bread, housemade tagliatelle with carbonara, and chocolate opera cake with caramel and white espresso gelato.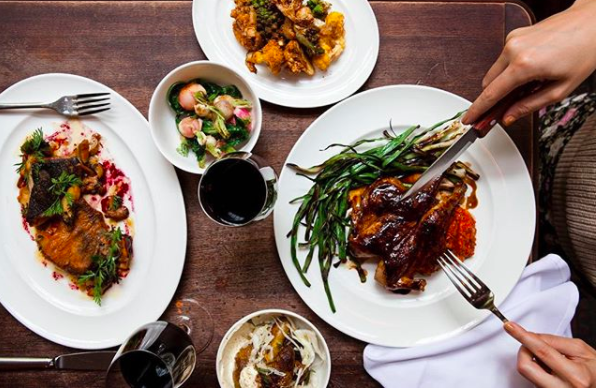 April Bloomfield's buzzy gastropub in the Ace Hotel gets into the Restaurant Week spirit during weekday lunch. Guests can dig into signature Bloomfield hits like Chicken Liver Toast with red pepper jelly, fennel seed and pickled greens, Venison Tourtiere with pickled red cabbage, and Curry of Guinea Hen with cauliflower, stewed greens and basmati rice.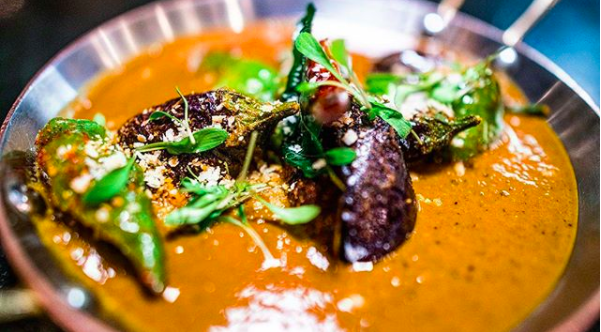 Indian-cuisine enthusiasts will have ample opportunity to enjoy a three-course Restaurant Week meal at Chelsea's Junoon, as this eatery makes its Restaurant Week prix-fixe available for both lunch and dinner, seven days a week. Junoon offers a range of contemporary Indian dishes for both vegetarians and carnivores, including Ghost Chili Murgh Tikka (made with tandoori chicken thigh, cabbage slaw, cashew puree), Baigan Mirchi Ka Salan (baby eggplant, tamarind, peanut, white sesame, long green pepper) and Mien Manga Curry (monkfish, roasted tomato, curry leaf, tamarind).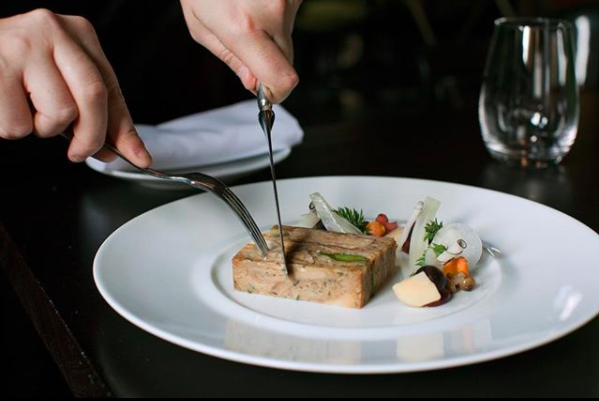 The Clocktower's Restaurant Week menu is a lunch-only affair available on weekdays, but it's still worth a trip to the restaurant that's housed in the New York Edition and helmed by Chef Jason Atherton and restaurateur Stephen Starr. Atherton's menu includes an appetizer, an entree and a dessert. An ideal meal? That would include Foie Gras Parfait with London stout glaze, lentils du Puy and toasted sourdough, Roasted Atlantic Cod with braised baby leeks, hazelnut, and chive hollandaise, and Creamsicle Panna Cotta with tangerine and yogurt sponge cake.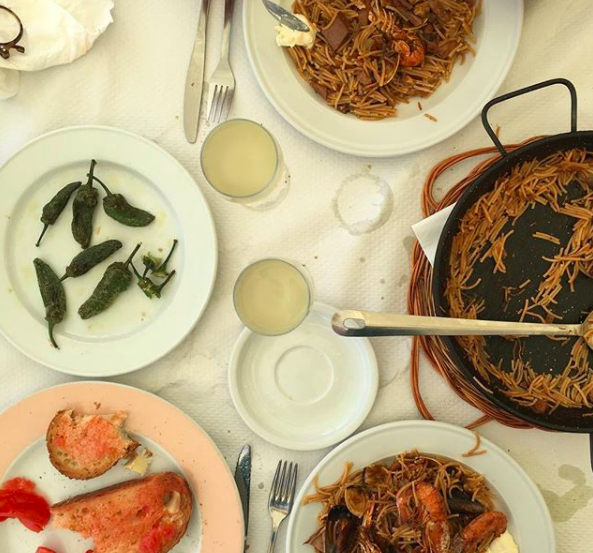 A beloved Spanish restaurant in Gramercy focusing on Catalan cuisine, Casa Mono participates in Restaurant Week during lunch, as does its sister tapas spot, Bar Jamon. Casa Mono serves dishes like Camarones en Aguachile (Gulf shrimp with shaved celery and cucumber), Pollastre Amb Samfaina (a Catalan-style chicken stew) and Arroz con Leche.
Chef Alfred Portale's legendary Modern American restaurant has delighted Greenwich Village diners for 30 years and during Restaurant Week, a lunchtime prix-fixe can be devoured for a pittance. Expect to indulge in hearty and flavorful items like Roasted Sunchoke Soup with poached Bosc pear and red wine reduction, Farro & Barley Risotto with cremini mushrooms, root vegetables, and dried cranberries, and Braised Beef Short Rib with Brussels sprouts, Thumbelina carrots, potato puree and red wine reduction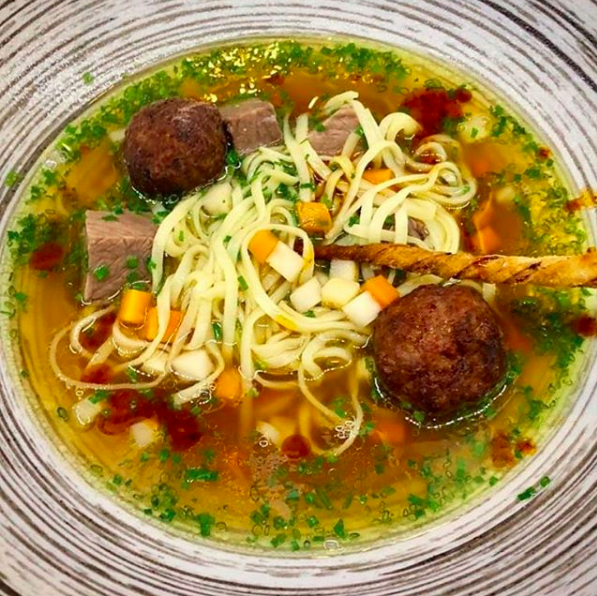 At his cheekily-named Tribeca restaurant serving modern European fare, Chef Markus Glocker makes a dinner-only Restaurant Week repast available to guests, with creative dishes that span the continent. Among the highlights, you'll find Viennese wedding soup with liver dumplings and brioche nockerl, pappardelle with fennel sausage, tomato, and red wine, and chocolate fondant with citrus sorbet.