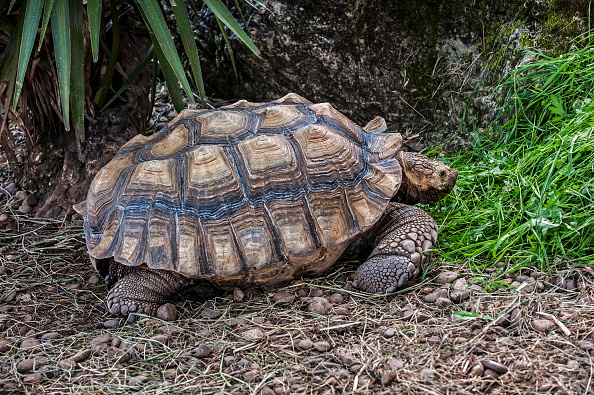 A New York City man is spending six months in jail for stealing a nearly 100-pound African-spurred tortoise worth more than $2,000 after attempting to trade it for a musk turtle in Connecticut.
On July 16, 2017, an employee at the Alley Pond Environmental Center (APEC) in the Douglaston section of Queens realized that Millennium, an African-spurred tortoise, had disappeared around 4 p.m., according to Queens District Attorney Richard Brown.
Staffers discovered a hole in the rear fence near the tortoise's area at the time of Millennium's disappearance, Brown said. The rare reptile was found in Connecticut and brought back to the park a week later.
The 95-pound reptile is estimated to be 17 years old and is worth approximately $2,500.
Shawn Waters, 37, of the East Elmhurst section of Queens, pled guilty to fifth degree criminal possession of stolen property in December, according to the district attorney. On Thursday, he was sentenced to six months in prison, The New York Times reported.
"Millennium the tortoise's summer escapade that included crossing state lines has drawn to a close with today's sentencing of the defendant," Brown said in a statement. "The rare reptile is safely ensconced in his habitat and now the defendant, who admitted to possessing the stolen tortoise, will be confined to Rikers Island for the next six months. This should serve as a warning to everyone that my office will pursue justice for all those in Queens County—whether they are warm- or cold-blooded citizens."
A Stamford, Conn. man posted an ad on Craigslist stating he was selling a musk turtle and a day later received a phone call from Waters seeking to trade the African-spurred tortoise for the turtle, according to Brown.
On July 23, 2017, the Connecticut man met with Waters at the Fairfield, Conn. Metro-North train station and traded his turtle and an extra $300 for the African-spurred tortoise, the district attorney said.
The following day, a detective from the NYPD's 111th Detective Squad recovered the African-spurred tortoise from the Connecticut man, who had read news reports about Millennium going missing, Brown continued. An APEC employee confirmed the tortoise's identity, and Millennium was sent back home.
Brown said that during a conversation with an NYPD detective, Waters admitted to speaking with the Connecticut man about exchanging reptiles and meeting with him to trade the tortoise for the turtle.