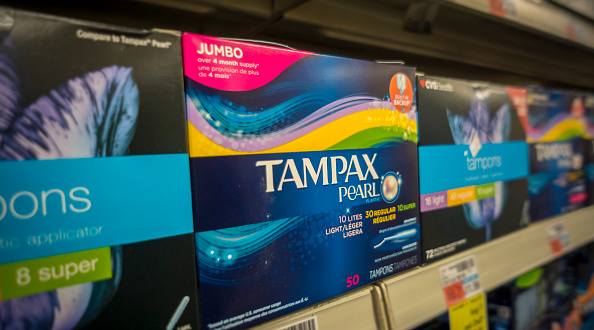 Gov. Andrew Cuomo wants all New York schools to offer free feminine hygiene products to young girls, which menstrual equity advocates hailed as a step in the right direction though urging deeper changes statewide.
As part of his 2018 Women's Agenda for New York, the governor announced on Monday that he will propose legislation mandating that school districts provide free feminine hygiene products in restrooms for girls in grades 6 through 12.
In New York, 42 percent of children live in low-income families, according to Cuomo. He noted that at $7 to $10 per package, a month's supply of a box of pads or tampons can be a large expense for struggling families. The United Nations has linked menstrual hygiene access to human rights.
"New York leads the nation in championing women's rights and breaking down barriers to equality, and that mission starts when women are girls," he said in a statement. "With these proposals, New York is demonstrating our commitment to empowering women throughout their lifetimes and showing girls that they can do anything. Our 2018 Women's Agenda will continue to raise the bar higher and higher for women in New York, beginning with policies to equalize the playing field for our youngest women."
In 2016, Mayor Bill de Blasio signed into law three bills that grant access to feminine hygiene products for all female Department of Correction Inmates, individuals living in a city shelters and youth under the care of some children's services facilities—including transgender, intersex and non-conforming New Yorkers—and public school students.
Menstrual equity advocate Jennifer Weiss-Wolf, vice president for development at the Brennan Center for Justice, told Observer that the city's laws go further than what Cuomo has proposed. But she noted that in 2016, Cuomo signed into law a bill that eliminates the local and state sales tax on menstrual products.
"I'd say the governor is off to a good start here and there's no data, there's no hard, empirical numbers on the impact on girls, of menstruation and access to menstrual products because nobody's paid attention to this issue for so long," Weiss-Wolf said. "There's research that had happened in other nations in India, in many parts of Africa but not here at home."
California and Illinois have new laws in effect that require public schools to provide menstrual products to students. Weiss-Wolf said it demonstrates bipartisan support for access to the products, noting that Illinois has a Republican governor, while California has a Democratic governor.
And Democratic elected officials in Virginia recently proposed bills that would increase access to the products for public school students and incarcerated women.
In August, the U.S. Department of Justice announced it will provide federal female inmates with access to tampons, pads and liners, after Rep. Grace Meng (D-Queens) and Queens City Council member Julissa Ferreras-Copeland wrote a letter to the Justice Department in 2016 requesting that the agency do so.
Still, Weiss-Wolf pointed to some areas where the state could improve access to feminine hygiene products. She urged Cuomo to ensure that all state entities provide access to the products.
"The New York State government has oversight of an entire host of agencies and facilities that serve low-income people in the state, everything from public benefits offices to public libraries… any place the state does have oversight of, menstrual products should be included and considered in all of those state budgets," she continued.
She also pointed to her book, Periods Gone Public: Taking a Stand for Menstrual Equity, which touches on the manner in which the issue of menstrual equity has become a political cause. She encouraged Cuomo to look into incorporating people's menstrual needs into existing laws.
"I'd ask the governor to look at the laws of New York State with that lens," Weiss-Wolf added. "He's already gone ahead and looked at the regulations that oversee what items should be required in school restrooms and determined that it's unfair and inequitable and menstrual products are not among them."
And she argued the general stigma associated with discussing menstruation is what has caused the lag in progress in the area of menstrual equity.
"Access to menstrual products is [an issue] we're trained not to talk about, but once we starting do so, not only do we discover that it's something that's universally experienced but especially… it's worthy of policy and systemic change," she said.
Sonia Ossorio, president of the National Organization for Women's New York, told Observer that it is "absolutely empowering" for girls to have access to free feminine hygiene products at school.
"This is a social justice issue for girls—here in the U.S. and around the world," Ossorio said in a statement. "No girl should miss school because they are unable to afford essential feminine hygiene products. By providing unrestricted access to free supplies, we are making sure that every girl, regardless of her family's income, is able to stay in class, and we're de-stigmatizing periods in the process. Menstruating is a fact of life—not something that should create educational barriers or shame."