After Gov. Andrew Cuomo announced his plans to study a regulated marijuana program in New York State, elected officials and advocates say they are hopeful New York will join a nationwide movement to legalize cannabis but expressed mixed views on whether Cuomo will be the driving force behind it.
In his $168 billion fiscal year 2019 budget, Cuomo included funding to conduct a study in conjunction with state agencies to look at the health, economic and criminal justice effects of legalizing marijuana. The study would also look at how marijuana legalization in neighboring states will affect New York.
Cuomo—who has opposed legalizing recreational marijuana—referred to New Jersey Gov. Phil Murphy's campaign pledge to legalize recreational cannabis and Massachusetts legalizing recreational adult use in 2016. He also pointed to U.S. Attorney General Jeff Sessions' recent announcement that the U.S. Department of Justice would revoke the Cole memo, which previously directed the Justice Department to permit states to execute their own marijuana laws with restricted federal involvement.
"If it was legalized in Jersey and it was legal in Massachusetts and the federal government allowed it to go ahead, what would that do to New York because it's right in the middle," he announced during his budget address. "But this is an important topic, it's a hotly debated topic—pardon the pun—and it'd be nice to have some facts in the middle of the debate once in a while."
Evolution of Legalization Movement in New York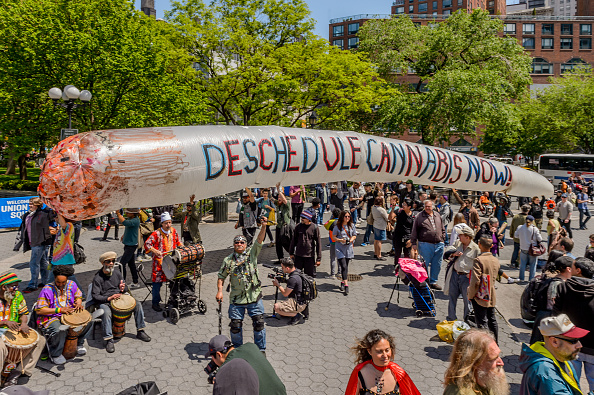 In July 2014, Cuomo signed into law the Compassionate Care Act, which established a medical marijuana program for New York. The law includes provisions limiting medical marijuana to patients with serious conditions. In November 2017, the governor signed legislation allowing medical marijuana for post-traumatic stress disorder.
On Monday, Vermont Gov. Phil Scott, a Republican, signed recreational marijuana legislation into law, though with "mixed emotions"—making Vermont the ninth state to legalize adult-use marijuana, joining Colorado, Oregon, California, Washington, Nevada, Maine, Massachusetts and Washington, D.C., which all have legalization on the books. Vermont's law will go into effect on July 1.
Proponents of marijuana legalization point to the numerous benefits to the economy, to individuals' health and to the criminal justice system.
By 2025, yearly adult-use and medical marijuana sales are projected to surpass $10.9 billion and $13.2 billion, respectively, according to a report by the Drug Policy Alliance (DPA). Financial analysts expect an industry value as high as $50 billion by 2026 in anticipation of more legislative shifts at the state and federal levels.
Colorado has now collected more than $500 million in taxes and fees from legal marijuana since retail sales started in 2014, the report found. And between January 2016 and March 2017, state and local governments in Washington and Oregon collected more than $80 million and $75 million, respectively, in tax revenue.
And there are more people in New York than in all three of those states combined.
The DPA report found that the implications for New York are significant. Illicit marijuana sales in New York are estimated at $3 billion, and an official study by City Comptroller Scott Stringer in 2013 found that potential tax revenue for the state would likely exceed $400 million, if an adult-use marijuana market was legalized in New York City.
"Right now, cannabis represents around 250,000 job opportunities across the U.S. the employment opportunity is just huge… New York is a leading state in terms of industrial hemp, and there is no reason why New York cannot become a leading state in regard to cannabis," Arnaud Dumas de Rauly, co-founder and chief strategy officer of Blinc Group, a New York City-based vapor and cannabis business incubator, told Observer.
And advocates pointed to the effect of legalization in surrounding states.
The legal market in New Jersey is projected to reach a possible value of $1.2 billion, and the state expects $300 million in tax revenue per year from spending by consumers in New Jersey, Delaware, Pennsylvania and New York, according to another report by the DPA.
"We are stuck in the middle, and I don't think that it's in New York's interest to become a barrier state where basically, like a Customs or Border patrol, you end up having to inspect every car coming from those legalization states into New York to see if they're carrying cannabis," David Holland, a litigation attorney and executive director of the Empire State chapter of the National Organization for the Reform of Marijuana Laws (NORML), said.
Advocates have noted legalization would address the issue of low-level marijuana possession arrests, which disproportionately affect communities of color, particularly in New York.
Despite similar rates of marijuana consumption across racial and ethnic groups, 80 percent of the nearly 23,000 people arrested for marijuana across New York in 2016 were black or Latino, according to the DPA.
"It's really not hard to make the case of why New York should legalize," said Shanel Lindsay, president and founder of Ardent, a Boston-based biotech and medical cannabis device company. "It is potentially the capital of cannabis arrests in the country, and when you look at who is being arrested, again you see the age-old tale of the majority of those folks being black and brown, and it is a very young population in New York that is being impacted. And New York has been notorious for heavy-handed enforcement of cannabis."
Encouraging Signs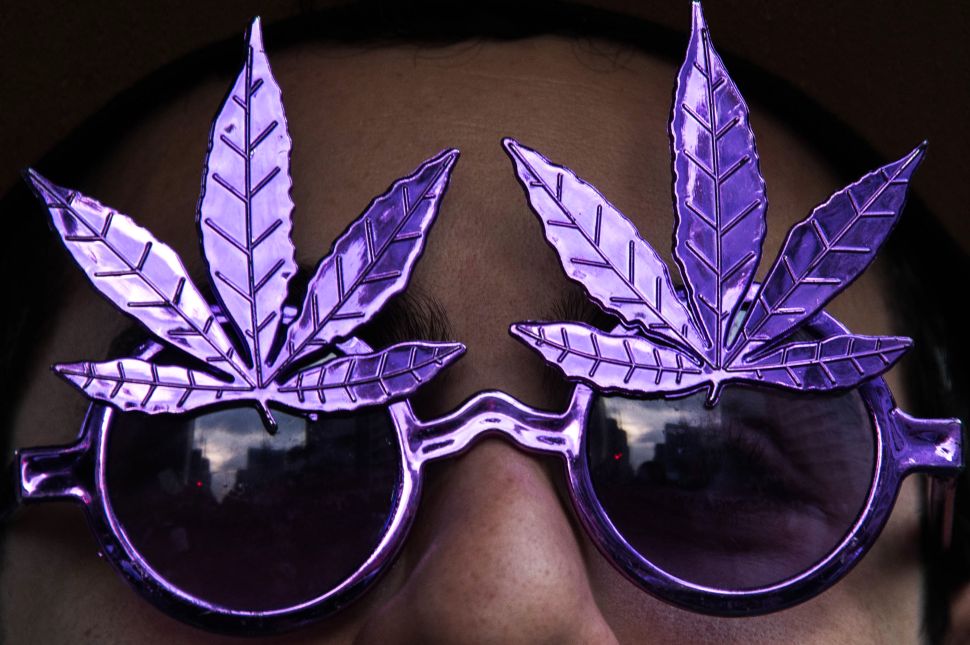 New York State Senator Liz Krueger—a Democrat and the Senate sponsor of the Marijuana Regulation and Taxation Act (MRTA)—told Observer that Cuomo's study is a "very good sign."
Krueger said the legislation, which would legalize, supervise and tax marijuana, has been amended to address concerns and that the Assembly had a hearing on it for the first time earlier this month.
She anticipates the state will save $300 million to $400 million a year on its criminal justice system and get $500 million in tax revenues with more than $2 billion worth of new economic activity. (She insisted on being "careful" with estimates since it has not been implemented in the state yet.)
She noted that 2018 is the fourth year in which she has carried the bill and that she has constantly reviewed and updated it based on what she has seen in other states.
"Originally, the governor was very, very clear: he would never consider marijuana legalization—either medical or recreational," Krueger said. "As we've seen, his thinking evolved over the years, and we have passed a medical marijuana law in New York State, and we have amended it and expanded it since that time."
Indeed, she always believed "that would be the path New York would take."
"First, adjust to medical marijuana, then move down the path to decriminalizing, taxing and regulating adult use and the fact that the governor has now—for I believe the first time—signaled he is interested in even having an evaluation by his own people of this issue, I think, is a huge step forward for New York State," Krueger continued.
The bill would remove penalties for personal possession, seal convicted individuals' offense records and vacate marijuana violations and public possession misdemeanors. It would also create thousands of new jobs, both directly and indirectly connected to the new legal market.
Melissa Moore, New York State's deputy director for the DPA—which has been working to fight marijuana prohibition for more than a decade—applauded Cuomo's move, arguing it "signals a shift from the governor" that is "long overdue."
She maintained legalization is "smart" for racial justice, for communities and for the economy, given the state's $4.4 billion budget deficit.
Cuomo's call for a study and the recent Assembly hearing on MRTA are both encouraging signs. Not to mention, a poll conducted by the DPA and the Marijuana Policy Project (MPP) last year found that 62 percent of New Yorkers support marijuana legalization for adult use, indicating "this is actually really popular across demographics," Moore said.
"I think at this point in New York, it's not a question of 'if' it will happen but 'when and how,'" she said. "There is momentum building from the grassroots on up to the legislature."
Skepticism Abound
Empire State NORML's David Holland pointed out that the timing of Cuomo's decision to explore the potential of cannabis legalization—during an election year—is probably no coincidence, as he has "already made himself known to be somewhat hostile to the idea."
"I'm a little dubious about his commitment because he seems to pay attention to these issues only when there's an election coming up and what he's done is put together a panel that he wants to study the issue and frankly there's no need to study the issue further," Holland said. "There are 28 other states that have implemented various types of legalization programs."
Ultimately, Holland contended, New York will not benefit from a policy of "continued prohibition."
"I think it will happen someday, but I'm not confident that it will happen under Governor Cuomo's watch," he continued. "He certainly will not be the one that is driving the course for it. That will just come by the vast majority of the legislature, not him. I'd like to believe differently, but his past practices have led me to believe that we're not likely to see a whole lot different than we've seen before."
Cristina Buccola, founder of a law practice that concentrates on the cannabis industry—who testified at the Assembly hearing—called Cuomo's plan "yet another unnecessary step to keep us from progressing forward."
She insisted the "heavy lifting has been done for him already," even maintaining she is "happy" to bring reports to him in Albany.
"In my opinion, it just seems like a covering-his-ass type of move," Buccola said. "It just seems like an unnecessary step, whereas we should be moving toward passing MRTA, and MRTA is amazing because it's one of the comprehensive [bills]."
She anticipates pushback but believes it will be passed if they have enough support.
"That would be really reflective of what I think New York stands for as a state," she continued. "Its inclusion, its diversity and owning up to saying… it is the right legislation to pass."
At the Assembly hearing, Buccola testified about Sessions' recent announcement, noting that Colorado U.S. Attorney Bob Troyer still abides by the memo.
"So it's still kind of this de facto guiding principle," she said.
Krueger pointed out that nearly every state that has legalized marijuana "got there" because they are referenda states.
"We're not a referendum state," she said. "We were never going to have that storyline."
Abbey Fashouer, Cuomo's first deputy press secretary, contended everyone "has an opinion, but not the facts."
"As Massachusetts and Vermont recently legalized recreational marijuana, as well as other states across the nation, the governor has directed DOH to undertake a study to understand the potential impacts on the criminal justice system, economy and public health," Fashouer said in a statement. "If any advocate is worried about the results of an objective analysis, I don't know what that says about them."
Glimmer of Hope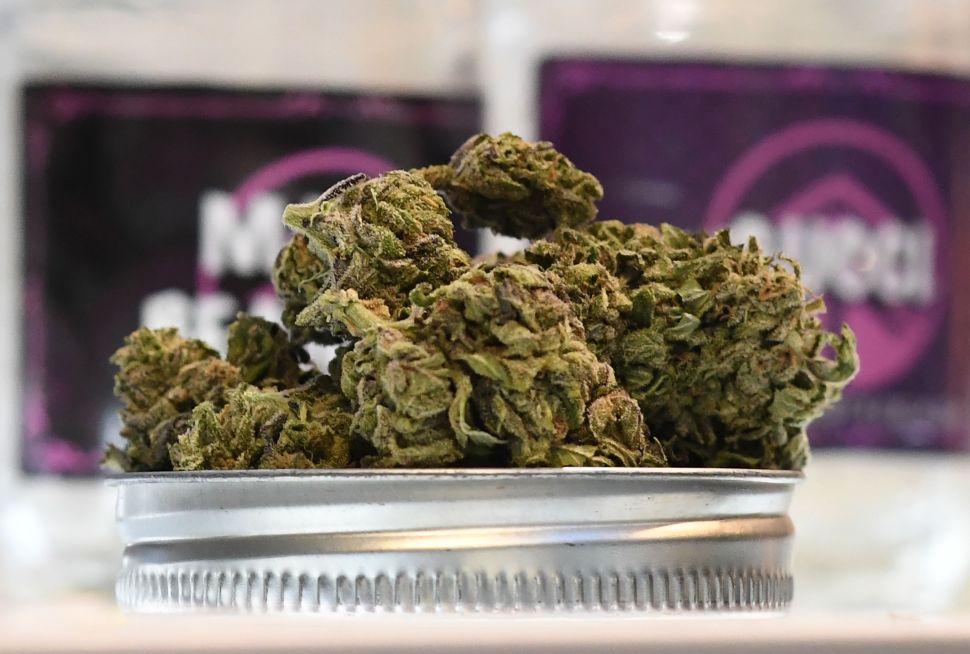 Ardent's Shanel Lindsay, a member of the Massachusetts Cannabis Advisory Board which drafted Massachusetts' adult-use cannabis law, told Observer that she "absolutely can understand" the skepticism but believes any movement forward is a "positive sign."
She noted Massachusetts Governor Charlie Baker, a Republican, was initially against legalization.
"It could have caused some issues, but instead, he said 'this is what we're doing here, and we're gonna keep moving forward with that,'" she said. "And this is someone who clearly came out and said he does not think this is the right thing for the Commonwealth and was opposed to our campaign to legalize it."
She praised the bill currently pending in New York, saying that it is "very focused on that equity piece."
"I'm really hopeful that New York makes the right decision and keeps moving forward here, because they certainly have a good bill pending in front of them," Lindsay continued.
Legalizing recreational marijuana in the state, Arnaud de Rauly explained, is like a "game of chess": starting with "first-mover advantage" and then figuring out how advocates, elected officials and pubic policy stakeholders fit "into the big game."
"I strongly believe that Cuomo's study is a strong first step," he said. "On the other hand, I also believe that it was a necessary step for his political advancement. Now, let's make the best use out of this."
While he agreed there are numerous studies, he argued politicians "can't be flipping over in terms of decisions all the way." He said the study "can't hurt" and that the industry should "try to be as impactful as we can."
He also suggested the state evaluate the medical marijuana program and said that Cuomo will likely have to take the study through "baby steps," so he does not alienate his entire voting population.
"We don't know the priority of this study in the governor's agenda, and we don't know exactly what means are going to be put behind this study," de Rauly said. "Are we going to ask universities, are we going to ask economists, how is this entire study going to be carried out? We don't have all the details yet. Right now, it's a positioning game."
Mayor Bill de Blasio maintained his opposition to marijuana legalization but has expressed interest in Cuomo's study, as well as opposing Sessions' move on the grounds that it violates states' rights.
"I don't think we're going to find that it's an ideal situation, but at the same time, we need to see what's working and what's not, so we can make an honest assessment," de Blasio told WNYC's Brian Lehrer last week. "So skeptical but willing to study."