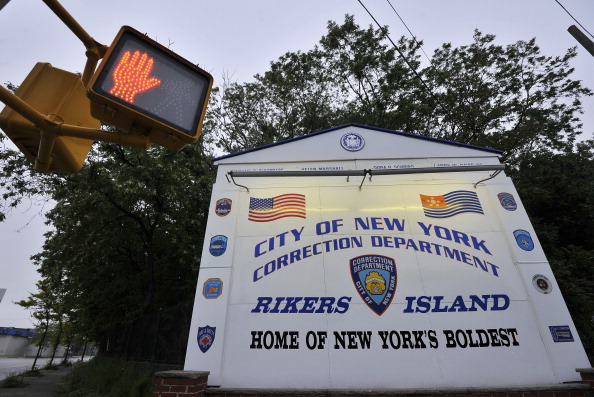 This summer, New York City is closing its first jail on the infamous Rikers Island detention complex, which has been ranked as one of the worst prisons in the United States, marking the first major step in Mayor Bill de Blasio's plan to close the jail complex in 10 years.
The Department of Correction is closing the George Motchan Detention Center, which currently houses roughly 600 men, reducing the number of operational Rikers Island facilities from nine to eight. The de Blasio administration said the closure is possible because the city's jail population dropped to below 9,000.
"Every day we are making New York City's jail system smaller and safer," de Blasio said in a statement. "This announcement is an important step in our plan to close Rikers Island and create more community-based facilities to better serve people in custody and our hard-working correctional staff."
There have been numerous reports of abuse and excessive force at the jail complex.
In August 2014, then-U.S. Attorney General Eric Holder and then-U.S. Attorney Preet Bharara found a pattern and practice of conduct at Rikers that violates the constitutional rights of adolescent male inmates. In its report to the city, Bharara's office said Rikers was marked by a "deep-seated culture of violence."
After Bharara announced his plans to join a federal lawsuit against the city in December 2014 over violence at Rikers, they reached a settlement in June 2015 in which the city agreed to comprehensive reforms, including the installation of a federal monitor over DOC.
New York City has the lowest incarceration rate of any large city in the United States, with an incarceration rate of 167 per 100,000 compared to 229 in Los Angeles, 252 in Chicago, 338 in Houston, and 784 in Philadelphia in 2016, according to the de Blasio administration.
De Blasio and Police Commissioner James O'Neill also recently noted that the number of reported homicides is down to its lowest levels since 1951 and frequently tout the city's status as the safest big city in America.
The closure will not lead to layoffs or a reduction in DOC uniformed staff. It will help DOC reduce overtime, offer key training and support, and strengthen staff in other areas. In the coming months, DOC will come up with plans for transferring uniformed staff and detainees to other facilities.
"Under Mayor de Blasio's administration, we have reduced our jail population by 21 percent and have helped make our jails safer," DOC Commissioner Cynthia Brann said in a statement. "We will continue building on our progress in reducing our jail population through programs that provide life and work skills that help individuals in custody re-enter our community."
At the end of March, de Blasio announced a plan to close the Rikers Island detention complex in 10 years and replace it with a borough-based jail system. City Council Speaker Melissa Mark-Viverito had encouraged him to do this, along with activists such as JustLeadershipUSA and Akeem Browder, brother of the late Kalief Browder, a young man who committed suicide in June 2015 after being jailed at Rikers for three years without trial and more than 400 days in solitary confinement.
Elizabeth Glazer, director of the Mayor's Office of Criminal Justice and co-chair of the Justice Implementation Task Force, said closing a jail "is one of the many steps toward modernizing our entire justice system."
"We are reimagining and reforming how jails function as we are safely shrinking the size of the population," Glazer said.
Activists and elected officials have urged de Blasio to close the jail complex in less than 10 years. Brandon J. Holmes, campaign coordinator for #CLOSErikers campaign, said the latest development is the first of many steps de Blasio has to take "if he is serious about shutting down Torture Island."
"We thank the thousands of directly impacted people who created the momentum leading to closure of a facility with over 2,000 beds," Holmes said in a statement. "Much more work remains, and we will not stop advocating and agitating until we #CLOSErikers for good."
Jonathan Lippman, the state's former chief judge whom Mark-Viverito appointed to head the Independent Commission on New York City Criminal Justice and Incarceration Reform, is also among the proponents of an earlier closure date.
"The sooner new, smaller, state-of-the-art jail facilities are designed and sited in the boroughs, the sooner all of the horrific jails on Rikers Island will be a thing of the past," Lippman said in a statement.