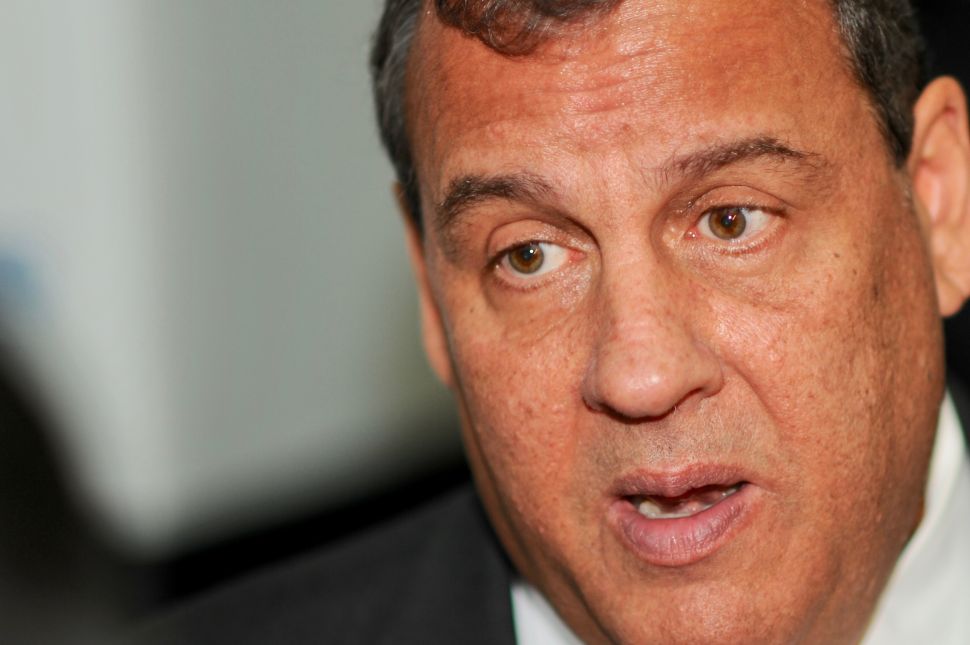 Former Gov. Chris Christie is still in the news, even as new Gov. Phil Murphy works to make his mark on the Garden State.
Christie spent one of his first nights as a man of leisure Wednesday enjoying the Bruce Springsteen show on Broadway, according to The New York Times. But on Thursday, the ex-governor was brought down to earth, and reportedly sent to the back of the line, when he tried to use a VIP entrance at Newark Liberty International Airport. Port Authority police told Christie he would have to go through the regular TSA screening line just like everyone else, Bloomberg reported.
State Democrats and Republicans were celebrating Thursday as Amazon included Newark among the 20 finalists for its new headquarters. The state is offering the online retailer a $7 billion package of tax incentives, and the city's boosters say Newark, with its proximity to both New York and Newark Liberty, has a good shot at being selected.
Gov. Phil Murphy got a lesson on Thursday about how harsh the spotlight can be for politicians—and their families. A published report focused on a hand gesture that the governor's 20-year-old son made while his father was being sworn in. Critics claim it's a white power symbol, while others pointed out that the OK hand sign is part of a game popularized by the old TV show Malcolm in Middle. While the move seemed deliberate, it could also have just been a nervous kid fidgeting. Watch the video and decide for yourself.
Quote of the Day: "We're the Republican Party, but we're not crazy. We are not crazy or extreme. We're reasonable," — Assembly Minority Leader Jon Bramnick, on the state GOP.
Independent Groups Poured $45 Million Into N.J. Races Last Year
The so-called "Big Six" state party and legislative committees were "out-gunned" by special interests in 2017, according to New Jersey's campaign finance watchdog.
Christian Hetrick, Observer Read more
Jon Bramnick: New Jersey Republicans Are 'Kinder' Than Trump
With former Gov. Chris Christie gone and Republicans holding slimmer minorities in the state legislature, Assembly Minority Leader Jon Bramnick tried Thursday to rebrand the New Jersey GOP.
Christian Hetrick, Observer Read more
Newark Makes List of 20 Finalists for New Amazon Headquarters
Days after New Jersey finalized a package of tax breaks intended to woo Amazon to Newark, the world's largest online retailer announced that New Jersey's largest city is among the 20 it is considering for its second headquarters.
The Record Read more
Newark Believes It Has a Real Shot to Score Amazon HQ
The news ricocheted across the city Thursday morning, blowing up in people's news alerts and urgent text messages: Newark was officially on the map.
NJ.com Read more
7 Reasons Why Newark Has a Shot at Winning Amazon
Newark has made it to the finals in the contest to be picked as the home of the second headquarters of e-commerce giant Amazon. And even though it's up against metropolitan powerhouses like Miami, New York and Boston, there are some good reasons why the odds could be in Newark's favor.
The Record Read more
On Stage Was Springsteen, in the Audience, Chris Christie
Three Jersey boys packed into Walter Kerr Theater in Times Square Wednesday night: a rock star, a former governor (as of Tuesday) and this reporter. What follows is what I saw, with apologies to Bruce Springsteen purists.
The New York Times Read more
Mortal Again: Christie Blocked at VIP Entrance to Newark Airport
Meet Chris Christie, former New Jersey governor and current nobody at Newark Liberty International Airport.
Bloomberg Read more
Chris Christie, Obamacare's Unknown Champion
The increasing number of people coming to the emergency room in hospitals across New Jersey is partly due to Obamacare, which added 880,000 people to the insurance rolls, the largest share being low-income folks who now qualify for Medicaid.
NJSpotlight Read more
Gov. Phil Murphy's Son Makes Controversial Hand Gesture as Father Is Sworn in
As Phil Murphy uttered the final phrase of his official swearing in as New Jersey's governor on Tuesday, his 20-year-old son flashed a sign with his right hand and made a quick glance into the audience.
NJ.com Read more
Phil Murphy: Don't Worry, Jersey, I Only Want Higher Taxes on Millionaires
Gov. Phil Murphy on Wednesday said most of New Jersey shouldn't be worried about higher taxes, saying his campaign promise to raise the millionaires tax truly means he's targeting millionaires.
NJ.com Read more
Murphy: 'No Gripe' with NJT Rank-and-File—Problem Is Leadership
On his first full day as New Jersey governor, Phil Murphy briefly clarified his December remark that NJ Transit is a "national disgrace."
NJ101.5 Read more
Tammy Murphy Hires Policy Director from N.J. Chamber
First lady Tammy Murphy has hired a policy director as part of her team in the new administration, ROI-NJ has learned.
ROI-NJ Read more
Is Murphy Backing Out of Giving Licenses to Undocumented Immigrants?
During his inaugural address, Gov. Phil Murphy ran through a number of issues that he hoped to address during his administration with at least one glaring omission.
NJ101.5 Read more
Murphy's Call for Legalizing Weed Meets Opposition—from Fellow Dems in Senate
Democratic Gov. Phil Murphy's plan to legalize marijuana for recreational use in New Jersey is facing some opposition from state lawmakers within his own party, as well as Republicans.
NJ.com Read more
Checks, Parks, Mail—How Federal Shutdown Would Impact N.J.
With President Donald Trump and the U.S. Congress staring each other down, the possibility of a federal government shutdown beginning Friday is looming larger and could directly and indirectly affect New Jersey.
NJ101.5 Read more
Coughlin: Assembly Drafting 'Most Stringent Policy Possible' for Sexual Harassment
Assembly Speaker Craig Coughlin said Thursday he had ordered his staff to draft a new sexual harassment policy for lawmakers, saying he had found the legislature's existing, eight-year-old guidelines are inadequate.
Politico Read more
Responding to Trump, N.J. Politicos Push Bill to Let You Deduct Full 2018 Property Taxes
Homeowners who prepaid their 2018 property taxes would be allowed to deduct the full amount on their 2017 income tax returns under legislation introduced Thursday by two Garden State lawmakers.
NJ.com Read more
Critics Say Jared Kushner's Paramus Alma Mater 'Unfairly Targeted'
The Frisch School made national headlines on Wednesday, after a Haaretz.com story broke alleging that the school "encouraged" students to write laudatory letters to President Donald Trump without parents' permission.
The Record Read more
Doblin: Cory Booker Pulled Over by GOP for 'Driving While Black'
The legacy of Barack Obama is secure. It was never the Affordable Care Act. It was Barack Obama. Cory Booker proved that Tuesday in a Senate Judiciary Committee hearing.
The Record Read more
Kelly: Cory Booker's Voice Challenges the Silence of Trump Supporters
Every now and then, a political leader seems to capture what is on our minds. Franklin Roosevelt had that ability. So did John Kennedy, Ronald Reagan and occasionally Barack Obama. Even Chris Christie could do it until he became intoxicated with his presidential ambitions and his bully ways.
The Record Read more
N.J. Court Tosses Rape Case Because Prosecutors Revealed Defendant's Immigrant Status
New Jersey's highest court on Thursday threw out the conviction of an undocumented immigrant accused of serial sexual assault in part because prosecutors revealed at trial he was in the country illegally.
NJ.com Read more
Trump's Supreme Court Justice Will Speak to N.J. College Students
The first Supreme Court justice appointed by President Donald Trump will speak at Stockton University next week.
NJ.com Read more
Christopher Columbus Statues Across the State Splattered with Red Paint
A Christopher Columbus statue in Trenton's Chambersburg neighborhood has become at least the fourth of the explorer's likeness to be vandalized in New Jersey this week.
NJ.com Read more
Paterson Loses $53 million in State Tax Credits in Christie Veto
A bill that would have provided the city with an extra $53 million in state tax credits was among those that ended up getting vetoed on Chris Christie's final day as governor.
Paterson Press Read more
Atlantic City Mayor Can't Hire Department Directors under State Takeover
Becoming the mayor usually means bringing in a team of directors to work with. Not this year in Atlantic City, though.
Press of Atlantic City Read more
Paterson BOE Eyes $2.1M Lease That Would Move Boys School Back to City
The school district's all-boys elementary school would relocate back to Paterson next year under a proposed $2.1 million, five-year lease being considered by the Board of Education.
The Record Read more
N.J. Job Market Tanks at End of 2017, but Here's Who's Hiring
New Jersey's job market tumbled in December as employers struggled with frigid weather, a changing retail landscape and finding qualified workers.
Asbury Park Press Read more
False Emergency Alert Sent Local N.J. Officials Scrambling
Optimum cable customers in Morris County were unnerved Thursday afternoon when an alert flashed across their television screens warning of an unspecified emergency.
NJ.com Read more
Editorial: Christie Addicted to the Limelight
Chris Christie is no longer governor, but the anti-opioid TV ads in which he has been featured continue to bombard the airwaves. For how long is a question Christie's successor, Phil Murphy, will soon have to answer.
Asbury Park Press Read more
Editorial: Paterson Chief's Payout Is Scandalous
Paterson, a city drowning in debt, just took on more water courtesy of its retired fire chief. Michael Postorino is leaving with a total retirement package of $284,000. That's up from the $232,000 city officials disclosed last October as the final payout. Both numbers are jaw-dropping.
The Record Read more
Editorial: Be Proactive on Vaping in Schools
Nicotine is harmful and addictive. We've known that for decades.
Asbury Park Press Read more
SaveSave
SaveSave
SaveSave