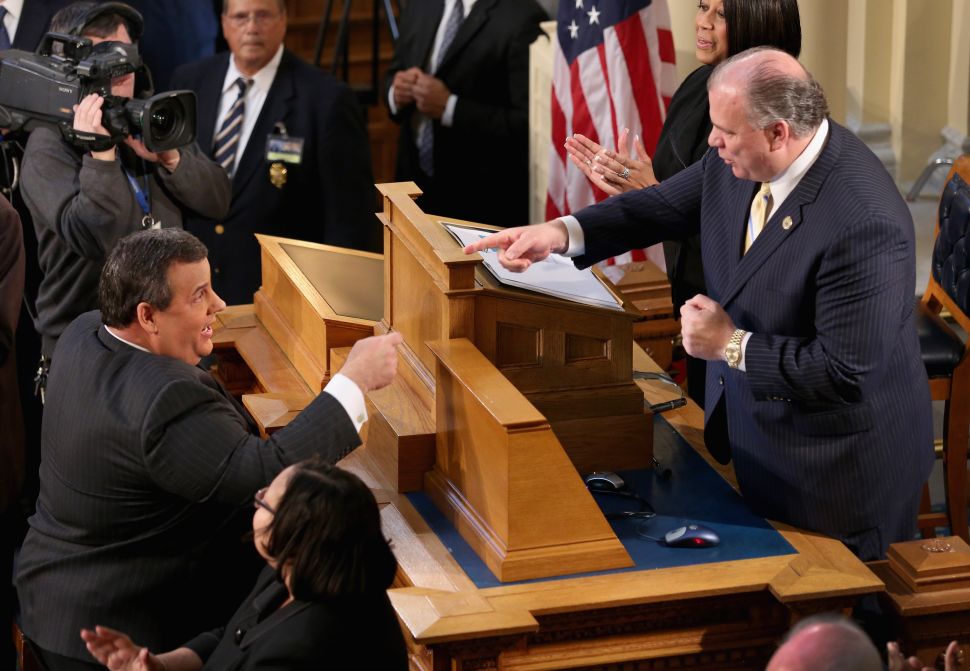 An investigation by the Associated Press has revealed how the Christie administration worked with the electric services company PSEG to make sure the public couldn't examine the company's financial information if the state provided a $300 million taxpayer-funded bailout to the energy company.
The measure, pushed by Democratic Senate President Steve Sweeney, stalled in the last legislative session. But legislators intent on tacking more than $40 on to the annual bill of every utility-payer in the state have reintroduced the measure under new Gov. Phil Murphy, despite opposition by a state-appointed advocate for ratepayers.
Company officials, who oppose public release of the company's financial information, have said that state regulators who would have access to the secret info would "presumably act in the public interest," according the AP's report. PSEG contends that without the subsidy, its nuclear power plants could close, eliminating jobs in Sweeney's district and boosting energy costs in the state.
It was the classic case of the glass being half full Wednesday, as U.S. District Judge William H. Walls dismissed seven of the 18 corruption counts against U.S. Sen. Robert Menendez and co-defendant Salomon Melgen.
Menendez still faces trial, but his attorneys were putting their best face on the development, which comes less than a week after the Justice Department announced it would retry the state's senior senator after a jury deadlocked last fall.
"With the court's decision, this case is now solely about the purest of personal hospitality allegations—stays at his friend, Dr. Melgen's family home and reimbursed trips on a plane that Dr. Melgen was flying anyway," Menendez's lawyer Abbe Lowell said in a statement.
And expectant parents in New Jersey—and those who love them—will want to read this NorthJersey.com report, which examines why pregnancy-related deaths in the state are nearly twice the national average. New Jersey's rate of 37 maternal deaths per 100,000 live births ranks the state 47th in the nation, according to the report, and behind such countries as Uzbekistan (36 per 100,000), Sri Lanka (31), Belize (28), Azerbaijan (25) and Kazakhstan (12), according to 2015 data by the Central Intelligence Agency.
Quote of the Day: "There is no there there." — U.S. District Judge William H. Walls, on charges he dismissed against Sen. Robert Menendez and co-defendant Salomon Melgen.
Judge Tosses 7 of 18 Counts Against Menendez and Melgen in Corruption Case
A federal judge on Wednesday acquitted Sen. Bob Menendez and his co-defendant, Salomon Melgen, on seven of the 18 counts they faced in a corruption case that prosecutors plan to retry this year.
Christian Hetrick, Observer Read more
Gov. Murphy: New Jersey Will Join DACA Lawsuit Against Trump
New Jersey will join a federal lawsuit against the Trump administration to stop it from dismantling a program that protects undocumented immigrants raised in the United States from deportation, Gov. Phil Murphy announced on Wednesday.
Christian Hetrick, Observer Read more
Emails: PSEG Worked with Christie Staff to Shield Data
Lobbyists for New Jersey's largest utility worked with former Gov. Chris Christie's administration to craft a $300 million bailout for nuclear power, while adding language to shield the company's financial information from the public, according to records obtained by the Associated Press.
Associated Press Read more
Phil Murphy Announces N.J. Will Challenge Trump's DACA Order in Court
New Jersey will join more than a dozen other states in a lawsuit that challenges President Donald Trump over his decision to end a program that allowed undocumented people brought to the U.S. as children to avoid deportation.
NJ.com Read more
Maternal Health Day Recognizes New Jersey's High Rate of Deaths During, After Childbirth
New Jersey on Tuesday became the first state in the nation to observe "Maternal Health Day," an opportunity to draw attention to the rising mortality rate among women during and immediately after childbirth.
The Record Read more
75 mph Speed Limit on Garden State Parkway? Petition Seeks Fast Change
A New Jersey man has started a petition seeking to raise the speed limit on the Garden State Parkway to 75 mph—a debate that even some state legislators believe should be re-examined.
NJ.com Read more
New Jersey Has the Worst Drivers, According to WalletHub Study
If you've traveled the roads in New Jersey, you probably wouldn't be surprised to hear it's one of the worst places to drive. But just how bad is it?
The Record Read more
Ultra-Exclusive Golf Club Wants to Expand into Liberty State Park
A private golf club that charges its members $300,000 to join wants to expand onto a piece of Liberty State Park that park advocates say is used by hundreds of schoolchildren each year to learn about nature along the Hudson River.
The Record Read more
A Warning Instead of Prison? N.J. Puts Too Many Teens Behind Bars, Report Says
When a young person violates the law, New Jersey cops aren't required to put the minor in cuffs and haul him or her away.
NJ101.5 Read more
'Dreamer' Sworn into N.J. Bar as Murphy Vows to Join DACA Lawsuit
Parthiv Patel, a 27-year-old immigrant from India who came to New Jersey when he was five, became the first so-called "Dreamer" to be admitted to the New Jersey bar on Wednesday.
The Record Read more
Phil Murphy Makes Pick for Leader of N.J.'s Economic Development Authority
Gov. Phil Murphy on Wednesday tapped an official from Connecticut Governor Dannel Malloy's administration to head New Jersey's Economic Development Authority.
NJ.com Read more
Toys 'R' Us to close up to 182 stores, including 12 in N.J.
Toys 'R' Us plans to close at least 12 stores in New Jersey and up to 182 stores nationwide as the Wayne-based retailer continues to reorganize after filing for bankruptcy protection.
NJ.com Read more
Jackson held Sabbath 'Stake Out' of Orthodox Jews, Lawsuit States
A religious gathering of Orthodox Jews was the subject of a "stake out" urged by a township council member, according to a lawsuit filed this month.
Asbury Park Press Read more
More N.J. Towns Ban Sales if Murphy Legalizes Marijuana
If Gov. Phil Murphy fulfills a campaign promise to legalize marijuana in New Jersey, at least two more towns will likely be added to a growing list to ban its sales.
NJ101.5 Read more
Hasbrouck Heights Considers Banning Marijuana Sales
The Borough Council wants to ban the sale of recreational marijuana in the town, over the objections of some who say the move is premature.
The Record Read more
Ramapo College Awarded $1 Million Grant for Substance Abuse Recovery Housing
Ramapo College students can soon seek refuge from drug and alcohol abuse, thanks to a nearly $1 million grant awarded by the state to provide recovery housing for students committed to sobriety, school officials announced Tuesday.
The Record Read more
PBA President Responds to Findings in Our 'The Shield' Investigation
The New Jersey State Police Benevolent Association (NJSPBA) represents some 40,000 active and retired police officers across New Jersey. In addition to representing officers in contract negotiations and state legislative actions, NJSPBA offers a program that defends officers in lawsuits and internal affairs actions.
Asbury Park Press Read more
Ex-Police Chief Wants Apology from Councilman Who Called Him a Racist
The retired Byram police chief who gained notoriety after his controversial comments about last year's deadly white nationalist rally in Charlottesville, Virginia, says the local official who called him a racist on Facebook should apologize.
NJ.com Read more
Family of Trooper Killed in 295 Crash Gets $2M Settlement
The family of a State Police trooper will get more than $2 million as a settlement of two wrongful death lawsuits.
NJ101.5 Read more
Hudson County to Spend More to Probe Inmate Deaths
The Hudson County freeholder board on Tuesday approved spending $60,000 more on internal investigations into the deaths of inmates at the county jail.
NJ.com Read more
N.J. Ranks on List of Most Educated States in America
When it comes to education in America, New Jersey is on the right track, according to a report.
Asbury Park Press Read more
Questions About Who Gets Held Without Bail
A year after New Jersey switched to a pretrial evaluation and detention system, most are giving the change good grades. But there are some who have concerns that those who end up detained without bail pending trial, depends more on what part of the state is handling the case.
NJSpotlight Read more
Annual N.J. Homeless Survey Seeks Count and Connections to Services
In the Salvation Army building on Texas Avenue Wednesday, more than a dozen agency tables distributed resources, clothing and food to people in need. This was part of an annual, statewide effort to get a snapshot of the homeless population in the state.
Press of Atlantic City Read more
Lawmakers Want to Make It Easier for People to Change Gender on Birth Certificate
For the fourth time in nearly five years, New Jersey lawmakers are pushing to make it easier to change the gender listed on a birth certificate, something that has personal and practical implications for tens of thousands of residents whose identity doesn't align with the details listed on their government records.
NJSpotlight Read more
South Jersey Huts Could be Razed by State
A family's ramshackle and beloved refuge sits at the confluence of two brackish creeks, a paradise with propane heat and an outhouse, perched above the mud on the edge of nowhere.
Inquirer Read more
N.J. Town's Out-of-Town Driver Ban Snags neighboring residents
Residents living across the city border are getting caught up in this Bergen County borough's new ban on out-of-town drivers during rush hours.
NJ101.5 Read more
Millrun May Take a Turn on Disputed Street Designs
Millburn officials are reconsidering a reconfiguration of downtown streets following significant opposition from residents and property owners, including a lawsuit demanding that the traffic-calming project be halted.
The Record Read more
Bird Killer Fired from Port Job for Squashing Gulls with 50-Ton Vehicle
A longshoreman working in Port Elizabeth has lost his job after intentionally mowing down a flock of birds, according to the Waterfront Commission of New York Harbor.
NJ.com Read more
Middletown Schools Have a Spending Plan for Restored State Money
The funding that Middletown schools successfully clawed back from the state will go toward teacher salaries, special education services and to repair broken sidewalks.
Asbury Park Press Read more
Port Authority: Throw the Book at CNBC Crew for 'Fake Bomb' at Airport
Top Port Authority officials have urged the forceful prosecution of nine CNBC TV crew members arrested last week at Newark Liberty International Airport, calling their alleged attempt to smuggle a fake bomb through security "intolerable."
NJ.com Read more
Editorial: Reject State Subsidy for PSEG Nuclear Plants
The ill-advised nuclear subsidy bill that died at the end of the last legislature has quickly resurfaced in the new session, with a Senate committee vote expected Thursday.
Asbury Park Press Read more
Editorial: New Jerseyans Can Counteract Wall Street's Bad News on Falling Home Values
New Jersey residents pay the highest property taxes in the nation. It gets worse when they add in state and federal taxes. But it's property taxes that really stick in the craw. After the passage of the Republican-driven Tax Cut and Jobs Act, state residents are looking for the tax equivalent of a Heimlich maneuver from public officials. The thing is: Residents can do it themselves.
The Record Read more
SaveSave
SaveSave