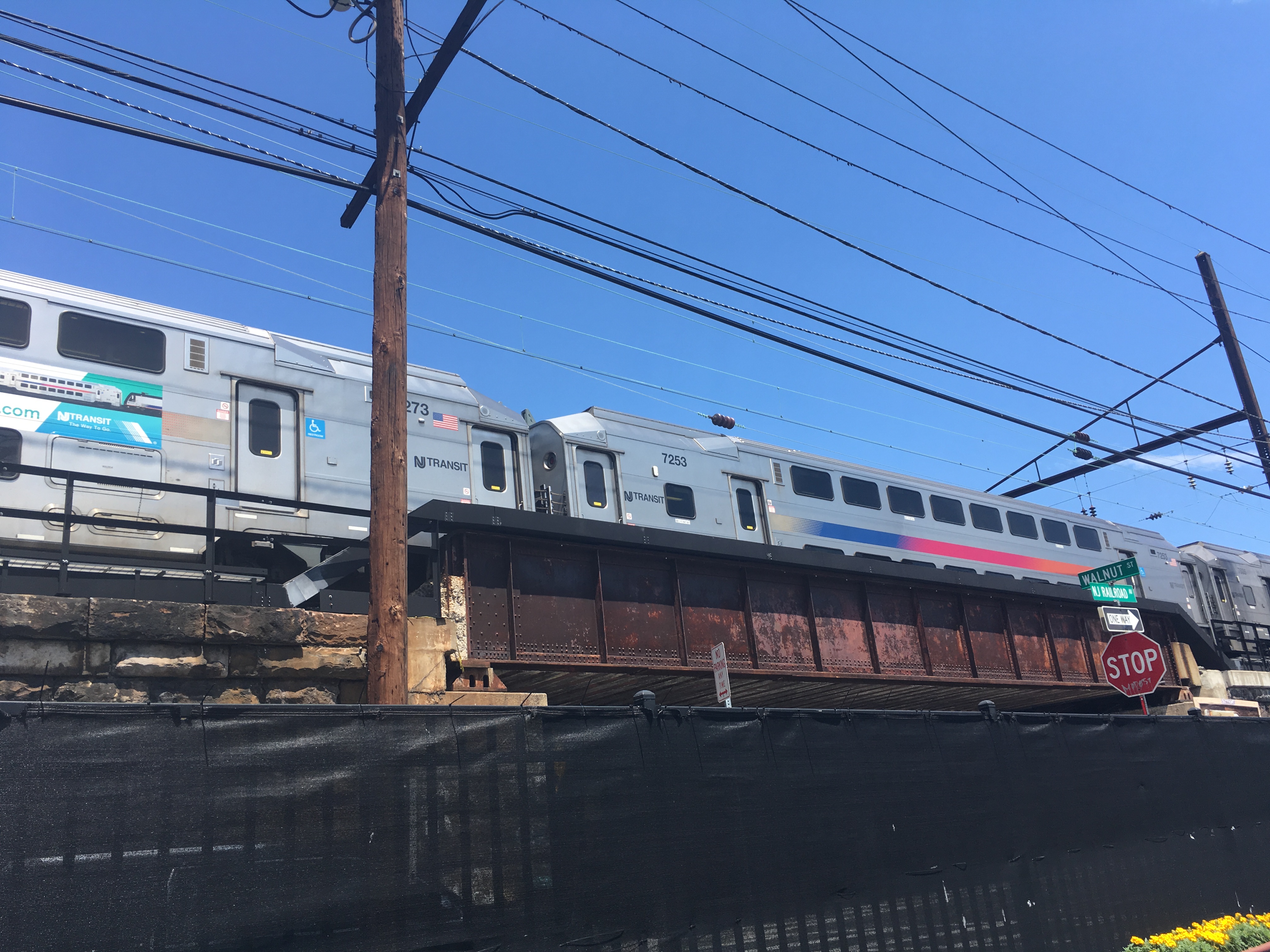 Eyes in Trenton were focused on memorial services for former Gov. Brendan Byrne and the actions of the lame-duck legislature, but a hearing in Trenton once again highlighted the troubles facing NJ Transit and its riders. During the legislative oversight hearing, it was revealed the patronage-riddled transit agency was not only facing a budget deficit, and wouldn't offer salaries needed to woo qualified personnel but also might miss a federally mandated deadline for implementing a positive train control system to help prevent accidents.
The bad news for commuters on Monday was offset by good news for Amazon. In its last day of its session, the legislature approved a $5 billion tax credit package intended to convince the online retailer to build a headquarters in New Jersey.
Former Camden Mayor Dana Redd was also the subject of some legislative largesse, as the assembly approved a measure that would help her secure a better pension from the ailing state system.
And the ACLU is taking aim at state prison officials, after learning inmates at two facilities are banned from reading a best-selling book on race and mass incarceration.
Quote of the Day: "We argued a lot, but always with civility, not only because I respected him. I liked him a lot," – former Gov. Tom Kean, remembering the late former Gov. Brendan Byrne.
NJ Assembly Passes Bill to Boost Former Camden Mayor's Pension
A bill that could secure a better pension for former Camden Mayor Dana Redd cleared the New Jersey Assembly on Monday with 41 votes in favor, 19 against and three abstentions.
Alyana Alfaro, Observer Read more
NJ Bill to Give Amazon $5 Billion in Tax Credits Clears Legislature
Both the New Jersey Senate and Assembly passed a bill on Monday that could give Amazon $5 billion in state tax credits, one of the final acts of the legislature before a Tuesday reorganization.
Alyana Alfaro, Observer Read more
Hundreds Gather to Remember Former N.J. Gov. Brendan Byrne
They came from both sides of the aisle today to say goodbye to a man who changed New Jersey.
NJ.com Read more
ACLU Calls Out N.J. Prisons for Banning Award-Winning Book
Civil liberties advocates are calling on New Jersey officials to overhaul the state prison system's book-banning policy after learning inmates were prohibited from reading a best-selling book on mass incarceration.
NJ.com Read more
Defying Critics, New Jersey Borrows Nearly $376 Million for Office Buildings
Gov. Chris Christie's administration is selling nearly $376 million in debt to pay for a pair of Trenton office buildings and three juvenile correctional centers, brushing off critics who insisted that voters have the right to approve or reject such debt.
The Record Read more
NJ Transit Facing Budget Deficit, May Miss PTC Deadline, Hearing Reveals
NJ Transit continues to face staffing issues, may be short tens of millions of dollars for its next budget and is at risk of blowing a deadline to install federally mandated safety technology that can stop runaway trains.
Politico Read more
Memo: NJ Transit Couldn't Fill Critical Jobs Because Low Pay Turned Off Applicants
NJ Transit couldn't fill key positions because the agency wouldn't offer competitive salaries, an internal document from June 2016 shows.
The Record Read more
Chris Christie Dishes on Just About EVERYTHING: Read the Transcript of the 3-Hour Interview
A person can say a lot in three hours. Especially if he's Chris Christie.
NJ.com Read more
Poll: Will You Miss Chris Christie?
"They're gonna miss me when I'm gone."
That's what Chris Christie said in a lengthy interview posted by NJ Advance Media on Sunday with the final days of his tenure as governor of New Jersey winding down.
Asbury Park Press Read more
Countdown of Christie's Final Days: What Legacy Does He Leave?
After serving two terms as governor, Chris Christie has about a week left in office, and he delivers his final state of the state address on Tuesday.
NJ101.5 Read more
Christie Orders State Offices Closed Ahead of Snow
Gov. Chris Christie ordered state offices closed Monday ahead of freezing rain and sleet expected to blanket New Jersey.
NJ.com Read more
Opioid Prescriptions in N.J.: How Each County Ranks
The number of opioid prescriptions written in the southern counties of New Jersey rose toward the top of counties nationally in 2015, according to the Centers for Disease Control and Prevention.
Asbury Park Press Read more
Assemblywoman: I Was the Victim of Domestic Violence
The roller derby-playing New Jersey Assemblywoman who last April infamously flipped out on police with profanity-laden rants said this week she's been the victim of domestic abuse.
NJ101.5 Read more
ACA Enrollment in N.J. Dips in 2018
Reports show 20,000 fewer New Jersey residents signed up for health insurance coverage for 2018 through the federal Affordable Care Act marketplace, something advocates warned might happen given the Trump administration's lack of support for the program.
NJSpotlight Read more
Without TPS, Thousands of N.J. Salvadorans Losing Legal Status
The fate of thousands of Salvadorans in New Jersey, living here legally for years, hung in the balance Monday as they waited for the Trump administration to announce whether they would be allowed to remain in the country.
Asbury Park Press Read more
Christie to Decide if N.J. Bans Gun Device Used in Las Vegas Shooting
It's now up to Gov. Chris Christie to decide whether New Jersey will ban a firearm accessory allegedly used by the gunman in last year's Las Vegas massacre.
NJ.com Read more
Former Revel Casino in Atlantic City Is Sold
Colorado developer Bruce Deifik has purchased Atlantic City's former Revel casino hotel and plans to reopen it this summer.
Associated Press Read more
'Silent Killer' Carbon Monoxide Keeping New Jersey Busy
Already in 2018, New Jersey's seen the "silent killer" take a young life.
NJ101.5 Read more
N.J. May Sign on With US Climate Alliance
New Jersey may soon be joining an alliance to combat global warming, working cooperatively with 13 other states to achieve the aims of the Paris Climate Accord.
NJSpotlight Read more
Report Urges Major Investment in N.J.'s Aging, Leaky Drinking Water Pipes
A state task force approved a report Monday outlining the dire condition of New Jersey's aging drinking water infrastructure and recommendations to legislators for fixing the problem.
The Record Read more
Christie Signs Law Declaring Breastfeeding Must Be Allowed at Work
New Jersey employers must make accommodations to allow women to breastfeed or express breast milk during the work day under a new law Gov. Chris Christie signed on Monday.
NJ.com Read more
N.J. Teacher Who Said Homosexuality 'Breeds like Cancer' Suspended
A former New Jersey high school teacher who posted anti-gay comments on her Facebook page several years ago has agreed to a three-year suspension of her teaching certificates.
NJ101.5 Read more
Parking Ticket by Mail? N.J. Lawmaker Fights 'Smart' Meters
New Jersey law requires that a parking ticket be issued by a human being on a driver's windshield.
NJ101.5 Read more
Ex-Jersey City Police Chief Says He Warned City About Off-Duty Jobs Scam
Jersey City's public safety director was warned four years ago about potential abuses by cops working off-duty security details at public-housing complexes, according to a letter obtained by the Jersey Journal.
Jersey Journal Read more
Lawyer Defends Judge's Decision to Release Man Accused in Sex Attack
On Monday, the lawyer for a Brick man accused in a violent sex offense defended the judge who ordered his client released from jail, saying the decision was "courageous'' and "correct.''
Asbury Park Press Read more
Fracking Gas Helps Lower N.J. Utility Bills in January and February
Public Service Electric & Gas says their New Jersey natural gas customers will realize an average $50 reduction on January and February gas bills.
NJ101.5 Read more
Closter Council Marks First Time with a Female Majority
Two newcomers, one of them a woman, joined the Borough Council last week, marking the first time in the town's history that a majority of women will serve on the council.
The Record Read more
Paterson Schools: What's Next as State Control May Expire
Don't expect to see a fleet of U-Haul trucks parked outside the Paterson Board of Education's headquarters on Delaware Avenue.
The Record Read more
Jackson Eruv, Dorm Anti-Semitism Investigation Looks at Residents' Emails
Where are federal and state investigators getting their evidence in their religious discrimination investigations of the township?
Asbury Park Press Read more
Controversial Cooperative Sports Bill Headed to Governor to Be Signed into Law
Despite the New Jersey Statewide Interscholastic Athletic Association's attempts to undermine legislation that permits public high schools from the same district to merge sports teams, bills allowing such cooperative programs passed in the state Senate and Assembly on Monday.
Asbury Park Press Read more
New Fort Lee Councilman Wants to Help Residents 'Be Happy and Prosper'
Paul Yoon, an eight-year resident of the borough, has joined the Borough Council.
The Record Read more
More Than 100 Accused Insurance Fraudsters Evade Justice in N.J.
In response to the high incidence of insurance fraud following Superstorm Sandy, Assemblyman Ron Dancer (R-Ocean), is introducing legislation to require the state to create a "Most Wanted List."
NJ101.5 Read more
Riordan: Governors Come and Go, but New Jersey Stays New Jersey
As a vintage Roseanne marathon and a pre-owned Cadillac infomercial battled for my attention at the gym during an Arctic weekend, reality hit.
Inquirer Read more
Editorial: No Drilling off the Jersey Shore
The environmental advocacy corps in New Jersey is a strong one, with a long tradition and lots of training and experience in fighting shortsighted plans by politicians who care little, if anything, for clean land, air and water. Those groups, and the thousands of New Jerseyans who support them, must now mobilize to put a stop to any proposals put forward by the Trump administration to expand offshore drilling in the Atlantic, and especially as it concerns our cherished Jersey Shore.
The Record Read more
SaveSave
SaveSave
SaveSave
SaveSave
SaveSave
SaveSave