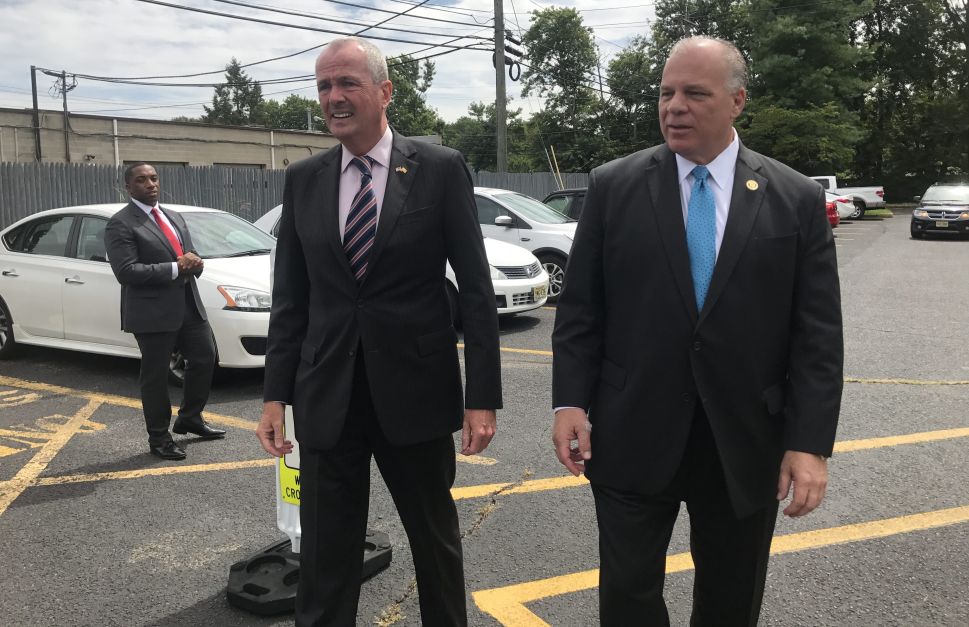 Governor-elect Phil Murphy and the top-elected Democrats of the legislature had a "great" meeting on Wednesday, according to lawmakers.
Senate President Steve Sweeney, Assembly Speaker Craig Coughlin and Assembly Majority Leader Lou Greenwald were spotted walking out of Murphy's transition office down the street from the state house in Trenton. The lawmakers were tight-lipped about the meeting, though Sweeney and Coughlin both called it "great."
Sweeney, who was publicly at odds with Murphy last week over a nuclear subsidy bill, dismissed suggestions that there's friction between himself and the incoming governor.
"We're fine," he told Observer. (Murphy also showed up at Sweeney's party last night, for what it's worth.)
There was little else the lawmakers would say about the meeting.
"Stuff," Sweeney said when asked what was discussed.
"Important stuff," Coughlin added.
Quote of the Day: "Phil [Murphy]'s where he believes he needs to be. I just believe that New Jersey is a moderate state. It's not a liberal state. If New Jersey was truly a liberal state, we wouldn't have had 24 years out of the last 40 with Republican governorships." — Senate President Stephen Sweeney.
Phil Murphy to Nominate Shereef Elnahal for Health Commissioner
Governor-elect Phil Murphy announced Wednesday that he will nominate Shereef Elnahal, a doctor and Department of Veteran Affairs official, to be New Jersey's next health commissioner.
Christian Hetrick, Observer Read more
Andy Kim Raises Over $600K in MacArthur Challenge
Democratic congressional candidate Andy Kim has raised over $600,000 as he prepares to challenge New Jersey Rep. Tom MacArthur (R-3) ahead of the midterm election in 2018.
Alyana Alfaro, Observer Read more
National Democrats Make Frelinghuysen a Top Target Ahead of 2018 Midterms
The Democratic Congressional Campaign Committee has identified New Jersey's 11th congressional district as a primary target ahead of the 2018 midterm election, a notable shift for the once deep-red district that has been represented in the House by Rep. Rodney Frelinghuysen (R-11) since 1995.
Alyana Alfaro, Observer Read more
Murphy Plans Purge of Christie's New Jersey Transit Allies
Some of Governor Chris Christie's allies, hired as New Jersey Transit senior staff while safety jobs went unfilled and reliability slipped, have been asked to resign by Democrat Phil Murphy's incoming administration, according to a document obtained by Bloomberg.
Elise Young, Bloomberg Read more

Christie Names Dozens of Allies, Longtime Aides to State Posts as He Prepares to Leave
Gov. Chris Christie appointed dozens of his trusted allies and Cabinet members to 41 state boards and committees Wednesday, less than a week before Gov.-elect Phil Murphy takes over.
Catherine Carrera, Bergen Record Read more
Will Democratic Legislature Be a Check on Murphy's Liberalism?
For eight years, New Jersey's Democrat-controlled legislature was at least a partial check from the left on Republican Chris Christie, the state's most conservative governor in memory. On Tuesday, unabashed progressive Democrat Phil Murphy takes office. And even though the new legislature will have its largest Democratic majority in nearly 40 years, it doesn't appear it's ready to be the governor-elect's partner in passing all his progressive priorities.
Matt Friedman, Politico Read more
Sweeney: I'll Keep Watch on Police, Fire Pay Hikes After Christie Property Tax Warning
State Senate President Stephen Sweeney said Tuesday he'll personally monitor raises awarded in contract disputes between police and firefighters and their employers to gauge the impact of letting a controversial two percent cap on interest arbitration awards expire.
Samantha Marcus and Susan K. Livio, NJ.com Read more
Keeping Tabs on the New Democratic Committee Chairs
It was an almost-routine announcement in a day of big speeches yesterday, but the Democratic legislative leadership's picks of committee chairs could portend some significant changes in how it will do business this coming year.
John Mooney, NJ Spotlight Read more
Murphy Shows Up at Sweeney's Party—Addresses the Crowd: 'We're Both Irish!'
Things are cooling off, a source insisted to InsiderNJ, between Senate President Steve Sweeney (D-3) and Governor-elect Phil Murphy. Evidence? Murphy showed up to Sweeney's party last night in Mount Laurel and spoke.
Max Pizarro, Insider NJ Read more
Atlantic Oil Drilling: Can N.J. Get an Exception Like Florida Did?
For all their disagreements, neither outgoing Gov. Chris Christie, nor Gov.-elect Phil Murphy, wants the ocean near New Jersey made available for oil and gas drilling, but that's just what will happen unless the Trump administration can be convinced otherwise.
Russ Zimmer, Asbury Park Press Read more
Got a tip? Email Christian Hetrick at chetrick@observer.com or reach him on Twitter.