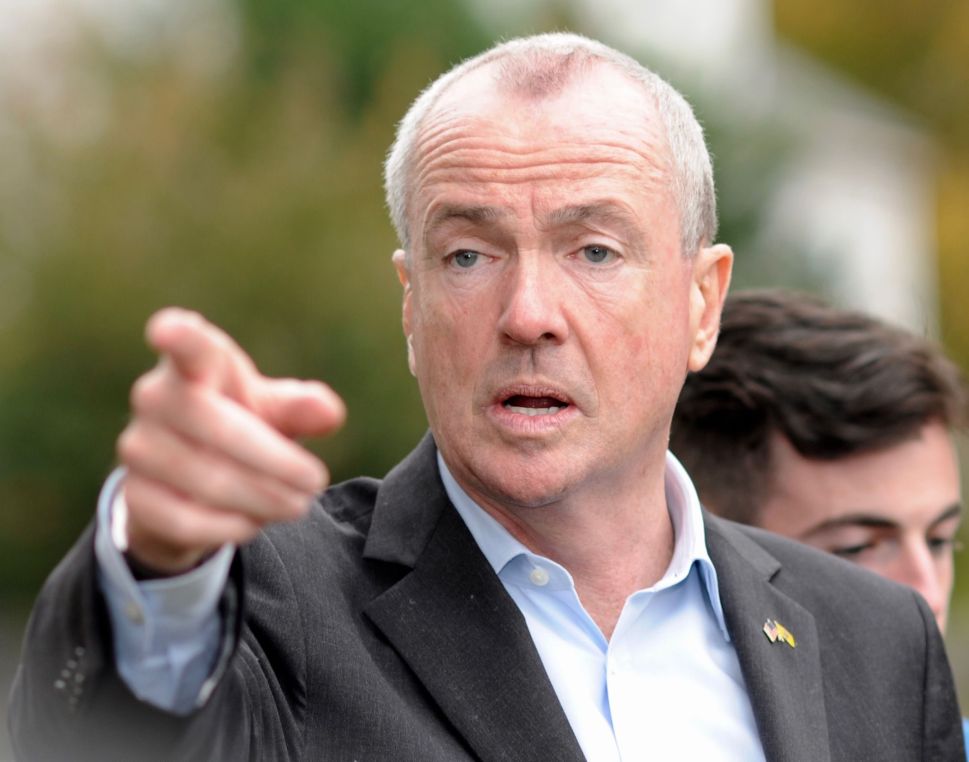 Gov. Phil Murphy, who campaigned on a pledge to make New Jersey a "sanctuary state," wasted no time Thursday when it was reported that Immigration and Customs Enforcement (ICE) officials detained two Indonesians earlier that morning in central New Jersey.
Murphy seized the occasion to make an appearance at the Reformed Church of Highland Park, where three people have sought sanctuary in the church, which has long housed immigrants, according to a report on NJ.com
"We're here to highlight the injustice of the Donald Trump administration," said the Democratic governor, who on Wednesday had announced the state would join other states in a lawsuit challenging the Trump administration over its plan to end the Deferred Action on Childhood Arrivals (DACA) program.
Another piece of Chris Christie's legacy seems headed for the scrapheap, as state Democrats move to do away with regulations capping the salaries of school superintendents. The politicians maintain that it's tough to retain top talent when compensation is limited to the neighborhood of $200,000. Christie had capped the salaries in an effort to control the state's notorious property tax problem.
And the state has another top designation it would like to see go away, with New Jersey once again leading the nation in foreclosures, according to this report.
Quote of the Day: "At the end of the day, the only thing green about the bill is money it's taking from the ratepayers," — Jeff Tittel, the New Jersey director the Sierra Club, on a revised nuclear subsidy bill that would now also promote wind energy projects.
New Jersey's New Nuclear Subsidy Bill Adds Clean Energy Initiatives
New Jersey lawmakers on Thursday rewrote a controversial bill that could force ratepayers to bail out the state's nuclear power plants, adding clean energy initiatives to promote solar power and offshore wind.
Christian Hetrick, Observer Read more
Cap on N.J. Superintendents' Salaries May Soon Follow Christie out the Door
A week after Republican Gov. Chris Christie left office, New Jersey Democrats are beginning a push to reverse one of his controversial education policies.
NJ.com Read more
N.J. Leads the Nation in Foreclosures: See Which County Had the Most
New Jersey once again claimed the infamous honor of leading the nation in foreclosures in 2017.
NJ.com Read more
Lottery Ticket Sales Plummeted Last Year, Breaking a 7-Year Winning Streak
New Jersey's lottery lost more than $100 million in ticket sales last year, ending a streak of record sales that began before its core operations were privatized in a controversial deal pushed through by former Republican Gov. Chris Christie.
The Record Read more
In Showing His Progressive Bona Fides, Murphy Turns to Strategy Used by Christie
Gov. Phil Murphy, who took office last Tuesday, has an ambitious progressive agenda that's going to take a long time to enact—if he can get the legislature to go along with it.
Politico Read more
Blueprint for Universal Health Insurance for All NJ Kids—Including Undocumented
New Jersey has made significant progress in extending health insurance to poor and middle-class children, but the results lag those seen in many other states and some 70,000 kids still lack coverage.
NJSpotlight Read more
NJ Marijuana Legalization: Weed Going Mainstream, but Faces Legal, Money Hurdles
Marijuana is quickly going mainstream in New Jersey.
Asbury Park Press Read more
School Groups Endorse 'Passing the Trash' Law as It Clears Senate Panel
A New Jersey senate panel Thursday endorsed a proposed law to stop teachers accused of sexual misconduct from easily moving to new schools, one month after an NJ Advance Media investigation revealed glaring problems with the way school employees are vetted.
NJ.com Read more
Menendez Gets His First Challenger in Senate Race: An 'Out of the Box' Libertarian
Ramapo College finance professor Murray Sabrin said he would seek the Libertarian Party nomination for U.S. Senate, becoming the first announced challenger to U.S. Sen. Robert Menendez.
NJ.com Read more
Clergy Members Blast DOJ for Suggesting Prayer Could Bias Menendez Jury
A group of clergy members on Thursday denounced the Department of Justice for suggesting their prayers with Sen. Bob Menendez during his corruption trial last year could have influenced the jury.
Politico Read more
Indonesian Christians Targeted by ICE Thursday Morning
Immigration and Customs Enforcement agents went after multiple Indonesian Christians Thursday morning in New Jersey, detaining two Indonesian nationals who lack legal status, advocates say.
Asbury Park Press Read more
Gov. Murphy Races to Sanctuary Church After ICE Detains 2 in N.J.
Gov. Phil Murphy rushed to a church that has provided sanctuary for immigrants on Thursday after two Indonesians were detained by Immigration and Customs Enforcement officials and a third sought refuge in the church.
NJ.com Read more
Parsippany Mayor: 'I Won't Ask Cops to Join Immigration Crackdown'
While not a fan of the "sanctuary city" label, Mayor Michael Soriano said he will not ask township police to enforce federal immigration laws, during his first town hall meeting Tuesday night.
Daily Record Read more
Activists: Make Atlantic City 'A Fair and Welcoming City' for Immigrants
As a tourist destination, Atlantic City has welcomed visitors to its famous Boardwalk, casinos, shopping outlets and other popular attractions. Now, city leaders, activists and clergy are launching a campaign to make it "a fair and welcoming city" for immigrants, regardless of their legal status.
Inquirer Read more
This Spot in Jersey Is America's 2nd-Worst Traffic Nightmare
Ready to cross the George Washington Bridge? You already know you'll have to wait. What you may not know is that you'll be crawling through one of America's epic spots for traffic congestion.
NJ.com Read more
N.J. Agency That Funds Miss America Knew Back in October That Dick Clark Had Severed Ties with the Pageant
The New Jersey Casino Reinvestment Development Authority knew back in October—two months before the disclosure of vulgar emails that have led to a shakeup of the Miss America Organization—that Dick Clark Productions had severed ties with Miss America, newly released correspondence reveals.
Inquirer Read more
Chris Christie Is Running for Office! As a Democrat!
Chris Christie has announced he's running for office! Really.
NJ.com Read more
N.J. Orders Shut Down of 'Failed' Charter School Despite $17M Renovation
A Trenton charter school could close in June, one year after it moved into a building renovated at a cost of $17 million, because the state Department of Education decided not to renew the school's charter.
NJ.com Read more
Leonia's Ban on Commuter Traffic Along Local Roads: Is It legal?
Residents cheered. Commuters cursed. But as Leonia's new law, which bans commuters from using backstreets during rush hour to reach the George Washington Bridge, took effect Monday, a key question remained unanswered: Is it actually legal?
The Record Read more
Strategies for Retaining Future Workforce: NJBIA White Paper
New Jersey is short about 200,000 millennials. And it's more than a simple math problem. As the largest living generation, any loss of this age group to outmigration translates to a loss of dollars to the state's economy, both now and in the future.
ROI-NJ Read more
HS Football Refs Who Walked out After Student Anthem Protest Have Quit
A father and son who were about to officiate a high school football game in October but walked off the field after members of one team knelt during the national anthem have resigned.
Associated Press Read more
Against NJ Transit, a Paterson Restaurant Owner Wages a Long, Lonely Fight
Before he fought the state of New Jersey and lost, Russell Graddy was something rare in this country: A rich African-American man. A sharecropper's son who grew up picking peanuts on a farm in Georgia, Graddy moved to Paterson alone at age 15 and built an empire of restaurants and real estate, mostly in neighborhoods where white people feared to buy.
The Record Read more
Booker, Congress Members Urge Trump to Protect Weed Laws
When Donald Trump was running for president, he said states that have legalized marijuana should be allowed to enforce their owns laws.
NJ.com Read more
Watch the Trailer for Netflix Drama about Jersey City Police Cover-Up
A Netflix drama about the Jersey City Police Department's cover-up of an off-duty police officer's fatal hit-and-run will debut on Feb. 23.
NJ.com Read more
New West Milford School Board to Eliminate Nepotism Rule
A reshaped school board is moving to eliminate a provision adopted just last month regulating the hiring of existing employees' family members.
The Record Read more
Jersey City Council OKs $10M Deal for New Museum
A plan to turn a county building into a city-run museum and community center advanced last night when the City Council approved a deal to borrow $10 million to buy the building and hire a consultant to help create it.
NJ.com Read more
Mayor Jimmy Davis' Council Slate Complete with This Announcement
First Ward Councilman Tommy Cotter announced he will run for re-election in May, filling out the remainder of Mayor Jimmy Davis' ticket.
NJ.com Read more
Former Mercer County Public Figure Paul Sigmund Dies at 53
Paul Sigmund, the son of a well-known Princeton family and grandson of two members of Congress, and who worked in public life at times, died in California earlier this month.
NJ.com Read more
Editorial: Patronage Job Recipient Should Resign from Assembly
Another public servant with delusions of adequacy—a man with a seat in the legislature and a private law practice—was quietly appointed to a six-figure patronage job by his political pals recently, despite having no tangible qualifications for the position.
NJ.com Read more
SaveSaveSaveSaveSaveSaveSaveSaveSaveSaveSaveSaveSaveSaveSaveSave
SaveSave