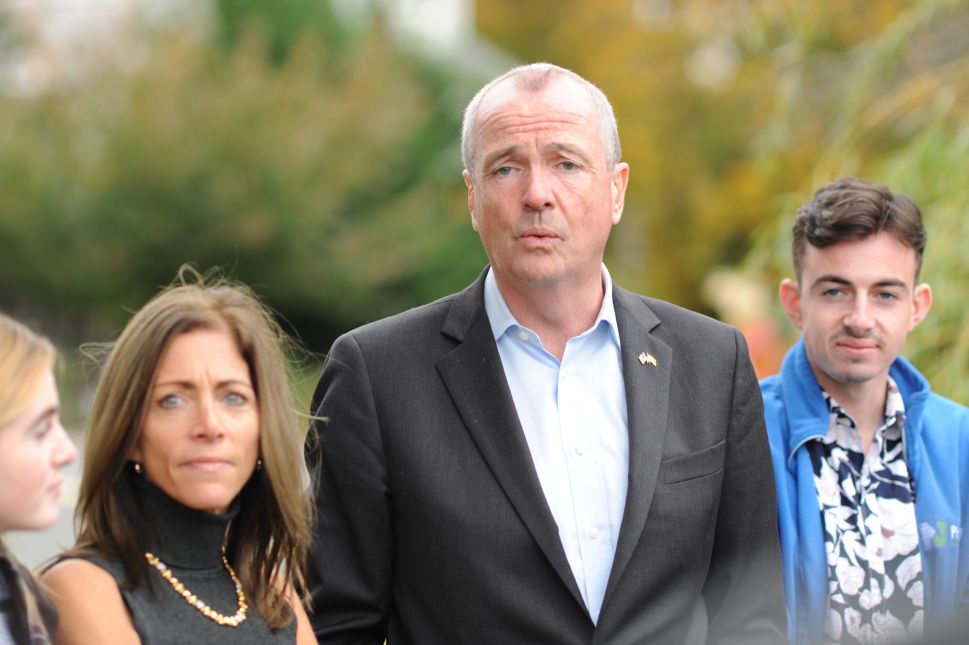 The starts of first political terms are always filled with promise and hope, and Gov. Phil Murphy's entry into elected office is no different, according to a series of reports prepared by 14 of his campaign's transition committees that lay out ambitious plans for the new administration.
From providing job coaches for the unemployed to legalizing marijuana, the reports spell out a progressive vision for the state. And while many of the plans contained in the reports are items Murphy campaigned on, the governor "is under no obligation to implement or even accept the recommendations," according to the Record.
While Murphy hasn't implemented much of his progressive agenda during his first weeks in office, he's wasted no time setting himself up as a Democratic foil to policies pushed by President Donald Trump. On Friday, Murphy continued this effort, announcing the state would join New York and Connecticut to file suit over the federal tax overhaul, which they claim unfairly targets residents of high-tax states. The states contend the new tax code's cap on state and local tax deductions is unconstitutional.
The unpopularity of the tax plan in New Jersey has political watchers predicting this could be a good year for Democratic challengers to the state's sitting Republican congressmen. Rep. Rodney Frelinghuysen is considered among the most vulnerable. A story on NJ.com examines how Republicans are trying to roll back regulations against pork-barrel spending. Frelinghuysen chairs the House Appropriations Committee, and removing the pork-barrel rules could give him even more power and influence.
Quote of the Day: "Short-sighted decisions based on what could happen in the next election have left many New Jersey agencies without strategies that ensure the state's competitiveness and viability in the 21st century." — Gov. Phil Murphy
Gov. Phil Murphy: New Jersey Will Sue Over Trump Tax Law
Gov. Phil Murphy said Friday that New Jersey will join New York and Connecticut in filing a legal challenge to the Republican-led federal tax overhaul, arguing a new cap on state and local tax deductions is unconstitutional.
Christian Hetrick, Observer Read more
Gov. Phil Murphy to Undo Chris Christie's Handgun Carry Rule
Gov. Phil Murphy said on Friday that his administration will reverse a Christie administration policy that loosened restrictions on who can carry a handgun.
Christian Hetrick, Observer Read more
Fewer Deer. More Trees. A Utopian Vision of Murphy's New Jersey Emerges
In Gov. Phil Murphy's New Jersey, children would spend less time preparing for tests, fewer people would commit crimes after getting out of prison, and fewer deer would chomp through the state's valuable crops.
The Record Read more
Corruption Case Against Sen. Bob Menendez Damaged but Not Dead, Experts Say
A federal judge's decision on Wednesday to acquit U.S. Sen. Bob Menendez and his co-defendant on seven of the 18 charges they faced was a major setback for the government's corruption case, but not a fatal blow, according to several legal experts.
The Record Read more
New Jersey Hispanic Elected Officials Chide DOJ Over Menendez Motion
More than 25 mostly Hispanic New Jersey elected officials accused the U.S. Justice Department on Friday of injecting race into the corruption retrial of Sen. Bob Menendez by trying to bar him from bringing up his Hispanic heritage during the proceedings.
Politico Read more
Moran: Wounded Menendez Gives Team Trump a Chance in Jersey
Try to envision Sen. Robert Menendez trying to manage his daily calendar when he's juggling his second trial on corruption charges with his campaign for re-election.
NJ.com Read more
Mulshine: Senator Menendez Exits the Frying Pan Only to Enter the Fire
It was almost as if the judge was reading the mind of the guy who sat next to me at U.S. Sen. Bob Menendez's trial last fall.
NJ.com Read more
How to Help a Jersey Republican Hurt by Trump? Let Him Spread Some Pork
Republicans have a new idea on how to boost Rep. Rodney Frelinghuysen, considered the New Jersey lawmaker most at risk of losing re-election this fall partly because of the backlash against President Donald Trump.
NJ.com Read more
3 More Candidates Want to Succeed LoBiondo in D.C.
Add three more candidates to the list of those seeking the U.S. House being vacated by retiring Rep. Frank LoBiondo.
NJ.com Read more
Mom Suing Chatham Schools for 'Promoting' Islam in Middle School
Chatham schools are "promoting" Islam and use materials that "call to the children" to convert, according to a complaint filed by one student's mother.
Daily Record Read more
ICE Targets Have Taken Sanctuary in N.J. Church. Can ICE Go in and Get Them?
Three Indonesians facing deportation who took refuge in a New Jersey church this past week are looking for a safe haven to shelter them from arrest by U.S. Immigration and Customs Enforcement.
NJ.com Read more
N.J. Attorney General Asks for Federal Review of Immigration Arrests at Schools
New Jersey Attorney General Gurbir Grewal has called for a federal review of the arrest of two Indonesians this week by immigration authorities, saying it could have violated a longstanding ban on such enforcement efforts at schools.
Asbury Park Press Read more
Homes of Indonesian Immigrants in N.J. Sanctuary Ransacked, Advocate Says
A day after Immigration and Customs Enforcement agents came knocking at Harry Pangemanan's door, his two U.S.-born daughters returned to the Highland Park house, escorted by a volunteer, and spotted the front door open.
Asbury Park Press Read more
Cops Vastly Underuse Programs That Keep Kids out of Jail, New Study Finds
There's a common scene in movies: police break up a house party where there's red Solo cups filled with booze and bring the offending teens down to the police station where they'll get a stern warning, and maybe some community service.
NJ.com Read more
Will Minimum Wage Talks Include Debate over Raising Base Pay for Tipped Workers?
As Gov. Phil Murphy and Democratic leaders in the state Legislature fight for a massive increase in New Jersey's minimum wage, the restaurant industry is preparing to lobby against a campaign to boost the hourly base pay for tipped workers.
Politico Read more
N.J. Marijuana Legalization: 5 Weed Lessons from the New Jersey Cannabis Symposium
If the New Jersey Cannabis Symposium is any indication, New Jersey's fledgling marijuana industry is going to be big.
Asbury Park Press Read more
N.J. Marijuana Legalization: Monmouth County Says No to Recreational Weed
The Monmouth County freeholders just said no to pot.
Asbury Park Press Read more
Ocean County Lawmaker Ronald Dancer Wants Bill to Allow Guns in Churches
Assemblyman Ronald Dancer, R-Ocean, says he wants to allow houses of worship to have an armed person on site to protect attendees.
Asbury Park Press Read more
New Jersey Lawmakers on Cuba Trip for José Martí Statue Unveiling
Three state lawmakers are part of a New Jersey contingent on an unofficial trip to Cuba, where they plan to view ceremonies Sunday marking the 165th anniversary of José Martí's birth.
Asbury Park Press Read more
Christie Frees Killer, Family Wonders Why
Three days before they were to be married, Lisa Pyatt grabbed a fish knife and fatally stabbed Kevin McGowan through his heart.
NJ101.5 Read more
Hundreds of Illegal Massage Parlors Fuel Sex Trade in N.J., Report Says
New Jersey has hundreds of illegal massage businesses that could be harboring victims of human trafficking and fueling the sex trade, according to a new report.
NJ.com Read more
The Biggest Turnpike and Parkway Projects This Year
The agency that runs the state's two biggest toll roads is squeezing the last projects out of a $7 billion construction fund, financed by a 2008 toll increase on the Garden State Parkway and New Jersey Turnpike.
NJ.com Read more
Building Trades Prez Mullen Urges Lawmakers to Prevail on Murphy to Ditch EDA Pick Sullivan
Citing nominee Tim Sullivan's labor record, the head of Building Trades Labor in New Jersey has a problem with Governor Phil Murphy's choice to head the Economic Development Authority (EDA), and today fired off a letter to lawmakers urging them to block Murphy's pick.
InsiderNJ Read more
Dune Construction Causes Headaches for Shore Businesses
Downbeach business owners and real estate professionals are gearing up for a summer they hope will be better than last year, when dune construction and subsequent ponding of rainwater scared away visitors.
Associated Press Read more
More Scrutiny in Lakewood Development
In Lakewood, the argument over development can be boiled down to a few words.
Enough is enough, is the position of residents who want to halt what they think is unabated development.
NJ.com Read more
Leonia's Last-Ditch Traffic Fix to Stop George Washington Bridge Commuters
After enduring years of gridlock, the tiny town near the George Washington Bridge finally began shedding its image as the nation's most popular shortcut last week by posting Do Not Enter signs on 60 of its side streets and dispatching police to enforce the signs.
The Record Read more
Bayonne Mayoral Derby Has Yet to Post Odds: Political Insider
It was pretty impressive crowd at Bayonne Mayor Jimmy Davis's fundraising soiree at McLoone's Bayonne Grill on Thursday evening. One thing not mentioned among those attending the packed affair was the alleged sexting scandal shadowing the administration.
NJ.com Read more
Trenton Mayor Eric Jackson Won't Seek 2nd Term, Mum on Future Plans
Trenton Mayor Eric Jackson said Friday afternoon he will not seek a second term, saying his work as mayor of the state's capital is done.
NJ.com Read more
Assemblyman Reed Gusciora Looks to Become Trenton's First Gay Mayor
Assemblyman Reed Gusciora has been a trailblazing pioneer before.
Trentonian Read more
Lowry: From Paterson to Kentucky, Children Lost to Violence
Last week, there were tears in Kentucky, and there were tears in Paterson.
The Record Read more
MacArthur: GOP Tax Bill Will Inject Billions of Dollars into N.J.'s Cconomy
I would like you to consider a question: Would you prefer keeping more of your hard-earned money or continue to pay high taxes to the federal government?
NJ.com Read more
Editorial: Dreamers Have a Champion in Murphy
As Washington debates the fate of immigrants in its usual maladroit fashion, one of them raised his right hand Wednesday morning and pledged to be "a champion of due process for all persons" and to "promote the fair and impartial administration of justice."
Star-Ledger Read more
Editorial: 'We Have Your Back,' N.J. Says to Its Dreamers
Parthiv Patel was sworn in as a member of the New Jersey Bar this week as friends and family members applauded, fulfilling a long-held dream for the 27-year-old graduate of the Drexel University Thomas R. Kline School of Law.
Times of Trenton Read more
Editorial: Our Police Need Better Policing
Our 'Protecting The Shield' investigative series isn't about bashing police. It's about thinning the ranks of the bad cops, who endanger citizens and tarnish the reputations of the overwhelming majority of New Jersey police officers who carry out their jobs professionally and honorably to keep our communities safe.
Asbury Park Press Read more
Editorial: C'mon New Jersey, Fix Your Broken Seat Belt Laws
There's no question that seat belts save lives. So why would anyone get in a car and not buckle up?
Times of Trenton Read more