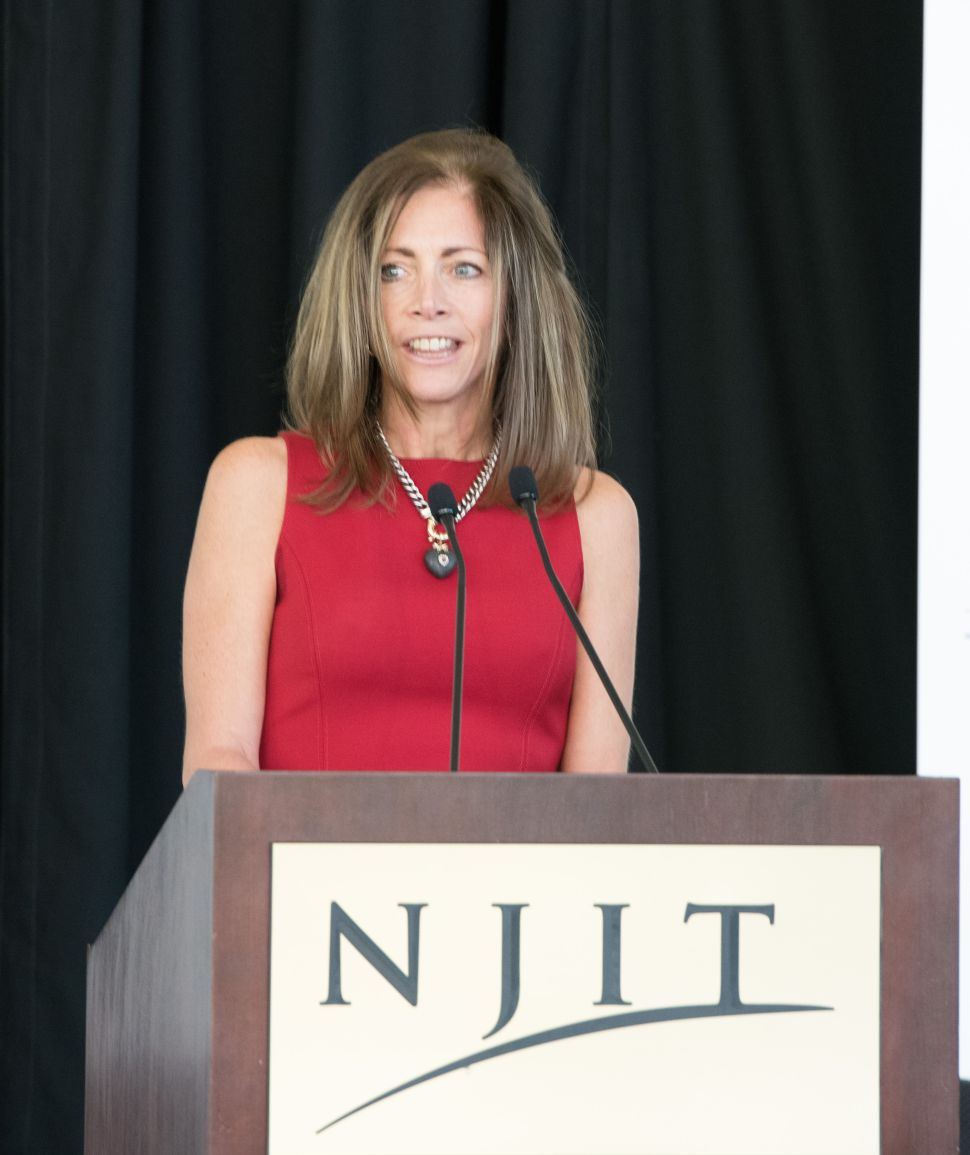 The #MeToo movement hit home in New Jersey this weekend, when the state's first lady, Tammy Murphy, shared the story of how she had been sexually assaulted while a student in college.
Murphy and Gov. Phil Murphy were at the Women's March in Morristown when she told of the 1987 attack that occurred as she walked down an unlit path at night. Murphy was able to escape her attacker, who was later arrested for another crime, she told crowds at the march.
The shutdown of the federal government was also big news in the state, with Gov. Phil Murphy hosting a conference call with the state's congressional representatives from both sides of the aisle to talk about how New Jersey will be impacted.
Democrat Josh Gottheimer, was one of only six Democrats in the House to support the Republican's short-term spending plan, saying that while he wanted a permanent DACA solution it would "be irresponsible to shut the government down," while Republican Rep. Tom MacArthur played to voters in his district with a measure that would require members of the military continue to be paid during future government shutdowns.
And Sen. Robert Menendez's re-election bid just got more complicated, as federal prosecutors announced they intend to retry the state's senior senator on corruption charges. The announcement comes two months after a jury deadlocked following Menendez's first trial and about 10 months before state voters will decide if Menendez gets another term. The senator is defiant, releasing a statement saying he "fully expects to be vindicated and has every intention of running for re-election," according to NJ.com
Quote of the Day: " I know the feeling of shame. I know the feeling of helplessness. I know the disappointment of justice denied. By speaking out, we can find our strength and ensure our lives are not defined by our experience," — New Jersey First Lady Tammy Murphy, telling about a sexual assault that occurred while she was in college.
Feds Intend to Retry Sen. Bob Menendez on Corruption Charges
Federal prosecutors intend to retry Sen. Bob Menendez on corruption charges two months after a jury deadlocked on all counts against the New Jersey Democrat and his co-defendant, Salomon Melgen.
Christian Hetrick, Observer Read more
Gov. Phil Murphy Orders Audit of New Jersey Tax Incentive Programs
Gov. Phil Murphy signed an executive order on Friday to audit controversial tax subsidy programs that have doled out more than $8 billion in corporate tax breaks since 2010.
Christian Hetrick, Observer Read more
Tammy Murphy: 'I Was Sexually Assaulted'
First Lady Tammy Murphy shared her #MeToo story with thousands who attended the Women's March on New Jersey on Saturday, revealing that she had been sexually assaulted in college.
The Record Read more
Stile: Millionaire Murphy Can Take the $175K Salary with Little Risk—as Long as He Delivers
It was not too long ago in New Jersey history that first-term Gov. Chris Christie took his full $175,000 salary and then proceeded to hopscotch the state in a taxpayer-financed helicopter, the lux-living emperor of the airways.
The Record Read more
Fate of Phil Murphy's Cabinet Picks Now in Senate's Hands
Gov. Phil Murphy has made a show in recent weeks of nominating the most diverse Cabinet in state history, but now comes the hard part: he will have to win over lawmakers of both parties to get them in place.
The Record Read more
New N.J. Gov. Phil Murphy Faces Monumental Budget Problems, Including `a Dagger to the Heart' Tax Issue
There is an old saying: "Be careful what you wish for, you just may get it." Now that the new governor of New Jersey, Phil Murphy, got his wish, he may be sorry he did, given the huge challenges he faces.
Inquirer Read more
As Shutdown Looms, Gottheimer Joins Republicans on Spending Bill Most Democrats Opposed
Rep. Josh Gottheimer of Wyckoff was one of just six Democrats in the House who voted with Republicans to pass a short-term spending bill on Thursday night, though it remained unclear whether the vote would help prevent a partial government shutdown at midnight Friday.
The Record Read more
Gov. Murphy Talks Government Shutdown with N.J. Congress Members
Gov. Phil Murphy convened a conference call Saturday with members of the state's congressional delegation on the first day of the latest federal government shutdown.
NJ.com Read more
MacArthur: Compromise on Both Sides Will End Shutdown
Rep. Tom MacArthur said compromise is needed to end what he called an "irresponsible and unnecessary" federal government shutdown.
NJ101.5 Read more
Menendez: I Plan to Run for Re-Election Despite Retrial
U.S. Sen. Robert Menendez said Friday he intends to run for re-election this year even though federal prosecutors revealed earlier in the day they plan to retry the New Jersey Democrat on corruption charges.
NJ.com Read more
Is It a Waste of Resources to Retry Sen. Robert Menendez for Corruption?
Maybe second time's a charm? Federal prosecutors announced Friday that they intend to retry U.S. Sen. Robert Menendez, of New Jersey, on political corruption charges.
NJ.com Read more
Keep Race and Politics out of Menendez Retrial, Prosecutors Say
Hours after announcing it will seek a retrial of Democratic Sen. Bob Menendez and co-defendant Salomon Melgen after a November mistrial, the Department of Justice on Friday attempted to stop the two men from bringing up race and politics in the new trial.
Politico Read more
Menendez decries 'Racism' in Trump Campaign Ad After Government Shuts Down
President Donald Trump responded to demands that unauthorized immigrants brought to the U.S. as children be allowed to remain with a new campaign ad saying Democrats would be "complicit in every murder committed by illegal immigrants."
NJ.com Read more
11 Bills Christie Vetoed (on Guns, Pensions & More) Now Getting New Life Under Phil Murphy
Throughout former Gov. Chris Christie's tenure the state legislature was controlled by Democrats. But over eight years, they were never able to mount a veto override, allowing the Republican governor to kill bills strengthening gun control, funding family planning services and and raising the minimum wage.
NJ.com Read more
Christie Criticizes Reports of His Airline Security Handling
Chris Christie is disputing reports suggesting he tried to get special treatment that he enjoyed while he was governor.
Associated Press Read more
Brand Will Be Back as Director of N.J. Rate Counsel
Stefanie Brand is staying put as director of the New Jersey Division of Rate Counsel, a post she has held since 2007.
NJSpotlight Read more
She's 39, Italian and Earns $38K a Year: Meet N.J.'s Most Typical Resident
The typical New Jersey resident in 2018 is a 39 year-old woman of Italian descent. She lives in Middlesex County, makes about $38,000 a year and has at least some college experience. She's married, lives in a home worth around $328,000 and has a commute of about 31.8 minutes.
NJ.com Read more
Women's March in Morristown: Gov. Phil Murphy Leads New Jersey Event
Thousands of women, men and children from across New Jersey descended here to march Saturday in the Women's March on New Jersey.
Daily Record Read more
Women's March: North Jersey Women Demonstrate, Reflect in New York City
In Glen Rock, they were 80. At Secaucus Junction, they were hundreds. At Penn Station, they were thousands more. And when they reached the Upper West Side of Manhattan, so many women packed into the block of 71st Street between Columbus Avenue and Central Park West that they shuffled in place for an hour and barely moved.
The Record Read more
Going to the Women's March? Rutgers Wants Your Signs
If you are going to one of the women's marches around the state Saturday, Rutgers University is asking you to save your signs—for future historians.
NJ.com Read more
N.J. Anti-Abortion Marchers Turn Out with Trump on Their Side
Robert Keeling of Lebanon has marched against abortion rights for more than a quarter-century, but never before did he see the president of the United States standing by his side.
NJ.com Read more
7 Signs Cory Booker Is Getting Ready to Run for President
Former Gov. Chris Christie's 2016 presidential hopes crashed and burned after New Hampshire, but New Jersey could have another contender in the next election.
NJ.com Read more
Doherty Says He'd Serve Again as Trump's N.J. State Director
State Senator Mike Doherty (R-23) made no apologies for the role he played in 2016 as the State Director for the Presidential Campaign of Donald J. Trump.
InsiderNJ Read more
11 Ways Trump's First Year as President Had a Direct impact on You, Jersey Residents
President Donald Trump was inaugurated a year ago Saturday as the nation's 45th president, and spent his first year in office upending traditional norms and steering the ship of state in a totally different direction than his predecessor, Barack Obama.
NJ.com Read more
President Trump Is a Racist, N.J. Mayor Says at 'Unity Rally'
In the biting cold, a group of Essex County mayors on Thursday roared against President Trump's reported insults directed at people from African nations and Haiti.
NJ.com Read more
Steinhardt Tells GOP Crowd That RNC Is Eyeing N.J. as One of Three Top-Priority States
New Jersey Republican State Party Chairman Doug Steinhardt told Central Jersey Republicans that the Republican National Committee (RNC) sees New Jersey in 2018 as a key political proving ground.
InsiderNJ Read more
Tip Change Could Cost N.J. Workers $21M/Yr., Study Says
A proposed U.S. Department of Labor rule that would allow employers to take employees' tips if they pay minimum wage could cost New Jersey workers $21 million a year, according to a new report.
InsiderNJ Read more
Anonymous Group Creates Trump Cemetery Near President's Golf Course
A plot of land on or near the president's private Somerset County golf club was vandalized Friday night to resemble a cemetery bearing the Trump name.
The Record Read more
2018 Hudson County Power List
Brian Stack retains his place atop of the Political Insider's Power List for 2018.
Jersey Journal Read more
Sure, Amazon Would Be Great, but There Are Other Signs Newark's on the Rise
For a long-blighted city that has suffered for its reputation, any shift in perception—and confidence—can be a game changer.
NJ.com Read more
Rush-Hour Shortcut Through Little N.J. Town Could Cost You Big
If you're heading into or out of New York via the George Washington Bridge and you go through this borough, you could be in for a $200 shock.
NJ101.5 Read more
Bayonne's 2nd Ward Councilman Announces Bid for Re-Election
Second Ward Councilman Sal Gullace announced he will run for re-election in May on Mayor Jimmy Davis' ticket.
NJ.com Read more
Toms River Council to Vote on Buying Troubled Motel
A vote is scheduled over whether to close an Ocean County motel, which has been the scene of 750 police calls over the past two years, and take the property by eminent domain.
NJ101.5 Read more
Big Man, Big Heart, Big Agenda
In the wide halls of Essex County College, Samuel Nash's voice booms and reverberates off the tile floors and plaster walls.
NJ.com Read more
Ex-N.J. Attorney General: Why N.J. Is So Hard to Govern (Hint: It's in Our DNA)
Sometime in the next few months, Gov. Phil Murphy and his senior staff will be sitting around a conference table in the makeshift governor's office up the street from the Statehouse—a gift from his predecessor—and someone will say out loud the question on all of their minds: "Why is this state so (bleeping) hard to govern?"
NJ.com Read more
Mulshine: Chris Christie and Self-Promoting Antidrug Ads—Perfect Together
It was an old trick, but it worked—at least for a while.
NJ.com Read more
Editorial: The Moral Case for Legal Pot
Gov. Phil Murphy wants to legalize pot in his first 100 days in office, but needs the votes to do it—and is facing some opposition even within his own party.
Star-Ledger Read more
SaveSave
SaveSave
SaveSave
SaveSave
SaveSave