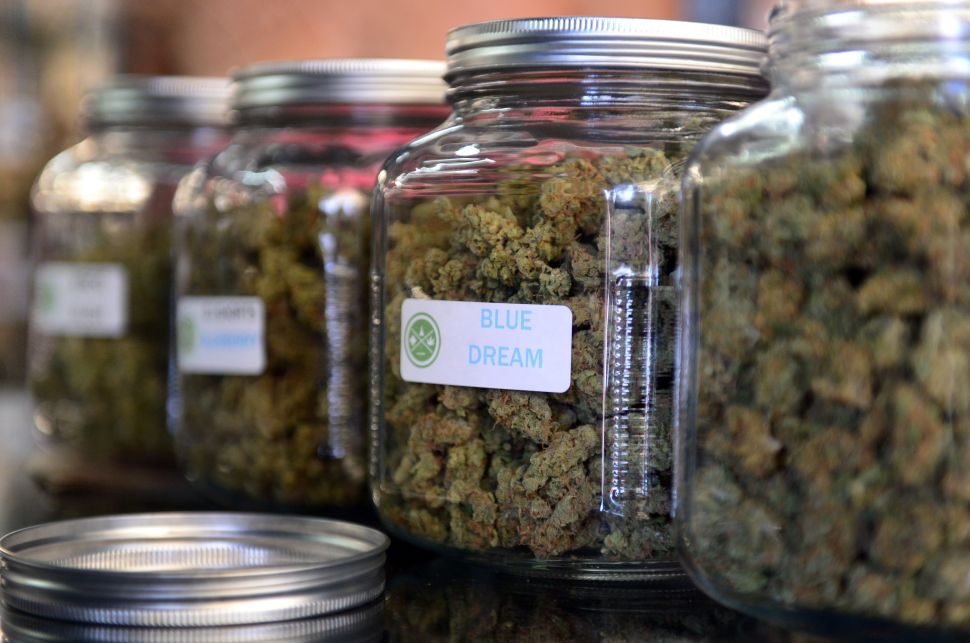 The future of legalized marijuana in New Jersey has yet to be decided, but on Tuesday, Gov. Phil Murphy made his first move toward easing state regulations governing weed, issuing an executive order to expand access to medical marijuana.
Murphy has received pushback on his call to legalize pot from a variety of sources, including the Trump administration and even members of the state's Democratic party, but this move is likely to create little controversy.
The state legalized medical marijuana in 2010, but Gov. Chris Christie placed tight restrictions on its use. Murphy's move simply orders the state Department of Health to study how to increase access to the drug for medical use.
State legislators meanwhile moved to undo another Christie effort, with a state Senate Panel moving forward with legislation to have New Jersey rejoin the Regional Greenhouse Gas Initiative that Christie pulled the state from six years ago.
And while the first round of fighting to land Amazon's new corporate headquarters was marked by lots of publicity and high-profile efforts, the online retailer is now telling the top 20 finalists that its second round of decision-making will focus much more on specifics of the proposals and should include a lot less public discourse, according to a report from ROI-NJ.
Quote of the Day: "Dems would be wise to have good candidates on tap in each district, and GOP incumbents should be prepared for the battle of their political lives." — Patrick Murray, director of the Monmouth University Polling Institute, on challenges facing Republican House candidates in New Jersey in the upcoming midterm elections.
NJ Senate Panel Advances Bills to Rejoin Regional Greenhouse Gas Initiative
New Jersey is poised to rejoin a regional effort to rein in carbon emissions six years after former Gov. Chris Christie pulled the state from the program.
Christian Hetrick, Observer Read more
Gov. Phil Murphy Leads NJ's New 'Fair Deal' Democratic Party
Governor Phil Murphy's inaugural address spoke to an important targeted audience. In addition to the people of New Jersey and the state legislators seated on the stage behind him, the governor delivered a strong message to the state Democratic Party faithful that he is the new leader.
Donald Scarinci, Observer Read more
N.J. Lawmakers Revive Nuclear Subsidy Plan That Could Raise $300M for PSEG
Lawmakers have revived a controversial bill to raise electric rates in New Jersey in order to help two of the state's nuclear power plants remain operational for the next couple of decades.
The Record Read more
N.J. Officials Take a Step Back in Controversial Port Fight
New Jersey officials have agreed to temporarily back off on efforts to pull the state out of the Waterfront Commission of New York Harbor, pending a federal court hearing next month.
NJ.com Read more
Phil Murphy Orders Expansion of Medical Marijuana in New Jersey
New Jersey's medical marijuana rules are too restrictive and limit the drug to just 15,000 patients, Gov. Phil Murphy said as he ordered state agencies to find ways to expand access.
The Record Read more
Gov. Phil Murphy Appoints Kevin Corbett to Turn Around Troubled NJ Transit
Gov. Phil Murphy is expected to tap transportation veteran Kevin Corbett to head NJ Transit, another step in overhauling an agency he called a "national disgrace."
The Record Read more
Eliminated by Christie 8 Years Ago, $7.5M for Women's Clinics Is Making a Comeback
Nearly eight years after Republican Gov. Chris Christie eliminated $7.5 million in state grants to support family planning and women's health clinics, Democratic state lawmakers took the first step Monday to reinstate the money.
NJ.com Read more
In Call, Amazon Tells Newark 1st Rule of 2nd Phase: Quiet
The most public economic development contest in recent history—the nationwide battle that produced outlandish marketing stunts in an attempt to get Amazon's attention and land its second headquarters and the $5 billion investment that goes with it—is going quiet.
ROI-NJ Read more
A Plan to Give Every N.J. Kid Healthcare—Including Illegal Immigrants
A report from liberal think tank New Jersey Policy Perspective is calling for the state to achieve universal health coverage for children.
NJ101.5 Read more
Would Phil Murphy Ask Shoppers to Pay More to Protect the Environment?
A prospective ban on plastic grocery bags—one that would assess a 5-cent per bag charge on shoppers—could represent an early test on just how deep new Gov. Phil Murphy's commitment is to environmental causes.
Asbury Park Press Read more
Mulshine: Governor Phil Murphy's Paying More Than His 'Fair Share' of Taxes
The usual suspects got their knickers in a knot last week after Gov. Phil Murphy announced his decision to accept that $175,000 annual salary that comes with the office. Many cited the example of his fellow Goldman Sachs alumnus Jon Corzine, who didn't take a salary.
NJ.com Read more
Will 'Active and Angry' Voters Make GOP Congressmen Endangered Species in N.J.?
New Jerseyans can expect an onslaught of political mailers, robocalls and television and radio ads this year as the state becomes a flashpoint for what's shaping up to be the most contentious congressional election in more than a generation. And at the end of it, New Jersey could turn almost completely blue.
NJSpotlight Read more
The Federal Government's Open Again! Here's How Your Lawmakers Voted and What They Said
The federal government reopened Tuesday after President Donald Trump signed legislation providing funding through Feb. 8.
NJ.com Read more
Cory Booker and Robert Menendez Go After Channel 9
New Jersey's two U.S. senators charged Secaucus-based Channel 9 with failing to live up to its federal mandate to cover its hometown state and wants the Federal Communications Commission to do something about it.
NJ.com Read more
N.J. Auto Safety Laws Fall Short in Protecting You: Here's Why
New Jersey falls short of fully protecting motorists because the state still doesn't allow police officers to pull vehicles over if rear-seat occupants are not buckled up, according to an annual report by a safety advocacy group.
NJ.com Read more
Phil Murphy's Inauguration Brings in $1M; Total Was Less Than Christie, Corzine
Allies of Gov. Phil Murphy raised $1 million toward the Democrat's lavish inaugural ball and related events last week, which ranks below the sums raised for Govs. Jon Corzine and Chris Christie when they first took office.
The Record Read more
Golden: Sweeney Takes a Stake to Murphy Agenda
Senate President Steve Sweeney (D-Gloucester) appeared on a Fox News Channel show last week and drove a stake through the heart of a major component of Gov. Phil Murphy's legislative agenda.
NJSpotlight Read more
Leave Us Alone on Legal Weed, N.J. Congressman Tells Sessions
A New Jersey Congressman has confronted the attorney general over marijuana, urging him to keep federal law out of the state's debate on legalizing weed.
NJ.com Read more
Your School District Has a Way to Lower Your Taxes But Not All Are Taking Advantage
Legislators called it an "outside of the box" idea. Superintendents said it would help release them from their "financial shackles."
NJ.com Read more
N.J.-Based Johnson & Johnson Posts $10.7B Loss After US Tax Change
Johnson & Johnson posted a rare quarterly loss, a whopping $10.71 billion, due to a $13.6 billion charge related to the recent U.S. tax overhaul.
Associated Press Read more
Employee for Atlantic County Superintendent of Elections Under Criminal Investigation
An employee for the Atlantic County Superintendent is under investigation for possible criminal activity, leading to the execution of a search warrant at the office in Mays Landing.
Press of Atlantic City Read more
CD12 Flashpoint: Kipnis to Pursue GOP Nomination to Run Against Watson Coleman
Republican Attorney Daryl Kipnis of Somerset wants to challenge U.S. Rep. Bonnie Watson Coleman (D-12) this year.
InsiderNJ Read more
RIP: John J. Spence, 75, Respected Haddonfield Judge
John Joseph Spence Jr., 75, of Haddonfield, a municipal court judge in the borough for more than three decades, died Sunday, Jan. 14, at Thomas Jefferson University Hospital of a malignant stroke.
Inquirer Read more
Neptune Homeless: Few Answers on Fate; Many Step Forward to Help
Residents of the homeless encampment off Neptune Boulevard were looking for help. Neighbors expressed frustration. Homeless advocates spoke about micro homes and a permanent fix.
Asbury Park Press Read more
Woodbine's Pikolycky Joins 75 Mayors to Meet with President Trump
Mayor William Pikolycky has a few words for the president of the United States, and on Wednesday, the mayor and about 75 other municipal officials from around the country will have the chance to share their thoughts with Donald Trump.
Press of Atlantic City Read more
SaveSaveSaveSaveSaveSave
SaveSaveSaveSave
SaveSaveSaveSave