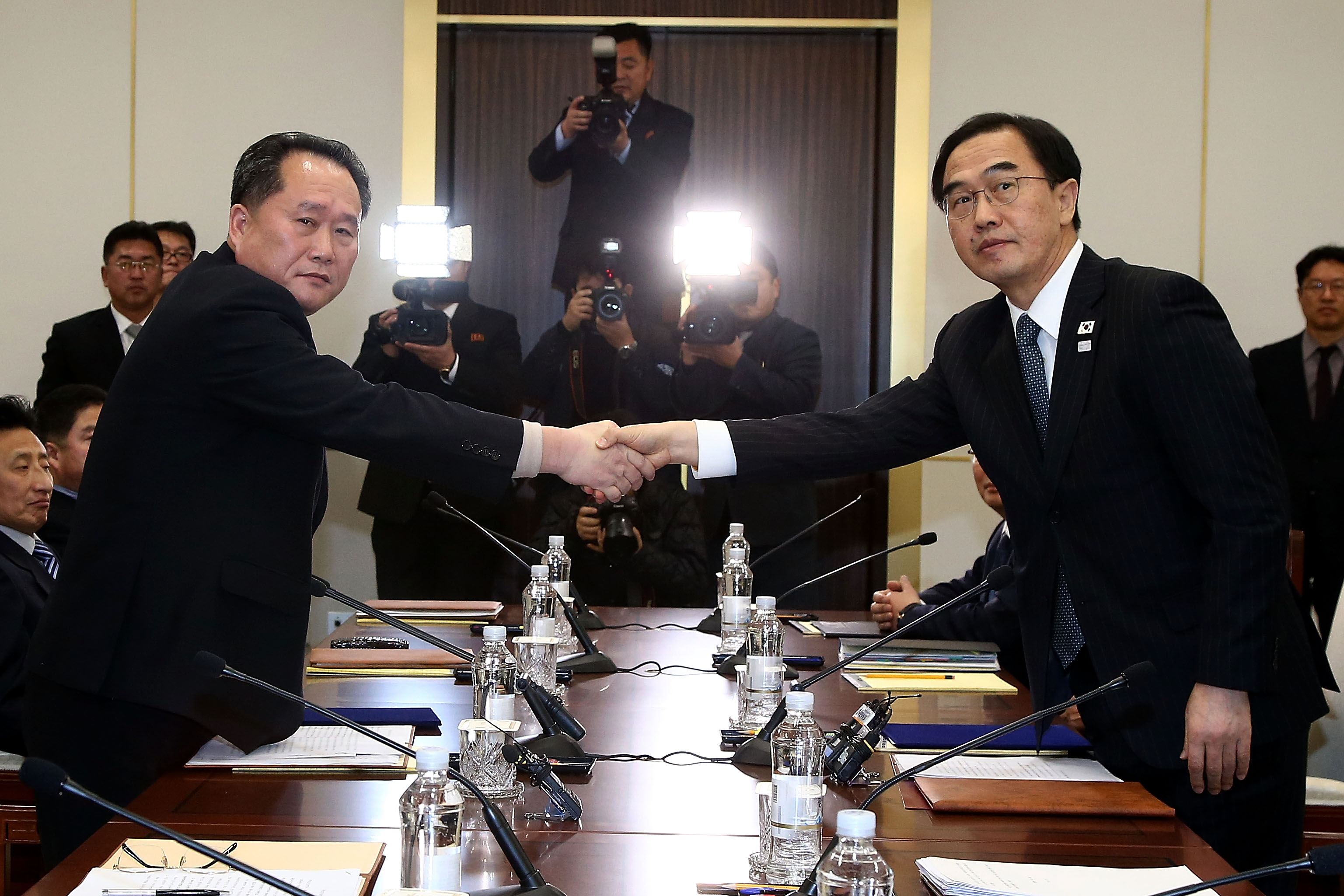 There's nothing like a good sporting event to serve as both a catalyst and a venue for geopolitical diplomacy, and the Olympics has a history of being a backdrop to much deeper tensions between nations competing in the same arena.
And the upcoming Winter Olympic Games—which will be hosted in Pyeongchang, South Korea from Feb. 2-25—will no doubt have a circus-like atmosphere since North Korea agreed on Tuesday to send a team and high-level delegation to the South for the event, according to South Korean media reports.
The decision by North Korea's Kim Jong-un came at South Korea's invitation, a move meant to diffuse the escalating rift between itself and North Korea, and much of the international community at large. Kim spent 2017 authorizing a bevy of nuclear and long-range missile tests, advancing the nation's nuclear-capable ambitions.
The two sides met in a border village called Panmunjom, and it was the first such meeting between the bitter rivals in roughly two years, marking the meeting and announcement as a breakthrough—of sorts.
With sanctions already impacting his nation and the ever-present threat of military force to thwart his nuclear weapons program, Kim was probably not as motivated by the spirit of the games as much as he was by the threats facing him—most notably emanating from the U.S. and President Donald Trump.
Trump has traded barbs in past public comments with Kim, rhetoric less in line with diplomatic officialdom than the WWF-trash talking it resembles.
It's been eight years since North Korea participated in the Winter OIympics. Since 1972, North Korea has boycotted two summer games: the 1984 Los Angeles Olympics and the 1988 Seoul Olympics.
The two sides will hold working-level talks to further discuss details of the North's participation, according to the South Korean news agency Yonhap. Officials will also hold military talks to discuss ways to reduce border tensions, which Seoul proposed in July 2017.
One stickler: South Korea's proposal to arrange reunions of families separated by the 1950-53 Korean War in February during the Olympics wasn't included in the press statement, according to Yonhap, which also reported South Korea's chief delegate Cho Myoung-gyon raised the need to resume talks on North Korea's denuclearization during Tuesday's joint meeting. Ri Son-gwon, the North's counterpart to Cho, apparently wasn't thrilled media reports on Tuesday portrayed a narrative of nuclear talks between the two nations, rather than the Olympic games themselves.
No doubt skepticism abounds within the international community, but this opportunity should be seized upon by all sides.
Newsweek reported on Tuesday that during the meeting in Panmunjom, North Korean officials commented on how the South and other nations didn't have to worry about a nuclear strike, just America does.
And that kind of comment is why, all fun and games aside, this is a deadly serious matter. In a real-world military engagement between the U.S. and North Korea, there is no minimum force, or "limited strike," which Abraham M. Denmark argued in an essay for Foreign Affairs on Tuesday is a "myth" because any outcome of using just enough force to make Pyongyang stop would probably not go according to the Pentagon's playbook.
"It is unlikely, however, that a strike would work as planned," Denmark wrote. "It would have no guarantee of successfully destroying North Korean capabilities, and Kim may well feel compelled to respond to even a limited attack. Any strike would thus risk igniting a full-blown war on the Korean Peninsula that would endanger millions of lives and ultimately diminish U.S. power and influence in the Asia-Pacific."
So while the Olympics will keep things light and cheery, this is serious politics.
Les Neuhaus is a National and International Politics contributor for the Observer. Follow him on Twitter @LesNeuhaus