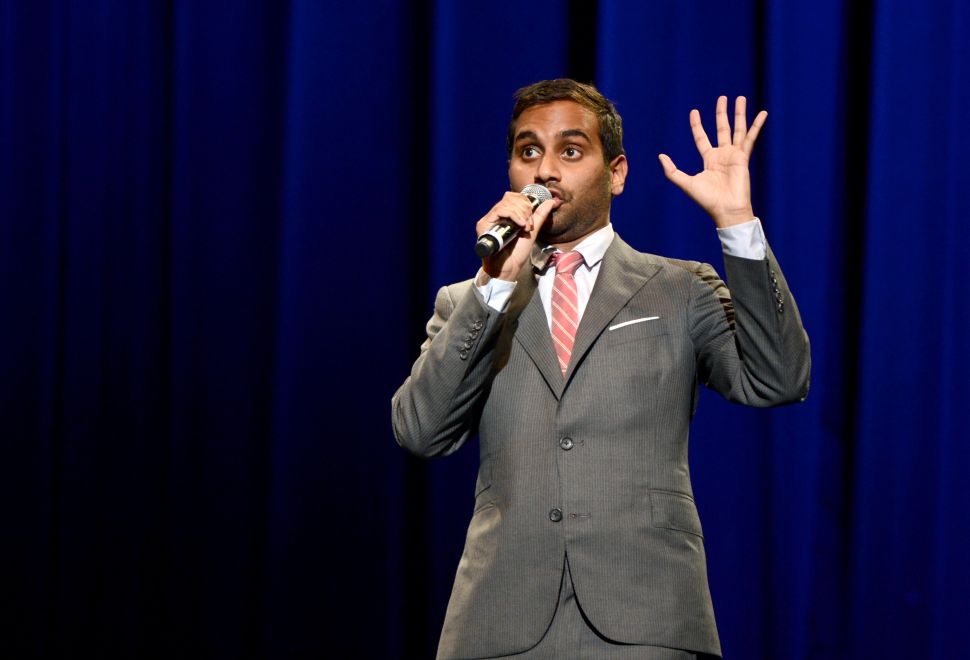 Aziz Ansari was an alleged sexual harasser at first, then a wronged target of a feminism movement that's "gone too far" and, eventually, a poorly behaved man who doesn't understand "no means no"—or "yes means yes."
The exposé of Ansari's unsuccessful date with a 23-year-old photographer published by feminism news site Babe.net last weekend has drawn a flood of harsh criticism from mainstream news outlets, mainly on the woman character in the story and the writer who one-sidedly told it.
A New York Times op-ed on Monday called the story "the worst thing that has happened to the #MeToo movement since it began in October."
To be fair, the Babe.net story didn't contain explicit mentions of "#MeToo" or "feminism," but the timing couldn't be more convenient. Jill Filipovic, a lawyer and feminist who contributes commentaries to the Guardian, described the story as "jammed into a pre-existing movement grounded in the language of assault and illegality" in a piece on Tuesday.
"One of the most gratifying elements of the #MeToo movement has been the care with which journalists have handled these sensitive claims. But little of that journalistic rigor appears to have been applied to the Ansari story," Filipovic wrote.
In a sense, the case with Ansari seemed inevitable given the length that the #MeToo movement has gone so far. But where the story fits in the larger conversation around sex inequality and power abuse, if at all, offers a much needed clarification of what the movement is really about.
"There are good examples of #MeToo, and there are bad examples. That one is definitely a bad example," comedian Jordan Carlos told Observer at an event promoting open conversations about sex violence in New York this week.
"But you know what I fear the most? I don't want people to think this is the end of it. Many people were waiting for things like this to happen, and they would doubt, 'is it going to far?'" Carlos said.
While initial public responses (at least the headlines) sided with Ansari, a slightly different voice emerged in the following hours that reminded people of an important missing piece aside from picking sides—a higher-level discussion of sex culture in our society.
"Our culture is a bit obsessed with making winners and losers out of everything, creating these opposite ends of the spectrum," Sarah Beaulieu, founder of the Uncomfortable Conversation, a nonprofit dedicated to normalizing conversations about sexual violence, told Observer.
"But most life and social issues that we are trying to grapple with require us to get away from this polarizing point of view. It's easy to comment on particular incidences, but it's harder to talk about the culture," she said.
Ansari's public response to the Babe.net story, which The Atlantic called neither an apology nor a denial, "occupies that strange and viscous space between defiance and regret."
"In September of last year, I met a woman at a party. We exchanged numbers. We texted back and forth and eventually went on a date. We went out to dinner, and afterwards we ended up engaging in sexual activity, which by all indications was completely consensual.

"The next day, I got a text from her saying that although 'it may have seemed okay,' upon further reflection, she felt uncomfortable. It was true that everything did seem okay to me, so when I heard that it was not the case for her, I was surprised and concerned. I took her words to heart and responded privately after taking the time to process what she had said.

"I continue to support the movement that is happening in our culture. It is necessary and long overdue." – Aziz Ansari
Since October last year, a number of notable figures in entertainment, an industry that Carlos humorously said "has no HR department," have fallen under accusations of sexual misconduct. Some have paid by losing their jobs or missing important work releases. 
"It reminds comedians of what they get into this industry for—to make people laugh. The jokes you make on stage shouldn't be mixed up with your life off stage. A joke is a joke," Carlos said.