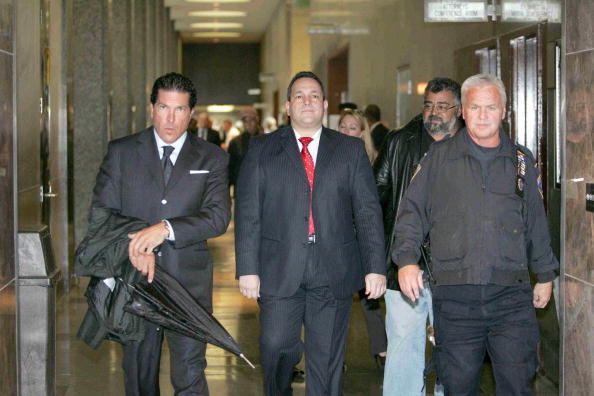 Two New York City Council members are looking to prohibit elected officials who have certain felony convictions from running for office in the city.
The bill, sponsored by Queens Councilman Francisco Moya and Bronx Councilman Ritchie Torres, would ban anyone with a felony conviction for state and federal crimes, such as wire fraud, public corruption and bribery, from holding public office, according to City & State, which first reported that the members were introducing the bill.
In September, Torres said he was drafting a bill that would prohibit anyone with a conviction pertaining to public corruption from running for the City Council, calling disgraced politician Hiram Monserrate's candidacy for City Council "a tragedy for good government."
The members will introduce the legislation at the Council's monthly stated meeting on Wednesday.
"How the hell is this guy allowed to run?," Moya told City & State. "That was the question that we got from every person that we met."
In 2010, former Queens Councilman and State Senator Hiram Monserrate was expelled from the Senate in 2010, after being convicted of slashing his girlfriend at the time. In 2012, he also pleaded guilty to embezzling Council discretionary funds to pay for his campaign for the Senate.
Last year, he and Moya ran for the seat held by former Queens Councilman Julissa Ferreras-Copeland, who announced she was not seeking reelection. Moya defeated him in the Democratic primary and went on to win the general election.
There is currently legislation pending in the New York State Senate that would bar people from holding public office or positions of political party leadership for 10 years after they are convicted of certain felonies. That bill would also ban those individuals from joining a political party for five years after they complete their sentences.
The legislation—which was introduced by former state Sen George Latimer, a Democrat, who now serves as County Executive of Westchester County—is currently in the Senate Investigations and Government Operations Committee.
Other states have pursued similar legislation.
In 2014, Illinois deemed a statute that bars felons from holding public office constitutional. However, in 2016, the Louisiana Supreme Court overruled a law that prevented politician Derrick Shepherd from running for office with a felony conviction, on the grounds that "what the citizens voted on was not what the legislature enacted."