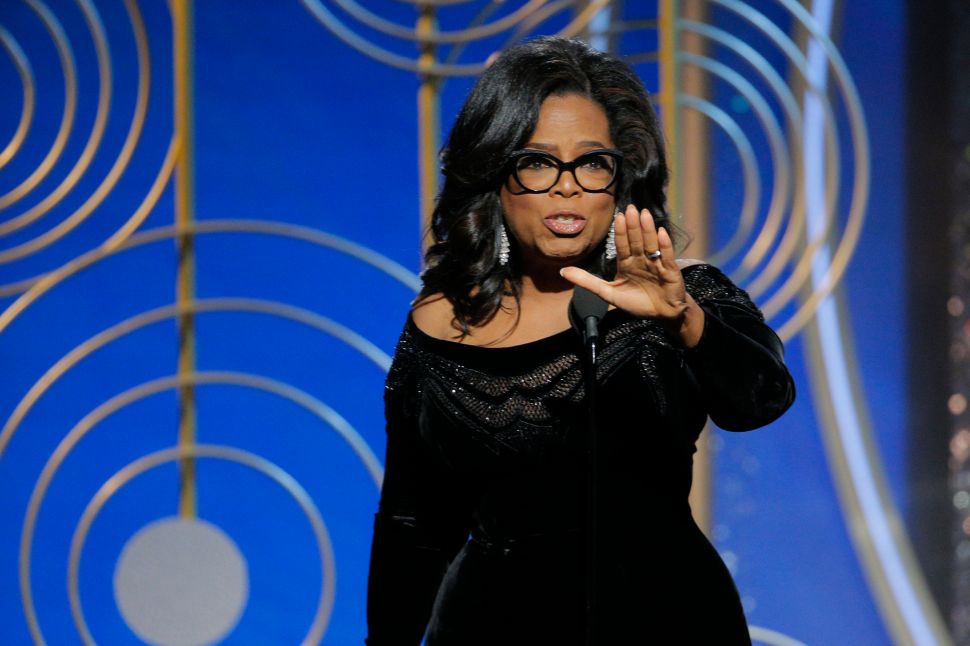 Back in September, Oprah Winfrey planted the seed of fan excitement when she tweet-promoted a column from the New York Post that suggested she should run against President Donald Trump in 2020. However, friend Gayle King quickly let the air out of that balloon when she said that it was "clearly a joke" and "that ain't ever happening." But after Winfrey's inspiring speech at Sunday night's Golden Globes, where she was awarded the Cecil B. DeMille Lifetime Achievement Award, fans are once again clamoring for her to set her sights on the White House. Apparently, the United States has not yet had enough reality television stars run for office.
CNN is reporting that two sources close to Winfrey told them that she is "actively thinking" about a 2020 run. They also said that her inner circle has been advocating for her to throw her hat in the ring for months. These reports come after a deluge of "President Winfrey" tweets erupted after her galvanizing speech at the Golden Globes. It also comes recently after Discovery forked over $70 million to acquire a majority ownership of Winfrey's television network OWN. Though Winfrey's contract as CEO was extended through 2025, the move's timing is curious given CNN's report.
Per the outlet's sources, the media mogul has not yet made a decision on whether or not to run.
The Democratic race for president does not officially begin until after the 2018 midterms. But Twitter users sparked to Winfrey's positive themes last night as she declared, "A new day is on the horizon."
Though Winfrey has been careful in her public comments when it comes to her political ambitions, she did note to Bloomberg last March that Trump's victory has altered the paradigm. When the outlet mentioned that "it's clear you don't need government experience to be elected president of the United States," Winfrey responded, "That's what I thought. I thought, 'Oh, gee, I don't have the experience, I don't know enough.' And now I'm thinking, 'Oh.'"
Following her speech, Winfrey's partner Stedman Graham told the L.A. Times that a 2020 run is in the cards.
"It's up to the people," Graham said. "She would absolutely do it."
Winfrey has been pro-Democrat in recent elections, campaigning for Barack Obama in 2008 and endorsing Hillary Clinton in 2016. During the latter election, she emphasized how important a female president would be, saying "America, it's about time that we made that decision."
Winfrey can next be seen in Ava DuVernay's $100 million Disney movie A Wrinkle in Time, hitting theaters in March.