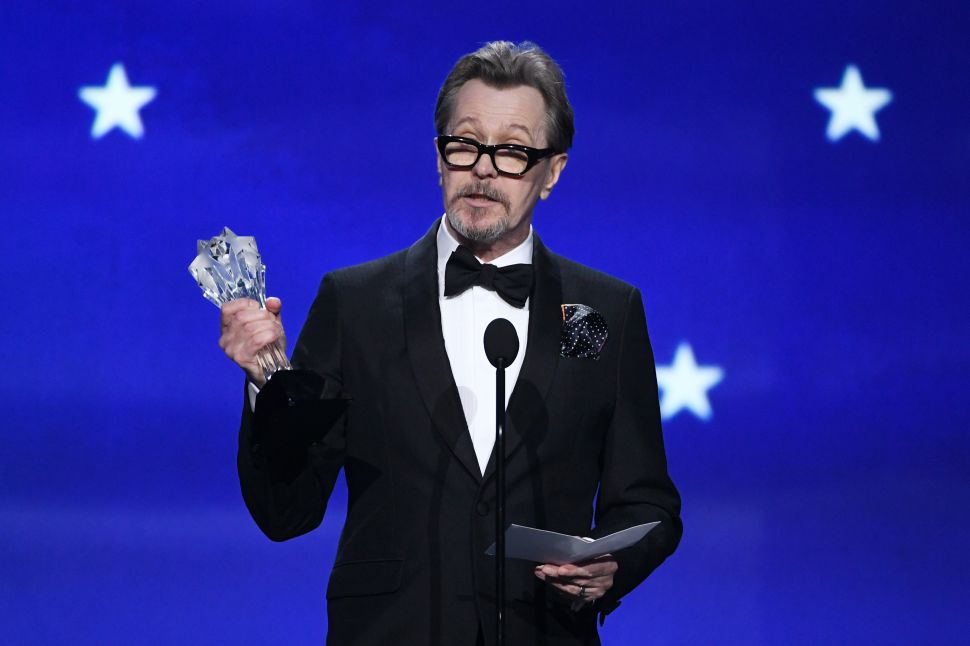 Gary Oldman is sweeping this Awards season with his portrayal of Winston Churchill in the critically acclaimed film, Darkest Hour. In the past week, Oldman nabbed a Golden Globe and a Critics Choice Award for Best Actor—solidifying him as the front-runner for Oscar gold on March 4, 2018.
Oldman had strong hesitations about playing Winston Churchill—could he master this iconic historical character' physicality? Could he find the human element in this well-known figure? The reviews are in, and critics across the board agree that Oldman succeeded, but as he told the audience at a recent SAG screening in L.A., he used on a somewhat unorthodox tool to help him master this award-winning role.
One hurdle Oldman faced was bringing an element of humanity to Churchill. "You can draw a silhouette of this person and you know who this person is. You know what he looks like—he is mythologized, he is an icon," Oldman shared at the screening. "What I was concerned with is how do you find the man? How do you get through all of that?" he said. "That was the thing that initially stopped me—it was fear. I was afraid to take on Churchill."
Oldman's physical being was transformed into Winston Churchill with the help of prosthetics and hair design by iconic designer, Kazuhiro Tsuji. Tsuji is best known for aging Brad Pitt backwards in The Curious Case of Benjamin Button and turning humans into monkeys in Planet of the Apes.
Another challenge Oldman faced was perfecting Winston Churchill's distinctly recognizable voice. "It is so famous—the voice, the cadence, the rhythm, the man. I started there." Oldman, a baritone, sought the help of an operatically trained vocal coach to achieve Churchill's iconic raspy, weathered sound. "I needed that gravitas—that brandy, cigar voice." He continues, "I worked on Churchill's range on the piano. Over time, I could get half a tone lower and then another half-tone lower. It's a lot of hard work; it's all in the prep," he said.
Oldman also relied heavily on a rather interesting tool to master his portrayal of Churchill. "There's an app you can get for your phone! There's a Churchill app," said Oldman. "It's all the speeches—at least many of the famous speeches. So, I had Churchill in my pocket and put it [on] in the car," he revealed. By listening to Churchill deliver his pivotal speeches on the app, Oldman was able to mimic Churchill's timbre to a tee.
Paul Zahn is an on-air host, journalist, and entertaining expert. Paul has appeared on E! News, OK! TV, and several regional broadcast outlets. Paul was Time Warner Cable's film correspondent for two years hosting press junkets and premieres for the media conglomerate. More information can be found at www.PaulZahn.com.