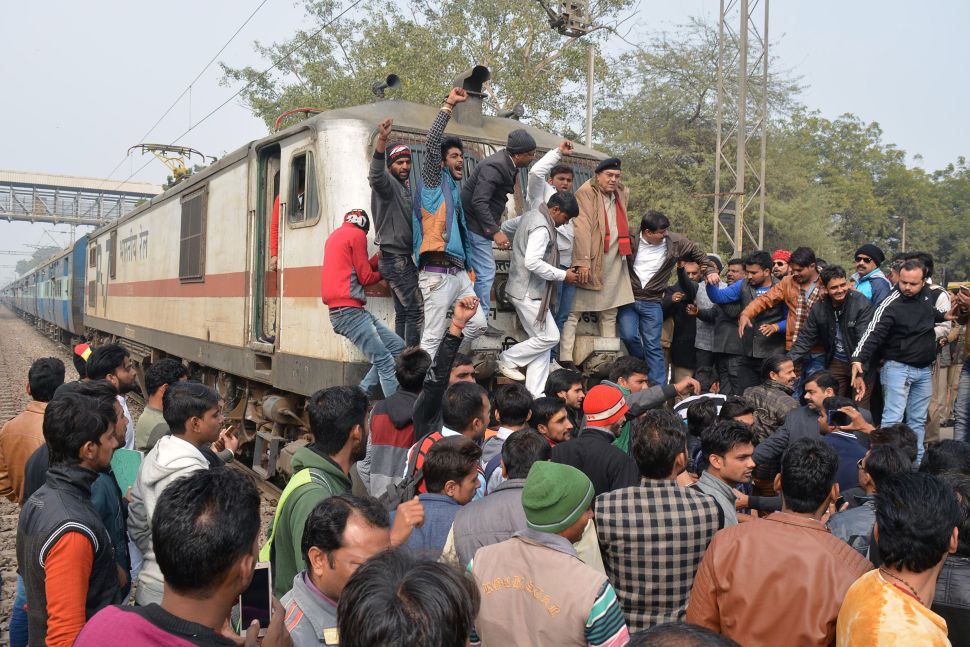 Bollywood epic Padmaavat is generating violent controversy in India.
The film follows a Hindu queen, Padmavati, whose beauty is said to have convinced a Muslim ruler to invade her kingdom so that he could take her as his wife, according to legend. However, rather than be taken prisoner and bring suffering to her people, Padmavati commits suicide, inspiring tales of self-sacrifice in Hindu lore.
The Thursday opening of the film has prompted threats of mass suicide and murder, leading to police forces beefing up security across India.
Extremist Hindu groups have organized protests amid claims that the film disrespects their religion and the original Padmavati. Specifically, the groups take issue with the character's attire and interactions with a Muslim invader during a dream sequence. They argue the treatment of the legendary icon disregards her heroic actions.
The film has people so enraged that Times Now is reporting that a group of 300 women are petitioning the government to legally allow them to take their own lives.
Extra police forces have been spread throughout the country as damaging protests have popped up across India. On Wednesday night, one local TV station reported that a mob had attacked a school bus filled with children and teachers with stones.
Very few people in the country, however, have seen Padmaavat yet, so it is unknown how exactly the movie depicts its lead. Also, Padmavati may only be a legend and may not have actually lived.
"We are living in strange times," Manish Tewari, an official with India's leading opposition party, the Indian National Congress, who supported the release of the film, told the New York Times.
Indian police have been taking the threats seriously in the lead-up to the film's release.
"We have geared up our local intelligence machinery," Anand Kumar, a police chief in Lucknow, in northern India, told the outlet. "We have also told them to deploy policemen at sensitive points. We have asked the cinema owners also to deploy their own private security."
Acclaimed Bollywood director Sanjay Leela Bhansali made the film, which the NY Times says cost around $30 million to make. Large numbers of cinema owners are reportedly refusing to house the movie for fear of their safety and that of their theaters.
The loudest opponents to the movie reside in Gujarat and Rajasthan, two states in Northern India that have large populations from the Rajput caste. The story of Padmavati is said to have taken place in a Rajput kingdom.
One lawmaker in the Bharatiya Janata Party offered a bounty to behead the lead actress and the director, according to NDTV.
"We behave rather strangely for a country acclaimed as the world's largest democracy," wrote Aroon Purie, editor-in-chief of one of India's most popular news magazines. "In a country beset with such serious problems as a slowing economy, crumbling infrastructure, suffocating pollution, ailing health care and a pathetic education system, the national conversation is dominated by a mythical character."
Over the summer, Christopher Nolan's Dunkirk also sparked controversy in India.