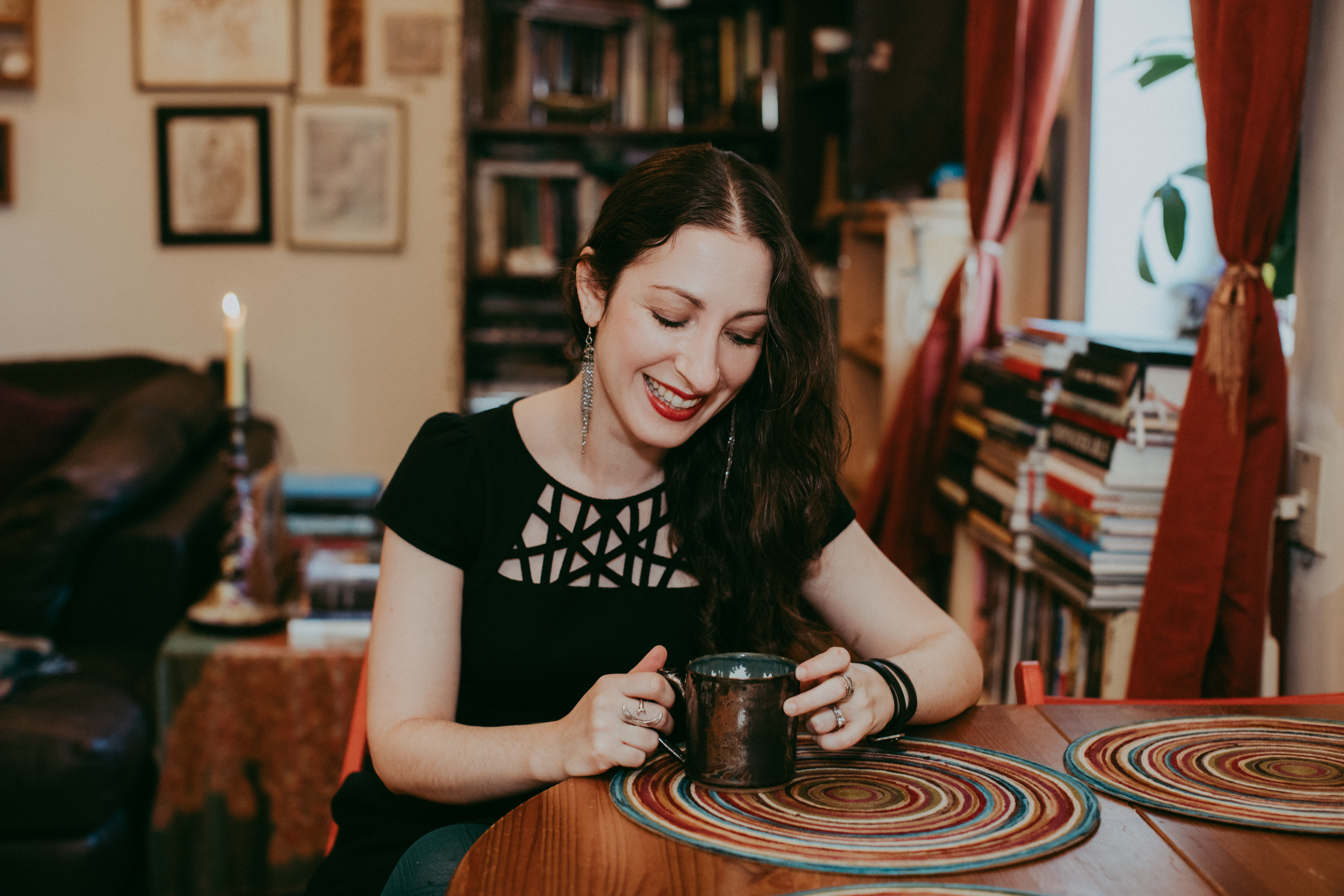 "There's no one way to be a witch," Pam Grossman explained as I sipped hot green tea out of a Salem, Massachusetts, souvenir mug in the kitchen of her cozy Park Slope apartment. Her bookshelves were loaded with books on herbs and, in her living room, a hand-hewn broom was mounted to the wall. One of her cats, Albee, was splayed out across the kitchen table, purring contentedly as we chatted; the other, Remy, was watching me intently from the couch in the adjacent room.
Sure, brooms, feline sidekicks and plant-based potions may be the stereotypical wares of a witch, but that doesn't mean you need any of them to make magic. For Grossman—an independent writer, curator, occult historian and practicing witch—magic is the process of simply envisioning something and manifesting it. Maybe you do that through a spell, or maybe you do it by painting, writing, or performing. The link between creativity and magic is precisely what Grossman wants to make explicit. "I think they might be the same thing," she said.
Her latest exploration of this connection comes in the form of a podcast, The Witch Wave, which she launched in October 2017 and features a wide array of artists, writers, astrologists and myriad another folk who have crafted careers for themselves out of a dedication to their craft. Guests so far have ranged from tarot reader and intuitive counselor Lindsay Mack to dominatrix Dia Dynasty; digital mystic Bri Luna of The Hoodwitch to photographer Shannon Taggart, who captures mediums and the ghosts with whom they commune.
Grossman started the podcast because she wanted to highlight cultural producers who operate outside of the confines of tradition. But she has long been spinning a witchy web of creative kin—quite literally. Growing up with an artist mom and musician dad, her interest in artistic creativity as a generative force was "in my blood," she said. At New York University, she majored in cultural anthropology and triple minored in art history, religious studies and creative writing, with a smattering of Jungian psychology thrown in for good measure. "I was a dork, for sure," she said, "I wasn't sure what I was going to do with any of those subjects but I see now that I wanted to explore how symbols, creativity, and consciousness are all interrelated."
Always attracted to the work of artists who seemed to be harnessing some sort of magical frequency, Grossman counts female Surrealists like Remedios Varo (the namesake of her cat, Remy) and Leonora Carrington as significant inspirations. Indeed, much of modern art—surrealism, Dada, abstract expressionism—sought to transmit uncanny, transcendent experiences through the medium of visual art. "I've always found that to be an incredibly inspiring and arousing idea," said Grossman, "because it transforms museums into temples of magic, and galleries into sanctuaries where magical energy can be conjured and absorbed by the viewer."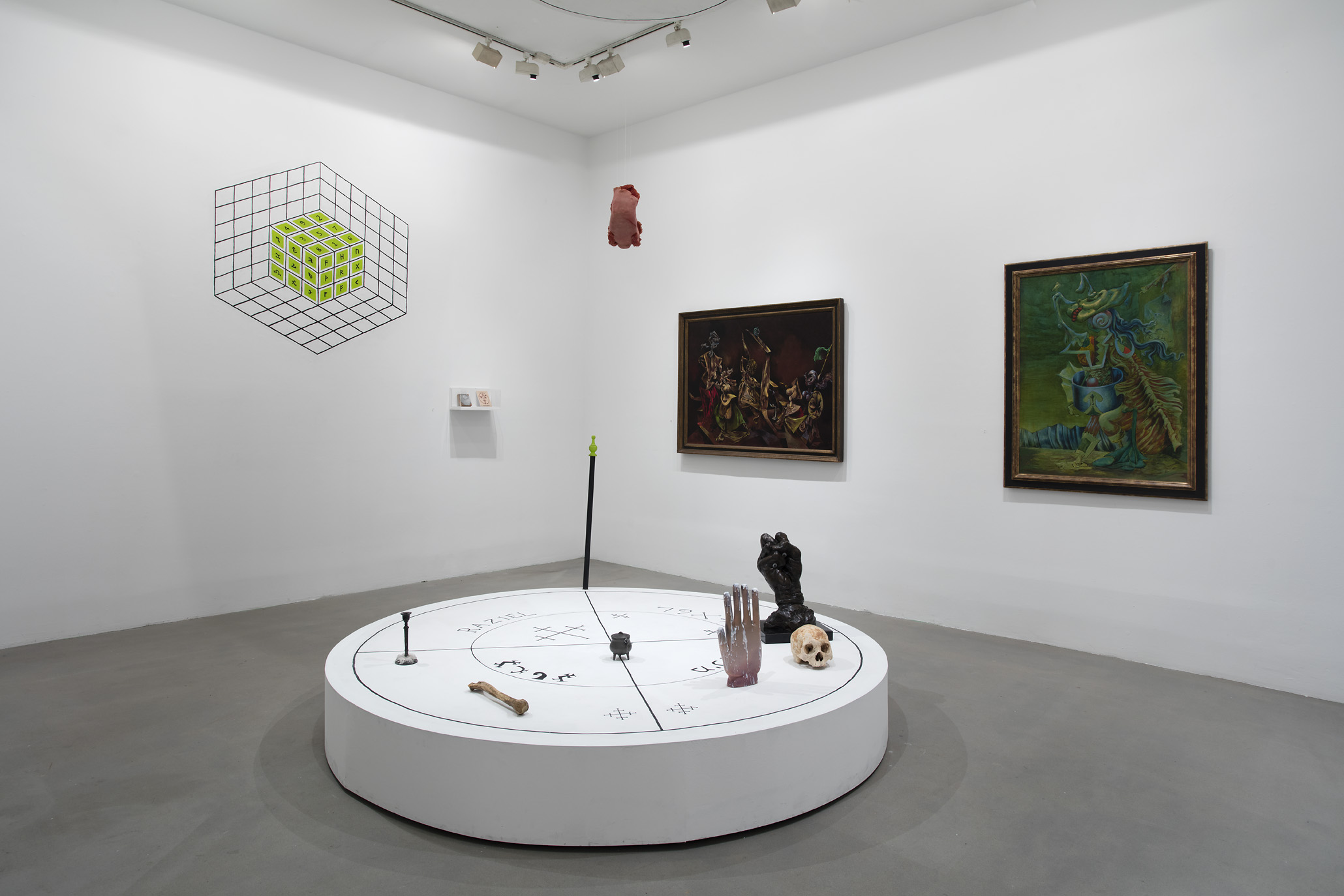 A few years after starting her successful occult blog, Phantasmaphile (which she refers to as her first foray into curating) Grossman put together her own gallery show, "Fata Morgana: The New Female Fantasists" at Greenpoint's Dabora Gallery in 2009. Her 2016 exhibition, "Language of the Birds: Occult and Art," organized for NYU's 80WSE gallery, explored 100 years of occult art and featured works by the likes of Carrington, Kiki Smith, Francesco Clemente, and Aleister Crowley. The show broke attendance records and received heaps of press. "Its positive reception really underscored how hungry people are for spiritual, artistic experiences," she said.
Despite her love for art, Grossman has always sought to locate magic as its own creative process within a larger cultural context For five years she participated in the now-defunct curiosities collective Observatory— "a great nucleus of Brooklyn weirdos in which I was the resident arty, witchy lady," she said—and has since published numerous articles on occultism and magical history in publications ranging from the niche Sabat magazine to the Huffington Post.
"What I'm ultimately interested in is how we, as a society, construct archetypes and how we ingest them, consume them, especially when it comes to marginalized groups," she explained, noting that she chooses to focus mostly on women. But she's quick to note that the witch has long been a symbol of otherness that transcends gender, sexuality, and race. Existing in nearly every culture around the world, the figure of the witch often serves as a foil to the dominant power structure. She refers to it using female pronouns because, in Western culture, witches historically have not been an agent of the dominant patriarchal system; "she is always subversive."
Witchcraft and other occult practices have received a lot of media attention lately, especially in light of recent feminist movements like the #MeToo anti-sexual harassment social media campaign and the Women's March phenomenon—which just celebrated its first anniversary this past weekend, as roughly 2 million protesters once again took to the streets across the nation. Indeed, "Hex the Patriarchy" signs have become de rigueur at such events. Even major fashion houses have embraced the witchy vibe.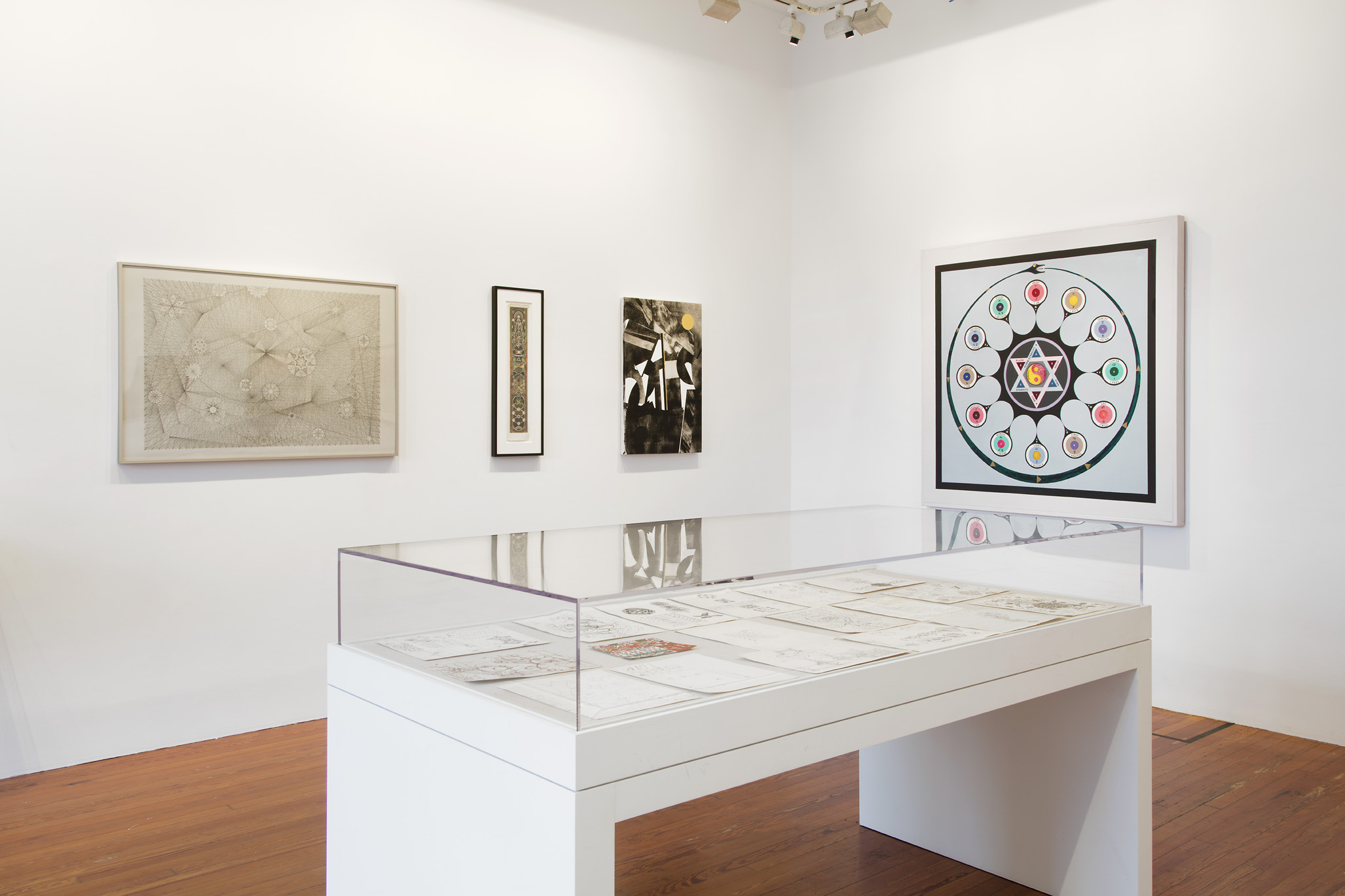 While trendy right now, witchcraft is far from a passing fad. "Magic is always here, it's not like it goes away," Grossman said, noting that magical practices are a longstanding expression of spirituality—and even religious devotion for many—that should be respected. But she sees the surge in popular interest, especially politically, as a potent and welcome force.
"I think people are tapping into the energy of the witch because so many of our codified systems—government, capitalism, heteronormative sexuality—are failing to deliver what we need," said Grossman. Our social fabric, a paradigm woven by mostly "straight cis white dudes" is faltering and the symbol of the witch serves as a natural counterpoint because she can embody a multitude of others. Generations of women, people of color and LGBTQ groups have been silenced or erased by these broken systems and now they want to be heard and seen. "In being seen," she explained, "we don't have to be ashamed for existing anymore!"
According to Grossman, shamelessness is the trademark of the witch. It fuels much of her power as an archetype since living without apology is both an act of resistance against hegemony and an embrace of diversity, especially since witches can be depicted as both dark and angry, as well as light and funny. Grossman's own sense of humor shines through in some of her recent projects like the tongue-in-cheek comic book she created with Tin Can Forest press, What is a Witch.
And after the standard emoji keyboard introduced simplistic yellow male and female magical figures in conical hats last year under the label "mage," she decided to launch her own series of witchy characters. "I found these icons so limiting and vague—why call them mages?" she laughed. "It was like there was some sort of shame around even using the word 'witch.' I don't know many people talking about mages on a daily basis in their texts." So she took matters into her own hands, creating a Witch Emoji iMessage sticker pack replete with witch figures of various ethnicities and genders, as well as symbols of cauldrons, black cats, and pentacles.
"I love anything to do with the sacred and the profane," she said. "I'm a believer in magic, and yet I still like to laugh and be silly and not take any of this shit too seriously—we're writing this story as we go, it might as well be fun."