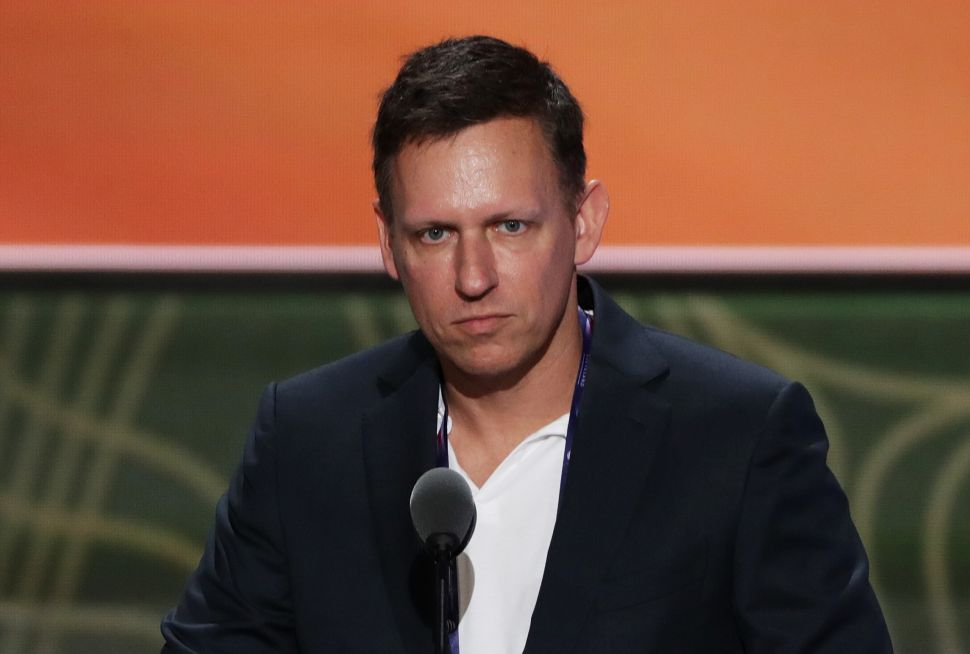 Billionaire venture capitalist Peter Thiel is a big fan of cryptocurrency.
The Wall Street Journal reported that Thiel has purchased $15 million to $20 million worth of cryptocurrencies since mid-2017 through his venture capital firm, Founders Fund.
The news spurred a hike in Bitcoin prices Tuesday afternoon to over $15,000 after an unwavering downturn over the holiday break.
Bitcoin peaked in mid-December at $19,800 but dropped by more than one-third to $12,500 right before Christmas. Following multiple ups and downs, most observers have by now learned that spikes say little about the longevity of Bitcoin's value—or its future.
Thiel could be right this time, given his impressive investment history. (Thiel is a co-founder of PayPal and one of the first investors in Facebook.) "Peter has a pretty darn good track record on catching trends," Michael Manuel, president of Sovereign Wealth Fund Institute, an organization researching investment activities of government-backed funds, commented on the news on LinkedIn.
In October, he called Bitcoin the gold in the cyber age at an event in Riyadh, Saudi Arabia. "It's like gold and it's just a store of value. You don't actually need to use it to make payment," he told Maria Bartiromo of Fox Business Network at the event.
Of cryptocurrencies at large, he said, "While I'm skeptical of most of them, I do think people are a little underestimating Bitcoin specifically."
"It's a very different kind of thing. People in Silicon Valley normally focus on companies, not algorithms or protocols, but maybe this is one exception that's very underestimated," he continued.
Bitcoin has attracted a flood of investors globally in the past year, from Wall Street traders to college students in Korea. However, few mainstream investment houses have jumped on the trend. High-profile investors like Warren Buffet and JPMorgan Chase CEO Jamie Dimon have publicly questioned the reliability of Bitcoin as a financial asset. Even Brian Armstrong, CEO of Coinbase, the world's largest cryptocurrency exchange, admitted that "we probably are in a bubble" in an interview with Fortune.  
It's unclear whether Founders Fund has sold any cryptocurrency holdings since initial purchase.
As of 2016, the firm manages approximately $3 billion of assets. It has stakes in dozens of tech startups, including Spotify, Stripe, Airbnb and Lyft.