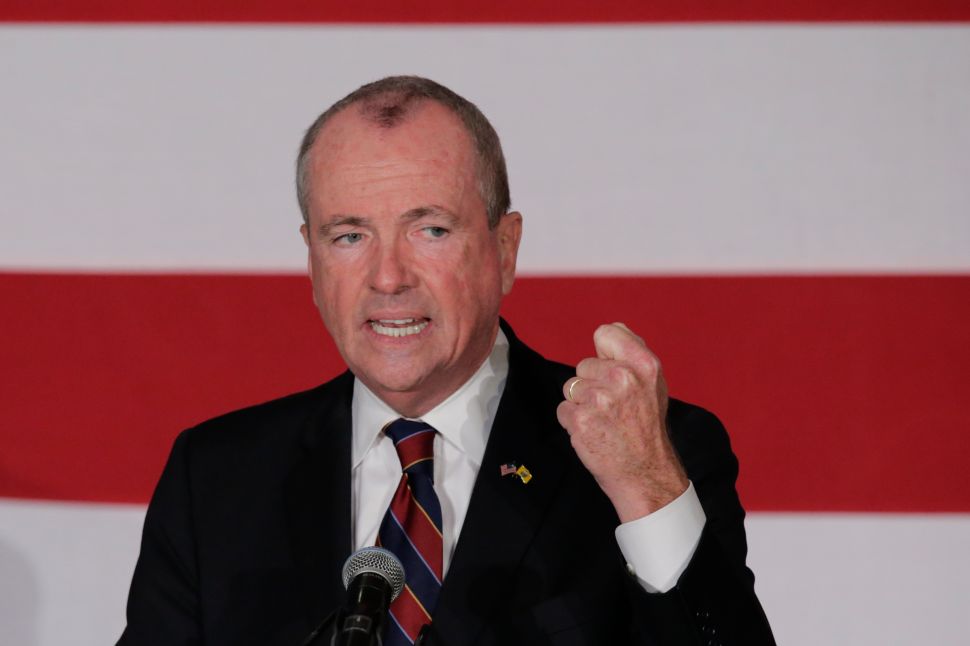 Phil Murphy was sworn in as the 56th governor of New Jersey on Tuesday, vowing to implement a sweeping liberal agenda to strengthen the state's economy and resist President Trump's policies.
Murphy, 60, took the oath of office inside Trenton's War Memorial building and delivered a 34-minute speech, during which he claimed to have a mandate to deliver on his many campaign promises, including a $15 per hour minimum wage and legalized recreational marijuana. But he steered clear of some of the state's most pressing issues in his remarks, not mentioning the state's cash-starved pension system or beleaguered transit system.
"The public is tired of pessimistic and short-sighted thinking. They have rejected the politics of division, of 'us' versus 'them,' and asked us to focus on 'we'—all nine million who call this great state home," Murphy said. "There is no ambiguity in their mandate: They voted to build a stronger and fairer New Jersey that works for every New Jersey family."
An ex-Goldman Sachs executive and former U.S. ambassador to Germany, Murphy, a Democrat, takes the reins from former Gov. Chris Christie, a Republican who saw his star rise and fall in national politics. Christie leaves office as the least popular governor in New Jersey since the advent of polling.
Murphy wants to raise taxes on the wealthy, boost funding for education and public worker pensions, move toward universal access to preschool education and tuition-free community college, sign stricter gun laws and restore $7.5 million in yearly appropriations for Planned Parenthood, among many other Democratic priorities that Christie vetoed or ignored for eight years.
"I promise you now that those bills will be met with a signing ceremony," Murphy said.
Murphy will take over a state with some of the worst finances in the nation. New Jersey has seen its credit downgraded repeatedly by Fitch Ratings, Moody's Investors Service and S&P Global Ratings under Christie, mostly due to its deeply distressed $75 billion pension system and rapidly rising costs for health care.
Murphy made no mention of the pension system during his speech on Tuesday, though in the past, he has promised to meet the state's obligations to the pension funds. He also didn't address NJ Transit, the embattled transportation agency that has been plagued by long delays and safety and staffing issues. And while he said the wealthiest should "pay their fair share," he didn't specifically call on lawmakers to pass him a bill raising taxes on millionaires, a key funding mechanism for his promised policies.
Lawmakers, including Senate President Steve Sweeney (D-Gloucester), have said a recent federal tax overhaul will force them to re-evaluate plans to implement a millionaires tax.
"We will be bold, but we will be responsible and realistic. And in doing so, we will send a loud and clear message that our days of muddling through from crisis to crisis are over—that we will charge forward with bold ideas and with a recognition that, while we can't change everything overnight, we also can't create a stronger tomorrow unless we start making smart investments today," Murphy said.
Murphy also took shots at Trump, going off script at one point to criticize remarks attributed to the president about Haiti and African nations. The president reportedly called those places "shithole counties" during an immigration meeting with federal lawmakers. (Trump denies saying such a thing.)
"It is leadership that has made our country a place where immigrants still come in hope of a better future—and that includes from Haiti and the continent of Africa," Murphy said.
Murphy said New Jersey will "resist every move from President Trump and a misguided congressional leadership" that harms the state. He has already hinted he could mount a legal challenge to the federal tax overhaul that curtailed a popular state and local tax deduction.
In his speech, he mentioned opposing plans that divide immigrant families, allow offshore drilling in the Atlantic Ocean and worsen income inequality.
"The current and unrelenting assault on our values will not stand, and we will combat it with every available means. We did not ask for this fight, but it is one that we must—and we will—take on," Murphy said.
Sheila Oliver (D-Essex), a state lawmaker and former Assembly speaker, was sworn in as the state's second lieutenant governor. She is the first woman of color to be elected to statewide office in New Jersey.
"I recognize that while these moments are historic, we make history not in the moment but in what we do with it," Oliver said after taking the oath of office.
Oliver will also serve as commissioner of the Department of Community Affairs (DCA), putting her in charge of services for local governments, housing code enforcement, fire safety and a mortgage finance agency, among other areas. The DCA has overseen a state takeover of Atlantic City's dire finances which were on the verge of bankruptcy in 2016.
She said Tuesday that she wants to get "Atlantic City back on its feet and free of state intervention."
A native of Needham, Mass., a Boston suburb, Murphy spent 23 years at Goldman Sachs before becoming finance chairman of the Democratic National Committee from 2006 to 2009. After a successful stint fundraising for Democrats, former President Barack Obama named Murphy ambassador to Germany, where he served from 2009 to 2013.