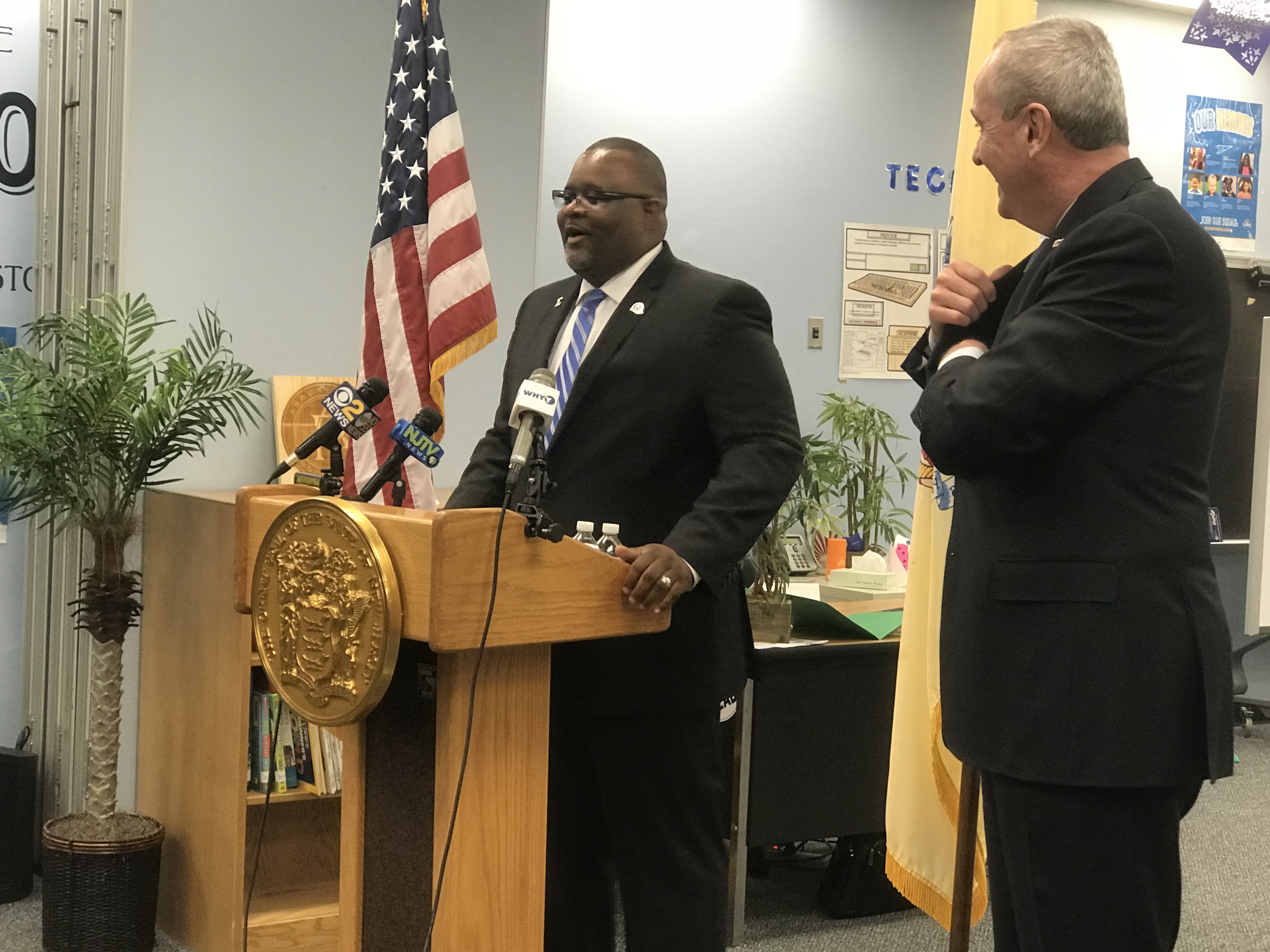 Governor-elect Phil Murphy announced on Friday that his nominee for commissioner of the Department of Education is Lamont Repollet, the superintendent of the Asbury Park School District.
Repollett, 47, has led Asbury Park's schools since 2014, after spending nine years as principal at Carteret High School. He started his public education career as a middle-school teacher.
If his nomination is confirmed by the state Senate, Repollett would be in charge of some of Murphy's major policy initiatives, such working toward universal access to pre-school education and ending controversial standardized tests adopted under Gov. Chris Christie. Murphy also wants to pump hundreds of millions of dollars in more state funding into New Jersey's school districts.
"Ever since I began my campaign for governor, I made it clear that one of my key focuses… would be ensuring that every child in every community would have access to the very best education," Murphy said during a news conference inside an Asbury Park elementary school.
Murphy said Repollett brings "real-world experience both in and out of the classroom to ignite an education revolution."
A Carteret native, Repollett said his family struggled through unemployment and poverty and relied on public assistance. He went on to attend Trenton State College through the state Educational Opportunity Fund, which provides financial assistance to economically-disadvantaged students. He earned a masters degree from Kean University and a doctorate from Nova Southeastern University.
"I stand here proud to say that education saved my life," Repollett said.
Murphy wants to raise taxes on the wealthy and large corporations and legalize and tax marijuana to pay for a host of campaign promises, such as fully funding the state's school system. But it's uncertain whether the Democrat-led legislature will pass some of Murphy's proposed policies, such as a tax hike on millionaires.
Asked if his education goals can be accomplished without a millionaires tax, Murphy said, "we'll find a way" to fully fund schools.
"I'm still hopeful and anticipating we'll have the same package that we campaigned on," he said.
Murphy also wants to focus on vocational education programs for students who choose not to attend college and find new ways to assess student achievement. He'd like to end the Partnership for Assessment of Readiness for College and Careers (PARCC) exams that critics say force teachers to narrow their teaching to what is on the tests.
"To bring a stronger and fairer educational system in New Jersey, we must focus on preparing our students to be critical thinkers who will use the appropriate tools to compete in a competitive global marketplace," Repollett said. "Such an ambitious approach is necessary in building a brighter future for all students of New Jersey."
Murphy will be sworn into office on Tuesday, replacing outgoing Gov. Chris Christie. Christie clashed with the state's largest teachers union—the New Jersey Education Association—over pension and benefit reforms for public workers. Murphy, a Democrat, was endorsed by the NJEA.