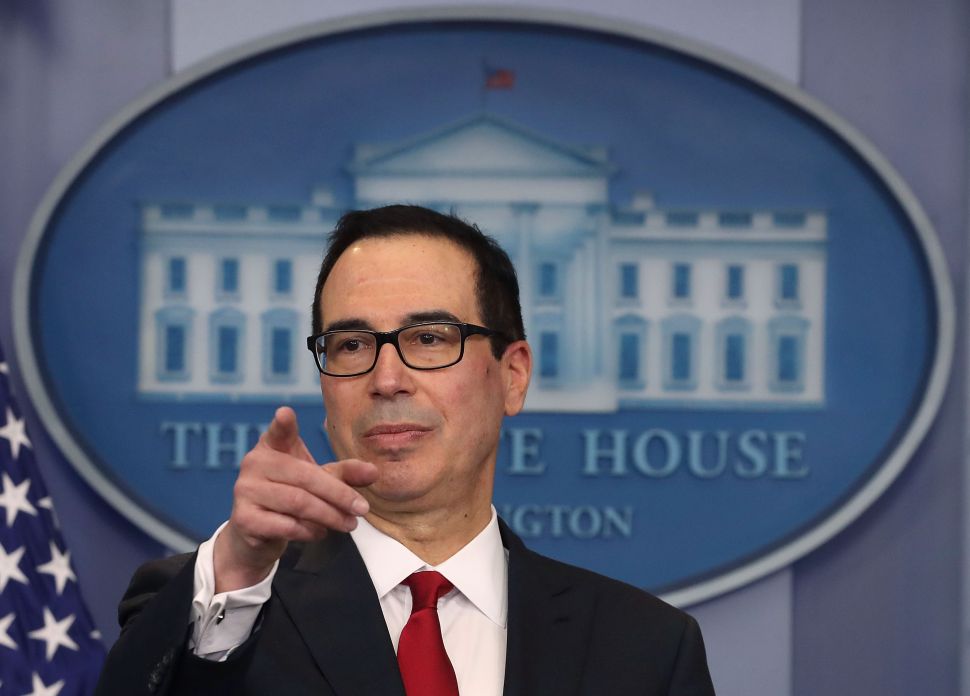 After plunging U.S. currency values with an offhand remark—that a weak dollar benefits trade—Treasury Secretary Steve Mnuchin clarified his position at the World Economic Forum on Thursday.
"I thought my comment on the dollar was actually quite clear yesterday," Mnuchin told reporters in Davos. "I thought it was actually balanced and consistent with what I've said before, which is we're not concerned with where the dollar is in the short term, it's a very, very liquid market, and we believe in free currencies. And that there's both advantages and disadvantages of where the dollar is in the short term."
Mnuchin's statement on Wednesday that "a weaker dollar is good for [the United States]" caused the dollar index—the instrument used to measure the dollar's strength against six major currencies—to fall to its lowest point since December 2014.
Echoing the White House's "America First" rhetoric in Davos, Switzerland, Mnuchin reaffirmed his commitment to a nationalist platform favoring the United States economy.
"We want free and fair and reciprocal trade," he said. "So I think it's very clear. We're not looking to get into trade wars. On the other hand, we are looking to defend America's interests."
Though many leaders at the World Economic Forum—including Indian Prime Minister Narendra Modi and German Chancellor Angela Merkel—have warned against the "poison" of conservative populism, President Donald Trump and other White House representatives are in Davos making a case for nationalism.
"People are using some predatory practices against us, and we're not flinching from that," said Commerce Secretary Wilbur Ross in Davos.
The president will speak with British Prime Minister Theresa May to discuss denuclearization and the Syrian conflict before meeting with Israeli Prime Minister Benjamin Netanyahu. On Friday, he will deliver a closing speech in Davos, outlining his vision for U.S. trade.