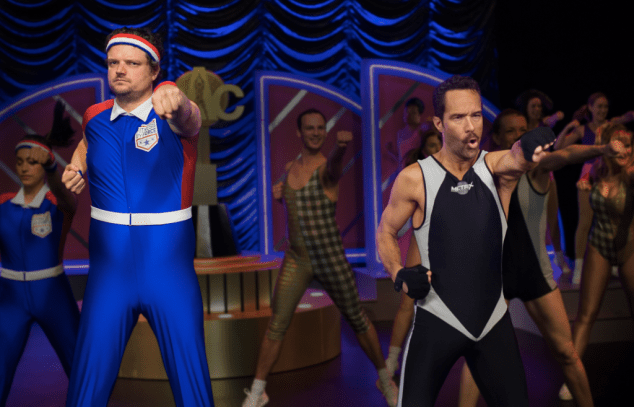 It's all leggings, lunges, and ill-fitting spandex in a new comedy that harkens back to the birth of the aerobics craze…and the ridiculousness of it.
Let's Get Physical is a modern-day comedy that captures the zeitgeist of the 1980s fitness obsession. The series revolves around middle-aged slacker Joe Force who makes a reluctant return to the gym biz after his dad, the "Godfather of Aerobics" unexpectedly passes away.
Joe is forced to take over the broken-down family fitness facility and is tasked with winning an aerobics competition in order to get his old man's fortune. Complicating his efforts to do so are his mom, his rival and his wife.
The cast, speaking at a recent press event, were quick to admit that many of them actually loathe going to the gym.
Annalynne McCord, who plays Joe's wife, Claudia, blurted out, "I hate the gym. It's awful. I like the brain gym. I would rather spend my time reading. Getting up and having to do something where I sweat just sounds terrible." Then she added with a laugh, "Then I decided to do a show where I have to do that."
Matt Jones, who stars as Joe Force, admitted that he's also not much of a gym nut, but this makes him a bit like his character. "I'd rather eat and have a drink than wake up and go to the gym. But I also do like going to the gym, when I'm in that mode." Jones said. "We're very similar."
On the opposite end of the workout spectrum is Chris Diamantopoulos. Much like the character he plays, the super fit Barry (Joe's rival), Diamantopoulos hits the gym frequently. "Yes, I am the ridiculous extreme," he says, but then relented a bit, adding, "You know, I really don't like gyms at all. I'm kind of agoraphobic. But, my brother [has been running] a strength training facility for 25 years. I'm sort of his guinea pig."
It seems like perfect casting to have Jane Seymour play Joe's mom, Janet Force, especially when she revealed, "I actually was on the cover of a Jane Fonda workout book, in a striped leotard. That shows you how authentic I am to this project because I still have those leotards and those leg warmers, and I still vaguely remember how to do those things."
https://www.youtube.com/watch?v=0edbfWk5xP4
Seymour was actually a classically trained ballerina in her early life, until a knee injury ended her dancing career. The 60-something actress still dances and was quick to remind everyone that she was recently a contestant on Dancing with the Stars. She lamented, "I wish I could do more dancing in the show. I only get to do a little bit."
For her role, Seymour dons a blonde bob wig and constantly wears a headband. "I didn't realize I was vaguely channeling my dear friend Olivia Newton John until after I'd started doing it."
As for getting Newton-John, who sang the hit song that shares the name of the series, to appear on the show, Seymour shook her head as she said, "I tried. I tried, but she decided to take a little time off right now. But, I'm sure once she sees the show and the little video I just posted of me trying to sing "Let's Get Physical," she'll want to do a duet with me."
The actress says that she came to the project via Jones. "Matt and I have worked together on a comedy before. So, it was wonderful to play his mother, because I've been picking at him for years."
Of Seymour's comedic ability, Jones said, "I have to say about Jane, [she] was so game to do [things]. I mean, there's a scene in the middle of this series where it's one of the filthiest things I've ever heard someone of her stature say, and it's so funny."
Picking up the description of the antidote, Seymour added, "One of the writers handed [the lines] to me and he said, 'What do you think? Can you do this?' It was so shocking. It would never come out of my mouth, ever. I said, 'What the heck? Yes.' I had, like, five minutes to learn it. The entire crew were howling with laughter."
Asked to elaborate about the joke, Seymour rocked a little in her chair and then said, "I'm describing a certain part of the anatomy of my dead husband's body that [my son] inherits. I'll leave it at that."
Digging beneath the hilarity of the series' conceit and costumes, Jones says that the narrative is really about belonging. "I think gyms, for a lot of people, and the reason they go, is because they want to feel part of something, they want to feel like they're in a club."
In addition to this, Jones feels that his character represents people who are 'not in a good place in their lives.' "They don't want to admit that to themselves. Then something happens and they have to kind of look at themselves and be, like, 'Wow, my life really sucks. I've got to fix it.'"
Jones says that on the surface the storyline of the series may be about an aerobics competition, but that it's actually more about, "me putting my life back together and trying to revive my relationship with my mother and learning that I might be an idiot. Running away from what you should be doing is a lot of what the show is about."
Admitting the real reason he finds aerobics so funny, Jones chortled, "it's because of the smiling stupidity of it all. We found with all the choreography we did and dancing on the show, the funniest thing to watch was [Diamantopoulos] just jog in place and clap and smile."
Diamantopoulos explained his methods, with some sarcasm, saying, "The thing is you've got to get it to the point where the jogging has gotten you out of breath, but then you maintain that smile. That's where the insanity comes into the face, because you're just keeping it up as best you can. It's really quite funny."
Leaning forward a little, Diamantopoulos said, "The secret that the gym industry has been keeping from all of us is that you can go to the gym all you want. It's not going to make any difference in the way that you look. The truth is, unfortunately, it really just has to do with what you eat. Sorry, but that's what it is. It's just diet."
Jones laughed as he quipped, "Yeah, but food is really great."
"Right. I know. I know," responded Diamantopoulos. "We live in this sort of time where people say, 'Well, I want to eat the food, so then I must pay a penance for this by going to the gym.' You don't need to do it."
"But you should still watch a show about gyms, because that's important," pleaded McCord.
Then, Jane Seymour declared that her favorite aerobic move is The Dirty Dog. To learn exactly what that is, pull on some colorful clothes, tune in, and grind it out, just like they did in the '80s.
Let's Get Physical airs Wednesday nights at 8:30 p.m. e/p on POP.
Anne Easton is a West Coast-based writer for Observer. Read her full bio here.