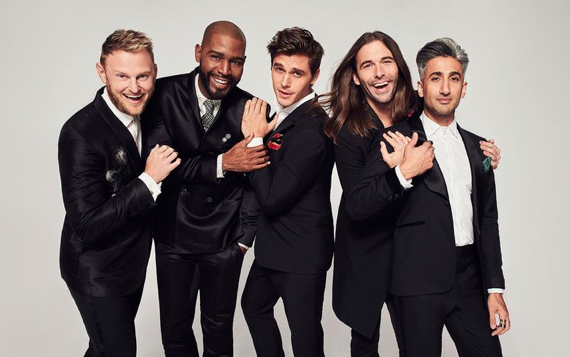 From Twin Peaks to Murphy Brown, to the X-Files, TV reboots have fully saturated the market. Networks no longer just hope the nostalgia factor brings in viewers, they can bank on it.
Netflix (NFLX), in particular, has doubled down on this craze, ordering up new seasons of Arrested Development, Lost in Space, One Day at a Time, Fuller House and recently announced Sabrina, the Teenage Witch will return with Kiernan Shipka as the titular star.
While it's fun spending more time with all these beloved TV characters, that's all of what most reboots have to offer. Networks are choosing to bring shows back from the dead because they can capitalize on its built-in audience, not because these once popular series actually have something new and important to say.
Audiences deserve better. And Netflix is listening. On February 7 the streaming network will premiere eight new one-hour episodes of Bravo's Queer Eye for the Straight Guy, and the timing couldn't be more perfect.
The original Emmy Award-winning series ran for five seasons from 2003 through 2007. Not only did it break down barriers by being one of the most successful shows featuring an all gay cast, it made household names of its five fabulous hosts: Ted Allen, Kyan Douglas, Thom Filicia, Carson Kressley and Jai Rodriguez.
Netflix's Queer Eye will feature a whole new Fab Five and comes with a refreshing twist: the expert makeover team is leaving New York City and taking their talents to Georgia. Viewers will see people from the red state's suburbs learn how to live their best lives from an incredibly intelligent and talented group of gay men: Bobby Berk (Interior Design), Antoni Porowski (Food and Wine), Jonathan Van Ness (Grooming), Tan France (Fashion) and Karamo Brown (Culture), the latter of whom arguably has the most difficult job considering the show's new locale, and the current political climate.
"In one episode, we are helping a white cop who proudly voted for Trump/Pence. Before I could even engage in culturally relevant conversation, I had to address [the topic of] cops in the south killing black people—that we're seeing a lot of homophobic and sexist rhetoric from the man you voted for," he told Observer during a recent conversation. "But instead of attacking, I came at him in a respectful way, which then allowed him to show me the same respect. We had a really amazing conversation."
Brown's approach to the show's guests (now dubbed "heroes") is done with patience and an open mind; even reminiscent of Sarah Silverman's manner on I Love You, America, at times. 
"These are the people that we need to have conversations with," Brown said. And rest assured, they don't shy away from touchy subjects. "We go deep."
While thousands were considered, it's hard to imagine anyone more qualified to be Queer Eye's new culture expert than Karamo. The 37-year-old came onto the scene back in 2005 by being the first openly gay black man to star on a reality series, MTV's The Real World: Philadelphia. He has then did a 10-year stint as a full-time social worker before returning to TV. He's since served as a family advocate contributor for cable channel HLN, founded the non-profit 6in10.org to fight the stigma against HIV, and in 2016, was invited by the Obama administration to help advise on policy and legislation to protect LGBTQ youth and allies.
Currently also the host of MTV's Are You the One? Second Chances, Brown is thrilled to be a part of Netflix's Queer Eye, despite the inevitable and constant comparisons to the original.
"Each of us respect what those guys did and we shout 'em out throughout the series," Brown said. "They were phenomenal in their own right, but we're paving our own path. For Jai to be the Culture guy, it made sense for him to give people tickets to Broadway shows because his background was [in theatre]. My background is in social work and psychotherapy. So for me, it's more how can I engage these men in conversation that will get them to open up as a person, so they can start to feel better about themselves and grow."
While Brown didn't know any of his fellow cast members prior to filming, the new Fab Five quickly formed a great working relationship and a tight brotherhood. Unlike most overproduced reality series, viewers won't see any cat fights between cast members as their focus always remained on their guests.
"We respected each other's categories," Brown said. "If we ever felt that someone was resistant to what we were trying to do to help them, we came together to find a way. Collectively, we did a great job. Yeah, I'm tooting our own horn! Remember Captain Planet? Where they would all put their rings up and be like 'With our powers combined..!' That's how it felt."
Brown's activist spirit can't be thwarted by internet trolls, either. In mid January, Cardi B's fiancé Offset was called out for using the word 'queer' disparagingly on YFN Lucci's song "Boss Life," and Brown was quick to jump into the Twitter debate. But he did so with same kind regard shown to the "heroes" on Queer Eye.
"Unfortunately, a lot people still don't understand queer culture," Brown said. "I would like to encourage hip hop artists to invite those of us who are in the queer spaces in, so we can have those conversations. I love hip hop. If you bring me in the studio, I know how to act. And we can talk about what's not cool because clearly, there's still homophobia that penetrates in all these areas."
And for those who don't quite understand why a rapper using the term is bad (Offset's lyric: "I cannot vibe with queers") but perfectly O.K. in this TV show title, Brown can explain.
"The word queer itself was used as a derogatory term at one point, and then LGBTQ, we took it back. It's an overarching umbrella word not everyone identifies with, but [that] a large part of our community embraces. What I love about the title of our show is that the term not only represents the Q in LGBTQ, but its definition: curious. The curious eye is how we approach, how we go to spaces that wouldn't normally interact with gay people and help them to see the world in a different way."
Brown, a father of two sons, ages 21 and 17 (he was informed of his 10-year-old son's existence in 2007, and then adopted his son's half-brother) hopes Queer Eye can have a positive impact in the world. And while Brown's fingers are crossed Oprah runs for President in 2020, he's dedicated to doing his own part in reversing the cultural damage happening under America's leader right now.
"That's the beauty of Queer Eye coming back," Brown said. "No matter how far you think we've come as a society, there's still work that needs to be done. "We still have a lot of growing to do."