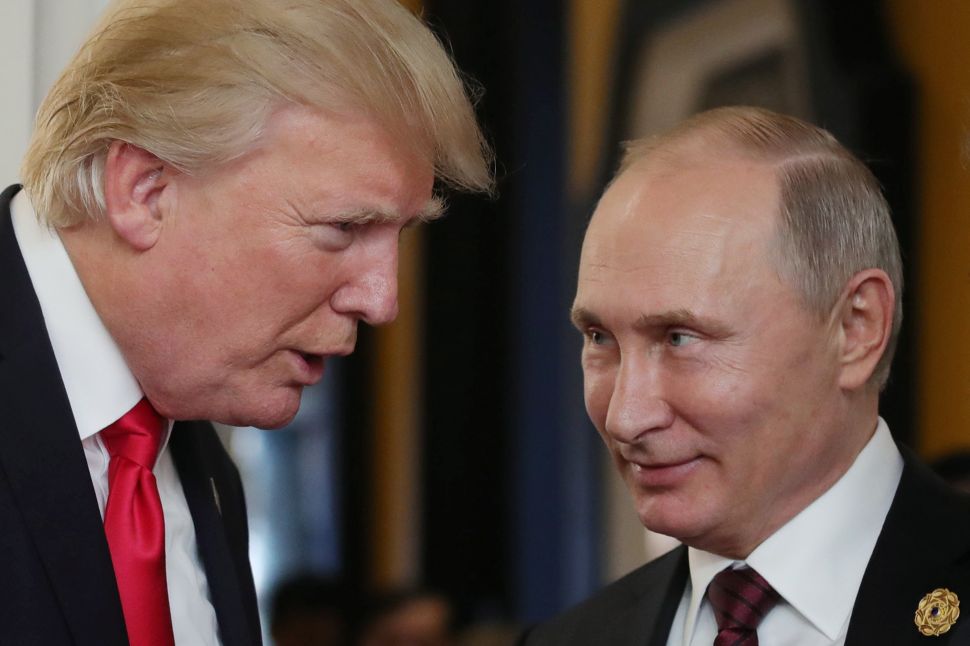 Russian President Vladimir Putin called the Trump administration's released list of Russian businessmen and oligarchs a 'hostile step' on Tuesday.
Assembled last August as part of a sanctions package against Russia, the list was made public by the Treasury Department on Monday evening. The list includes the names of 210 Russian powerbrokers with ties to Putin and the Kremlin.
Although the document was requested by Congress in response to Russian interference in the 2016 election—and was speculated to drive new sanctions against Russia—the Trump administration announced on Monday its decision to hold off on punishing entities doing business with Moscow.
White House deputy press secretary Raj Shah told CNN on Monday that the Treasury Department was expected to take the resulting legislation to "the next step forward" rather than impose new sanctions. A State Department spokesman echoed this course in a statement saying that the legislation itself serves "as a deterrent."
Although many Democratic lawmakers are accusing the White House of kowtowing to the Kremlin—Senate Minority Leader Chuck Schumer (D-N.Y) called the president "paralyzed when it comes to Putin" over Twitter—the Russian president has taken offense with the list.
"Ordinary Russian citizens, employees and entire industries are behind each of those people and companies, so all 146 million people have essentially been put on this list," Putin said at a Moscow campaign event on Tuesday. "What is the point of this? I don't understand."
Announcing his decision to hold off on pursuing "serious steps, that could push [U.S. and Russian relations] to the nadir," Putin expressed concern over the scope of a publication which could anticipate further sanctions against the Kremlin.
In an interview with the BBC on Monday, CIA Director Mike Pompeo warned that the United States would  retaliate "in a way that is sufficiently robust" should Russia interfere in this year's upcoming midterm elections.
"I haven't seen a significant decrease in their activity," Pompeo told the outlet.