A new, edgy nightlife haunt called Rácket recently opened in Miami's Wynwood Arts District. But it's not your average watering hole; this spot is one part tiki cocktail bar and one part laid-back outdoor drinking hangout, all located under the same roof.
Though it opened less than a month ago, Rácket has already become a quick hit—and not just because of its convenient location. While it's easier to reach than Miami Beach and much more relaxed than other nightlife spots in Brickell, the boîte's success is largely attributed to the owners, Homecookin' Hospitality's nightlife vets Joe Lopez, Angel Febres, Navin Chatani, and Conrad Gomez. Rácket is their first opening outside of Miami Beach, but you may know some of the group's other projects: Drunken Dragon, a Korean barbecue restaurant in South Beach, and, located just next door, Foxhole, an upscale local's bar.
"We're really proud to be the newest addition to the Wynwood neighborhood and add to what is already a great cocktail and local brewery scene," co-owner Joe Lopez said.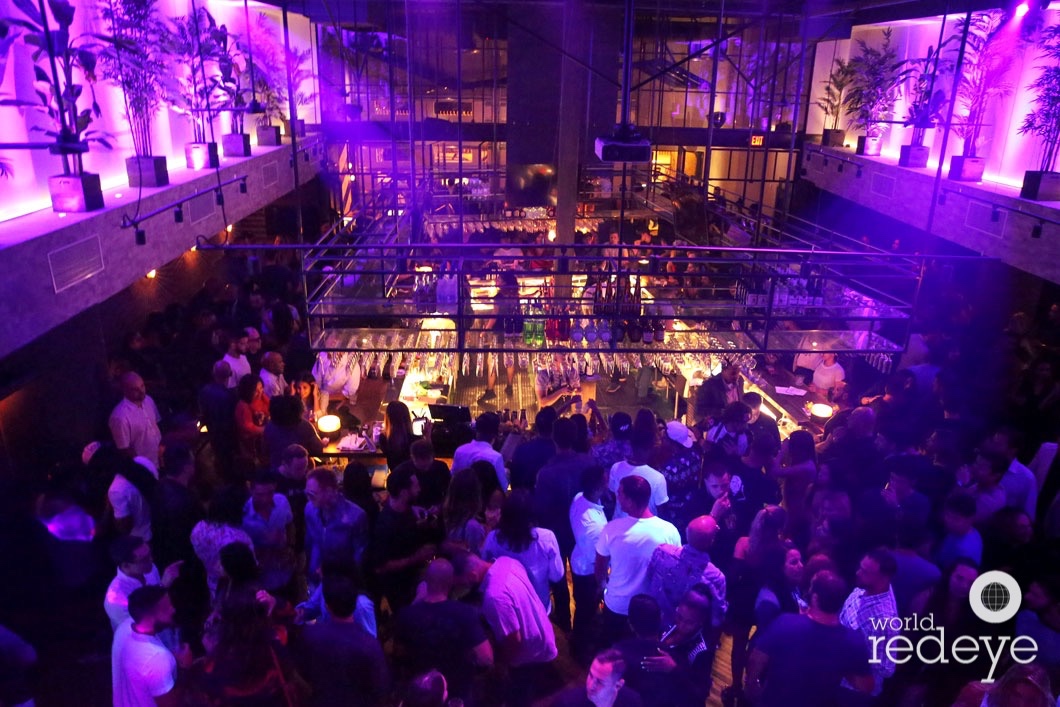 Wynwood certainly has its fair share of traditional bars and breweries, including mainstays such as Wood Tavern, Gramps, Shots, Boxelder, J. Wakefield and the Wynwood Yard, but Rácket brings an elevated touch to the neighborhood. The space, which features both indoor and outdoor areas, is clearly divided into two sections. The main room is significantly larger, centered around a sizable bar with industrial décor, high ceilings, skylights and plenty of seating. Outside, guests will find an atrium-style room with a second bar, cozy couches and a more relaxed atmosphere. According to Lopez, the venue will debut a third unique area in the early spring, which will feature a "room within a room feeling."
For now, Rácket's two sections offer rotating cocktail menus, which are themed accordingly. The atrium's tiki bar specializes in tequila, rum, and mezcal, with about 100 varietals to choose from. So far, one of the most popular order is The Jury's Out, a banana-flavored cocktail that blends Illegal Mezcal, banana du bresil, Amaro Montenegro and lemon.
Inside at the sky-lit island bar, opt for the floral cocktail called Divine Oddities, made with Hendrick's gin, rose hip, lime and coriander-cayenne. A citrus and ginger blend called Mr. Jack, using Stoli vodka, orange bitters, ginger beer, raspberry and vanilla, is also a popular order.
Rácket also boasts a kitchen, which will soon churn out sweet and savory bar bites that will pair well with your cocktail of choice. "Xavier Torres, executive chef at Drunken Dragon, will activate the kitchen in late January," Lopez explained. "Our menu will feature salads, antipasto boards, sandwiches and a few special accompaniments for the craft beer drinker, like chocolate-covered maple bacon strips and chili-dusted chicharrones."
As Rácket evolves, it wants to become one of Miami's leading venues for late-night entertainment, especially during weeknights. Take Tuesday evenings, when the bar hosts a recently launched old-school hip-hop party with live music, free barbecue and an open bar. Throughout the rest of the week, Rácket will offer DJs, live music, and other themed happenings including football watch parties, locals-only events, and funk bands. To stay in the know, upcoming performers are posted to Rácket's Facebook page in advance.
150 NW 24th St., Miami, racketwynwood.com