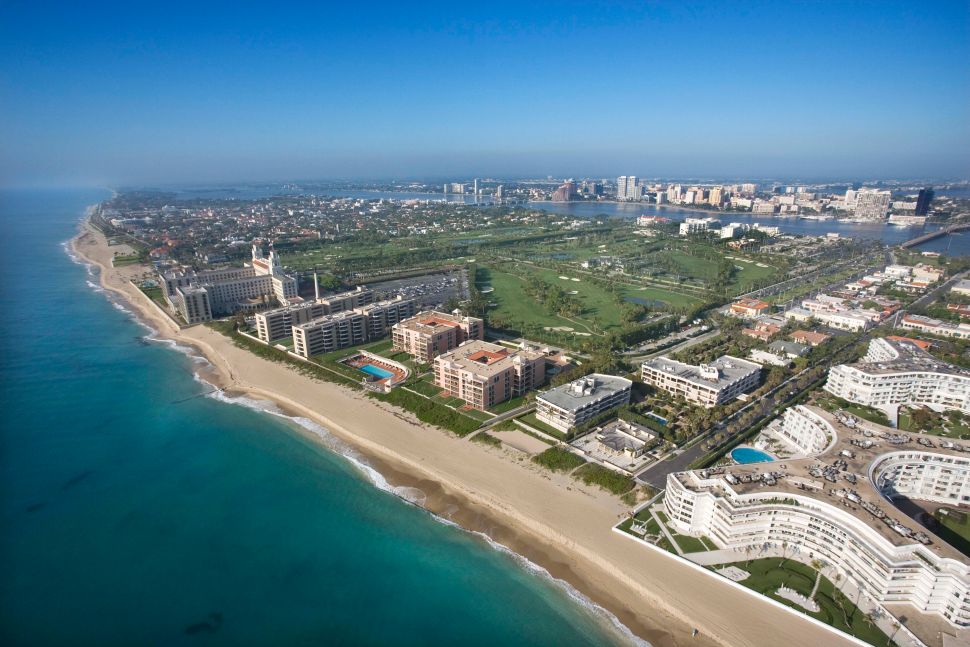 Embattled by over-supply and recent hurricanes, the Miami real estate market has floundered somewhat in recent years. And while newly released data shows that prices are on the rise—with the median sales price of a residence growing 2.8 percent to $406,000, according to Douglas Elliman Real Estate—Miami's neighbor to the north is seeing numbers that are nearly unprecedented.
In Palm Beach, the median sales price of a single-family home or condominium surged 165.2 percent to $15.2 million, year-over-year. According to the fourth quarter report from Elliman, the entry threshold to Palm Beach's luxury market is now $10.6 million. The author of Elliman's report, real estate appraiser Jonathan Miller, says that one reason for the spike is that Palm Beach sellers actually discounted their properties, resulting in a burst of sales.
"Sellers, having marinated in their aspirational stew for several years, are finally looking around and seeing that the market is moving without them," Miller said. Asked why the Palm Beach market is flourishing, while Miami is experiencing far more modest growth, Miller explained that they are simply "two different markets."
"The Palm Beach market has very few foreign buyers. It has a lot of New Yorkers and [is] a competitor of the Hamptons. The housing stock is skewed to the high-end, whereas Miami is more of a metro area that has a broader array of housing types," he said.
Here is a look at the three most expensive on the Palm Beach market, illustrating just how crazy the society hub has become.
Gemini
2000 South Ocean Boulevard
Price: $195 million

[vimeo 118058821 w=640 h=360]
When Manalapan hit the market back in 2015 at $195 million, it wasn't just Florida's most expensive estate, it was arguably the nation's priciest (it was dethroned later on, when a Bel-Air spec home hit the market at for $250 million). After sitting on the market for nearly two years, and faring a $30 million price chop, the 15.7-acre, 33-bedroom property was pulled from the open market late last year. But, of course, that doesn't mean the property still isn't for sale, as properties at this level are frequently marketed quietly, as so-called whisper listings. However, the former sales team for the property declined to comment on the property's status.
But assuming you still can purchase the Manalapan mansion, known as "Gemini," from the estate of publishing mogul William Bernard Ziff Jr. here is what you'd get:
The main house weighs in at 62,220 square feet and was built in the 1940s along the beach of the barrier island. It's connected to the property's twin four-bedroom guest homes by means of a massive underground tunnel that is air-conditioned and completely furnished. Another property called "Mango House" on the estate boasts seven bedrooms.
On the grounds, there's a practice golf course and a sports complex with a tennis court, basketball court and a pool. Naturally, there is also a boat dock for the yachtsman.
Clark Estate
1500 South Ocean Boulevard
$95 million
[youtube https://www.youtube.com/watch?v=bVBidreMoUI?rel=0&showinfo=0]
It's a third of the acreage and roughly half the price of "Gemini," but this estate is still nothing to sneeze at.
Billionaire Jim Clark, co-founder of Netscape Communications, is asking just $95 million for his 5.5-acre Palm Beach mansion—down from $137 million when he first listed it in 2016. Even so, the Clark estate is still the most expensive property on the open market in Palm Beach, according to Zillow.
The property, which fronts the ocean on onside and a lake on the other, has 68,831 square feet of living space spread over a six-bedroom house, a two-bedroom guest house and a two-bedroom beach house.
Listing info is rather sparse on this property, but one thing for certain is that Clark made a very good investment. The 1927 property last sold in 1990 for just $11 million, according to Zillow.
1071 North Ocean Boulevard
$64.9 million
Finally, while there are almost certainly whisper listings with bigger asks, 1071 North Ocean Boulevard is the second most expensive unit on the open market. It's also interesting, because, unlike its competitors, it's new construction.
Built in 2015, this spec-mansion has never been lived in. And read new construction here as: jam-packed with flashy amenities. The 35,993-square-foot residence features a bowling alley, home theater, pub room and library, 242 feet of beachfront and an eight-car garage.
According to the Real Deal, the property is owned by a trust linked to Philadelphia-area lawyers Vahan and Danielle Gureghian. When it first hit the market the Gureghians were asking $84.5 million.
Christopher Cameron is a freelance reporter based in Brooklyn, covering real estate, wealth and culture.