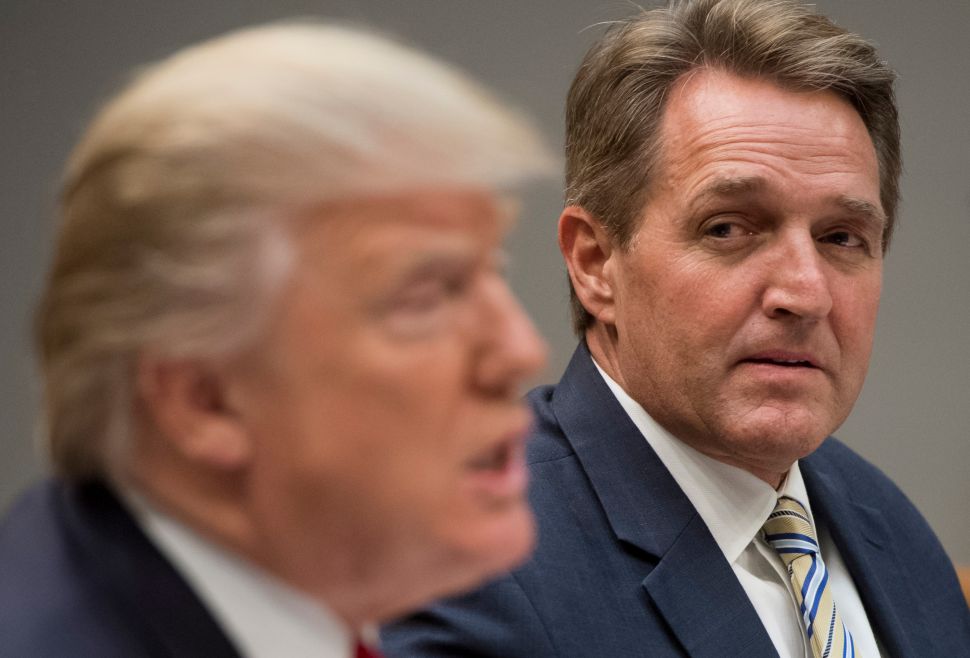 Two Republican congressmen announced retirements this week, bringing the total number of GOP lawmakers leaving Congress outright to 21. By comparison, only eight Democrats are retiring.
While some Republicans claim to be retiring to spend more time with their families, others have emerged as outspoken critics of the Trump administration. One is mired amid sexual misconduct allegations, another voted against Republican tax reform and yet another was the victim of revenge porn. A record number of Texas Congressmen are leaving, as are the chairmen of several committees—which is set to disrupt entrenched party structures.
Here are all GOP lawmakers, to date, leaving Congress ahead of the 2018 midterms.
IN THE SENATE:
Bob Corker, Tennessee.
Corker announced he would not seek re-election last September. After the senator called the White House an "adult day-care center" in a New York Times interview, President Donald Trump attributed Corker's retirement to his failing popularity with Republican voters—the two reportedly made amends on Monday's Air Force One flight to a Farm Bureau meeting in Nashville.
Although GOP Congresswoman Marsha Blackburn is the predicted favorite to succeed Corker, former Tennessee governor and Nashville mayor Phil Bredesen declared his candidacy last month, meaning the state could be a toss up as Democrats try to flip a GOP stronghold in the vein of last month's Alabama special election.
Jeff Flake, Arizona.
Like Senator Corker, Flake's resignation comes following a public flameout with the president. Flake announced his resignation from the Senate during a blistering indictment of the Republican Party delivered on the House floor in October.
"When a leader correctly identifies real hurt and insecurity in our country and instead of addressing it goes to look for somebody to blame, there is perhaps nothing more devastating to a pluralistic society," said the senator.
Although Arizona Congresswoman Martha McSally was the projected front-runner to fill Flake's seat, former sheriff Joe Arpaio declared his run on Tuesday, setting the stage for a battle between a Trumpian populist and a traditional GOP candidate.
Orrin Hatch, Utah.
Although Trump reportedly implored Hatch to remain in the Senate, the senator announced his retirement last week, ending a four-decade political career.
Former Massachusetts Governor Mitt Romney, a longtime critic of Trump, is expected to run for Hatch's seat. Both Trump and Romney were reportedly discussed Hatch's retirement during a phone call last week.
IN THE HOUSE: 
Darrell Issa, California.
A foil to former President Barack Obama, Issa announced his retirement on Wednesday, promising to continue fundraising efforts for the GOP.
Issa's district is in Orange County, an area Democrats plan to target during this year's midterm elections—billionaire Democratic activist Tom Steyer called the senator's retirement "a win" and is currently bankrolling $30 million to oust GOP candidates.
Ed Royce, California. 
Like Senator Issa, Royce is retiring from a Democratic stronghold—six Democrats are running for the congressman's seat. Though no front-runner has emerged, Royce endorsed former Republican Assemblywoman Young Kim.
Sam Johnson, Texas.
A veteran of the Korean War, later surviving seven years in a Vietnam prison, Johnson announced his retirement last year.
"What I will miss least is the current polarization and common refusal to listen to or respect others' ideas," the congressman told Politico.
Lynn Jenkins, Kansas.
After announcing her retirement to work in the private sector, Jenkins was named as the Chairman of the Subcommittee on Oversight of the powerful House Ways and Means Committee. As chairman, Jenkins will oversee the IRS until her second term concludes later this year.
Lleana Ros-Lehtinen, Florida.
Although the party knew about Ros-Lehtinen's retirement since last spring, Republicans failed to court a winnable candidate in a contested district encompassing Havana, downtown Miami and Miami Beach.
Hillary Clinton won the district during the 2016 election, and if Republicans aren't careful, a local Democrat could be elected in one of the country's most important swing states.
John Duncan Jr., Tennessee.
"I've never experienced as much anger and hatred as I did in the first few months of [2017]," Duncan told Politico.
Duncan's retirement ends a three-decade political career and a family dynasty established in Eastern Tennessee. Knox County Mayor Tim Burchett is expected to run for the congressman's seat.
Dave Reichert, Washington.
In a state that leans Democrat, Reichert is a moderate conservative who voted against the GOP's effort to repeal the Affordable Care Act. Like Congresswoman Ros-Lehtinen, Reichert retires from a district that voted for Hillary Clinton during the 2016 presidential election, leaving the seat posed for a Democratic takeover.
Charlie Dent, Pennsylvania.
A moderate Republican, Dent said in an interview with CNN that Trump's presidency was "a factor" in his decision to retire from Congress. The field for Dent's seat is crowded, with many state Republicans and Democrats jockeying for the representative's seat in a crucial swing state.
Dave Trott, Michigan.
After serving seven terms in the House, Trott said he would not seek re-election last fall. The representative represents a district previously won by Hillary Clinton and is being targeted by Democratic candidates.
Pat Tiberi, Ohio.
Tiberi announced he would resign from Congress by the end of January to serve as president of the Ohio Business Roundtable.
Jeb Hensarling, Texas.
The Financial Services Chairman's retirement caught Republicans off guard—Senators Ted Cruz and John Cornyn were both reportedly surprised by the announcement.
When asked whether Hensarling's retirement had anything to do with the GOP's direction, Senator Flake reaffirmed the congressman was "very close to the speaker and that agenda… It's a big loss for the House, and the institution."
Lamar Smith, Texas.
The U.S. House Committee on Science, Space, and Technology Chairman announced his retirement in November.
"For several reasons, this seems like a good time to pass on the privilege of representing the 21st District to someone else," Smith wrote in a statement. "I have one new grandchild and a second arriving soon! And I hope to find other ways to stay involved in politics."
Frank LoBiondo, New Jersey.
LoBiondo was one of 12 House Republicans to vote against the GOP tax plan and is also seeking to block the president's offshore drilling efforts in the Atlantic coast. Due to House Republican rules, LoBiondo was required to vacate his aviation subcommittee chairmanship and his House Intelligence Committee seat in 2019, relegating him to the rear of the GOP.
"Today a vocal and obstinate minority within both parties has hijacked good legislation in pursuit of no legislation," wrote LoBiondo in his retirement letter.
Ted Poe, Texas.
"I will continue this work every day until I retire at the end of this term," Poe said of his retirement.
Nine GOP candidates are currently jockeying to fill the congressman's seat.
Bob Goodlatte, Virginia.
The Chairman of the House Judiciary Committee announced his decision to resign just two days after November's gubernatorial election in Virginia.
"After much contemplation and prayer, we decided it was the right time for me to step aside and let someone else serve the Sixth District," Goodlatte wrote. "I will not seek re-election. With my time as Chairman of the Judiciary Committee ending in December 2018, this is a natural stepping-off point and an opportunity to begin a new chapter of my career and spend more time with my family, particularly my granddaughters."
Joe Barton, Texas.
After nude photographs were released of Barton over social media in November, the congressman announced his resignation. Barton's former chief-of-staff, Ron Wright, announced a congressional campaign.
Bill Shuster, Pennsylvania.
The Chairman of the House Transportation Committee told the Washington Examiner on the onset of 2018 that he would not seek re-election but would spend the next year working with the president on an infrastructure bill before he leaves the House.
Blake Farenthold, Texas.
Farenthold announced his resignation in December, following revelations that he had reached a $84,000 settlement with a former aide.