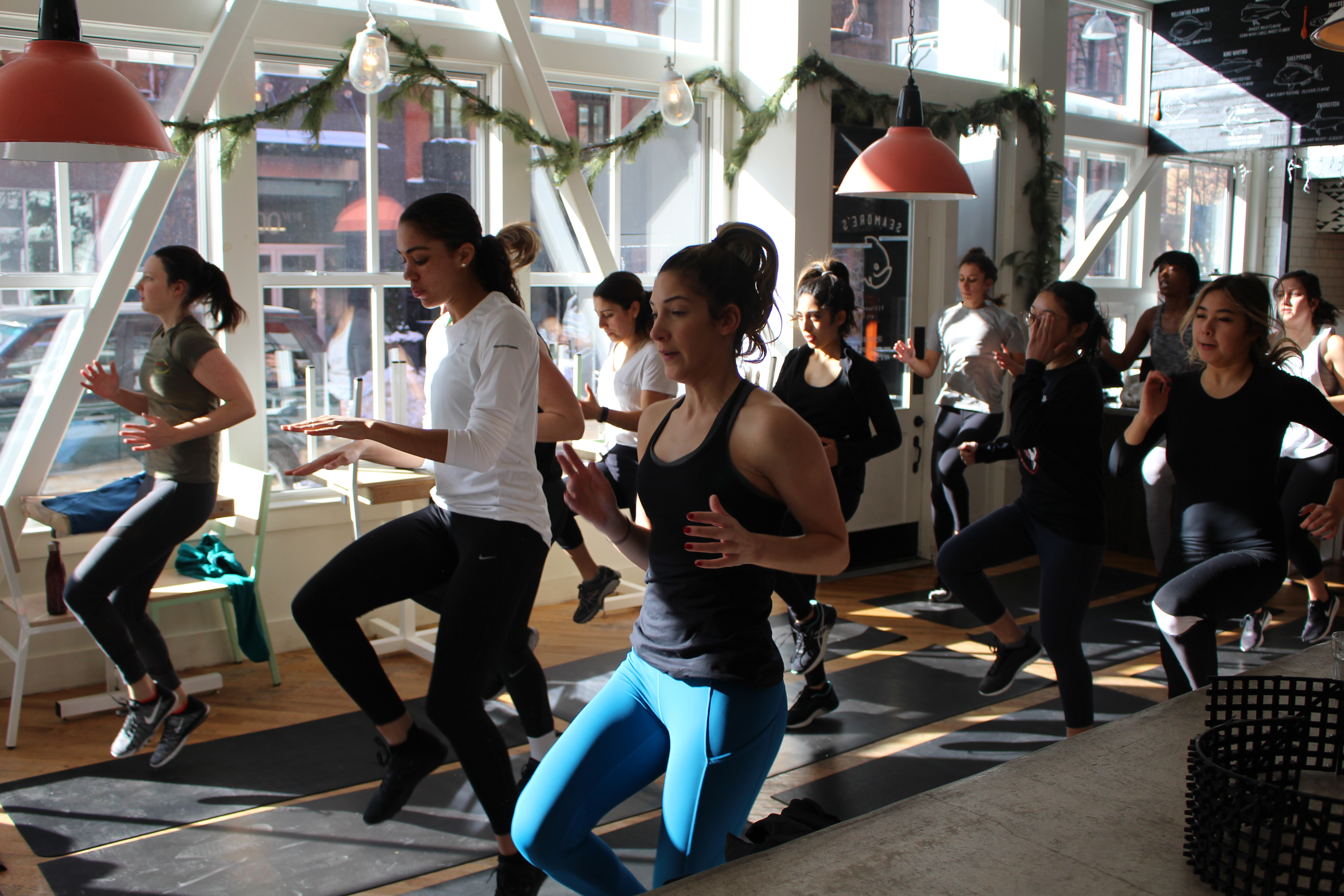 Let's be honest, the majority of us workout on the weekend so we can feel slightly less guilty about leaving boxing class to indulge in a four-hour, carb-loaded brunch with at least a few cocktails.
Restauranteur Michael Chernow, the man behind popular and delicious hotspots The Meatball Shop and Seamore's (and one of the co-founders of juice brand WellWell), understands that the weekend brunch scene in New York is pretty important. But unlike some of his counterparts in this industry, he is also super passionate about health and wellness.
That explains why he began organizing group workouts for his employees a few years ago—but rather than heading to the local SoulCycle, he hosted these sweat sessions on the floor of his own restaurants and finished off the class with a delicious and nutritious sit-down brunch. He sometimes took his employees out to an actual studio, but he has found working out in the actual dining space to be part of the appeal. Take, for example, the Seamore's location in Chelsea, which is bathed in beautiful light and has plenty of open space. It actually makes for an inviting studio space and smelling pancakes while you workout can make any class 50 times better.
Now, he plans to make these group workouts—officially known as Fit Squad—open to the public, by partnering with various local studios and instructors, including celeb favorite Andy Speer, CrossFit athlete Kari Pierce and Nike Master Trainer Holly Rilinger of LIFTED. A number of top studios are taking part in Fit Squad, including Y7 Yoga, SoulCycle, Monster Cycle and Lyons Den Yoga.
But we haven't even touched upon the really exciting part, the brunch menu, which will vary based on the class offered. The instructors and the studios will work with Seamore's to customize the brunch menu on the day of their class, selecting ingredients the partner loves to eat and cook with. The menu is called "Walk, Run, Sprint" and goes from healthy to healthy-ish.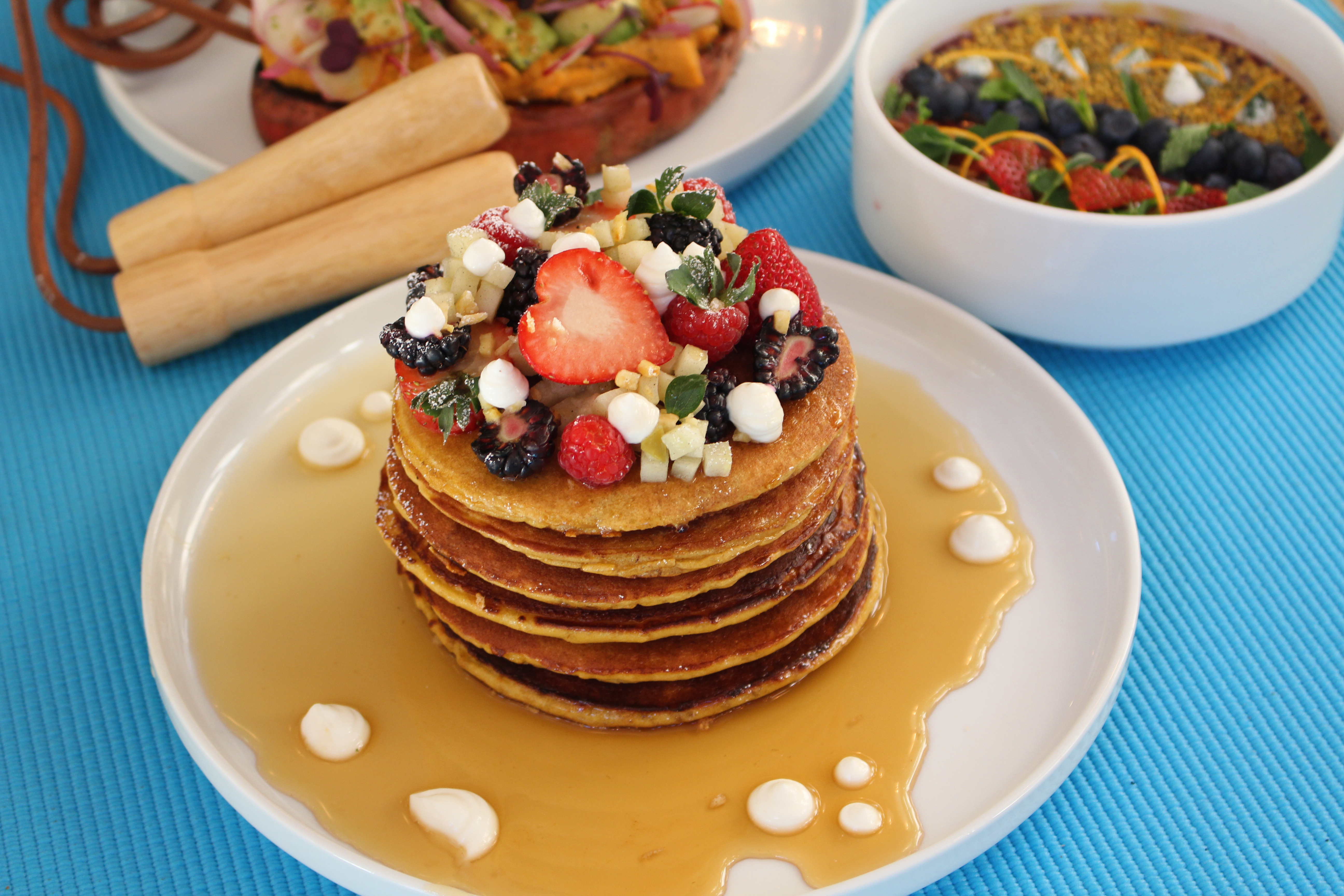 For a recent brunch that followed Rilinger's LIFTED class, we started with an Açai and Coconut Yogurt Bowl with coconut oil, plant protein, bee pollen, spirulina, blueberries and turmeric roasted almonds, followed by Sweet Potato Avocado Toast with puffed teff, apple cider vinegar pickled onions and everything bagel seasoning. The meal finished off with Coconut Flour Pancakes topped with maple syrup, coconut yogurt, stewed apples and fresh berries.
Chernow, a devotee of HIIT workouts, started Fit Squad in an effort to change the image the sex- and drug-fueled restaurant industry. "Fitness and food are my two main passions, so not only does this combine them under one roof, but it brings some added positivity into our culture. With all the recent negative news, positivity in restaurant culture is needed more than ever," he told Observer during a recent Fit Squad class at Seamore's Chelsea location.
"From day one, the menu at Seamore's was built to utilize sustainable fish and overall, to complement a healthy lifestyle, with some indulgences, of course. [Fit Squad] really helps take it to the next level," he said.
Chernow and his team will continue to be influenced by the dominating health and wellness trends in food so expect to see more gluten-free and dairy-free options popping up on the daily menu, as well as alternative and esoteric ingredients like coconut flour. "Honestly, I believe health and wellness are the way of the future for restaurants," he explained. "We are, and will continue to be, a part of that party."