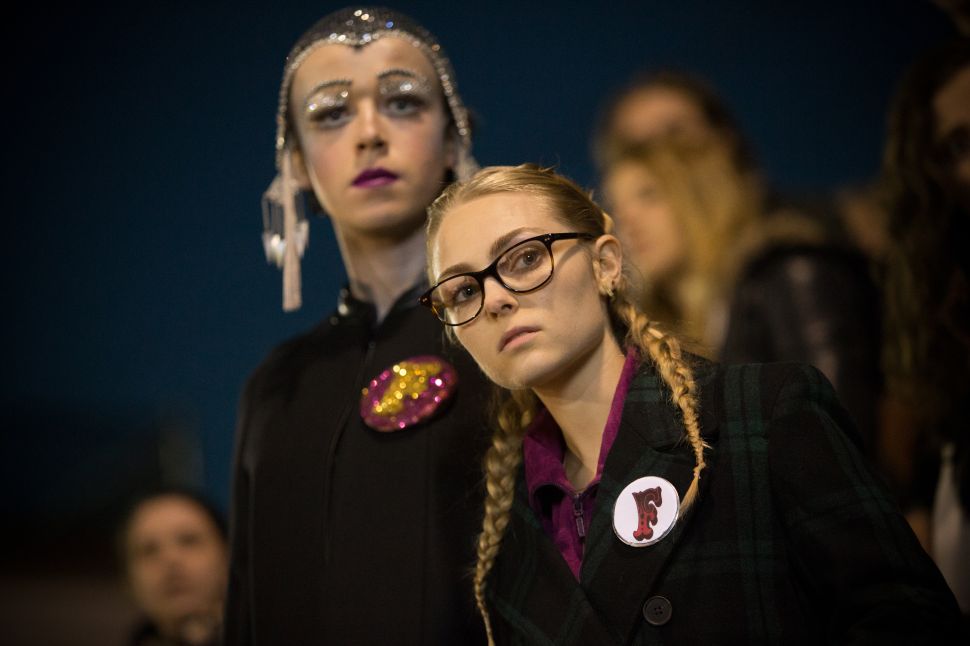 The hot-button topic of gender transfer, not always neatly accomplished by anything as simple as surgery, is addressed, re-dressed and undressed in Freak Show, about an unconventional teenager who has no interest in being a boy, or in acting out any of the socially accepted behavior connected with being normal, whatever that is. He would rather wear zombie mascara, bridal veils and pomegranate lipstick than baseball caps and Wrangler jeans, and the movie follows him through episodes both harrowing and hilarious to declare his independence. The results are a mixed bag of charm and calamity, marking the feature-length directorial debut of Trudie Styler who, in real life, is the wife of singing star Sting. She's a talent worth watching.
Encouraged in adolescence by his bosomy, vodka-swigging, self-indulgent mother (a small but rich performance by Bette Midler), Billy quotes Oscar Wilde and drifts easily into the kind of swishy son for whom his disillusioned father slowly abandons hope. Delighted when his parents split, Billy and his mom become soul mates for seven glorious years, but when she disappears one day into rehab hell, the boy confiscates her gowns, shoes and gaudy makeup, and moves with his father (Larry Pine) from Darien to a fresh hell of his own in a hostile red state where he shows up on the first day of high school dressed like Marilyn Monroe.
The girls pepper him with spitballs and the boys beat the crap out of him, landing Billy in the hospital. He is, to put politely, not only unconventional but freaky enough to make Boy George look like a heavyweight boxing champion at Madison Square Garden. Played with a brave blend of wide-eyed sweetness and uncompromising conviction, Alex Lawther makes a sympathetic, self-proclaimed sissy. I mean, you gotta shake your head and laugh at the same time when, in the hospital, covered with abrasions and suffering from contusions, concussions and internal hemorrhaging, Billy comes out of a coma and asks for lip gloss. When the doctors tell him what happened, he says "I guess they didn't like the dress."
---

FREAK SHOW ★★★
(3/4 stars)
Directed by: Trudie Styler
Written by: Patrick J. Clifton and Beth Rigazio
Starring: Alex Lawther, Bette Midler, Ian Nelson, Abigail Breslin, John McEnroe, Celia Weston and AnnaSophia Robb
Running time: 95 mins.

---
The movie coasts along on the clever attempts by screenwriters Patrick J. Clifton and Beth Rigazio to make Billy as outrageous as possible. Then things change, and a plot begins to form, when—and this is the heart-shaped lump-in-the-throat part—poor Billy is rescued from his misery by Flip (Ian Nelson), the school football hero. He doesn't understand Billy either, but he's a decent, non-judgmental chap with a sympathetic nature, naïve enough to think he can turn the school freak into a guy's guy. He's a perfect friend, because he's not exactly a clichéd jock, either. Enamored of art, with a secret desire to be a painter, he once even told his father he was going to New York for an exhibition at the Met—his dad thought he meant a Mets game.
Hanging out together raises eyebrows, but the friendship eventually curdles when Billy announces his candidacy for Homecoming Queen, announcing to the student body, "I didn't choose to be fabulous. Fabulous chose me!" His policy? To put an end to bigotry and hate and promote "glamour, pageantry and good hair." The election gives other students who are "different" the power to find their own voices. "Vote for me and you're voting for the freak in all of us" is Billy's motto, while his mean-spirited opponent for the school's homecoming tiara is snobby bigot Lynette (a grown-up Abigail Breslin) who stands for "decency vs. depravity." No spoilers about how it all turns out when the ballots are counted, but director Styler's parallels to a recent U.S. election are not exactly subtle.
The cast is sublime, including John McEnroe as the demanding school coach who tortures Billy in gym class, and Celia Weston as the housekeeper who plays more of a mother role in Bill's life than the real mom in whom his adoration turns out to be a life-altering mistake. Freak Show peters out in the end, leaving many issues unresolved, but it is never boring, and its plea for inclusion, acceptance and tolerance over bullying in the confusing fabric of a changing society is laudable.