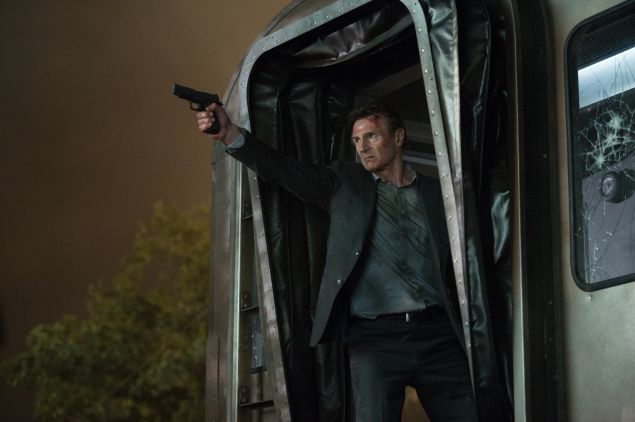 The commuter train from Manhattan to Tarrytown is late. Not because of the usual incompetence on the Metro-North line that strands thousands of commuters every day and jams the six o'clock news with stories about misery, deteriorating rails and inconvenience. No, today the train is filled with terrorists, criminals, cowards carrying guns and persons of interest to the N.Y.P.D., all being tracked by Liam Neeson.
The movie that catalogues this onboard intrigue—unfortunately without much interest or originality—is The Commuter. Everything in it leads up to a swell computer-generated train wreck that is, admittedly, worth staying awake for. But the same hair-raising crunch of derailed metal accompanied by screams and chaos was achieved by Cecil B. DeMille 66 years ago in The Greatest Show on Earth, before the computer was ever invented, so the whole thing has a certain "been there already" deja vu that dilutes the movie's intended wow factor. Everything else in The Commuter is a yawn.
---

THE COMMUTER ★★
(2/4 stars)
Directed by: Jaume Collet-Serra
Written by: Byron Willinger and Philip de Blasi
Starring: Liam Neeson, Elizabeth McGovern, Vera Farmiga and Sam Neill
Running time: 104 mins.

---
Neeson plays an ex-cop named Mike MacCauley, who rides the train into Manhattan every morning to his ho-hum job as an insurance salesman. Five years away from retirement, he lost a bundle in the 2008 recession, and he and his wife (a wasted Elizabeth McGovern) have been struggling to avert a financial meltdown ever since. With two mortgages, a son entering college, and no real assets, Mike is suddenly, without warning, fired in a company downsizing and the same commuter train he's been taking home for the last ten years seems drearier than ever.
Until, that is, a strange woman (Vera Farmiga in what amounts to little more than a walk-on) approaches him with a deal: $25,000 hidden in the bathroom and another $75,000 if he locates the passenger carrying a bag containing…what? This is just one of the numerous mysteries director Jaume Collet-Serra—a Liam Neeson specialist (Non-Stop, Run All Night) dedicated to turning a once-notable actor of range and quality into a scowling, over-the-hill action hero—neglects to explain. As The Commuter turns into a series of head-scratching plot twists that hit brick walls of annoying contrivance, the audience runs out of patience and the film runs out of actors. Even when his fellow commuters begin to fade away faster than day-old tabloids, there is little of substance or excitement to be found in The Commuter.
The train is very much a character fraught with dangers, pitfalls, and secret hiding places, and every passenger a political killer. The engineer dies, the emergency lever doesn't work, and the entire train is headed for destruction at breakneck speed. The whole thing is totally preposterous, but there is some tension; the pacing is breathless and the obvious energy of the train crash deserves applause even though it's derivative and recycled. But what is it all about? Something to do with a conspiracy theory. Conspiracy to do what? Patrick Wilson and Sam Neill also make brief appearances as good cops, bad cops. Liam Neeson is so preoccupied firing guns, trading punches with assorted villains and dragging himself from under the wheels of the speeding train that he doesn't have much time to ask questions that matter. Needless to say, the screenplay is so distracted that it doesn't bother to make much sense. There are enough red herrings to fill an aquarium.
The day is coming (I hope) when somebody makes an action thriller that actually thrills. The Commuter is not it.