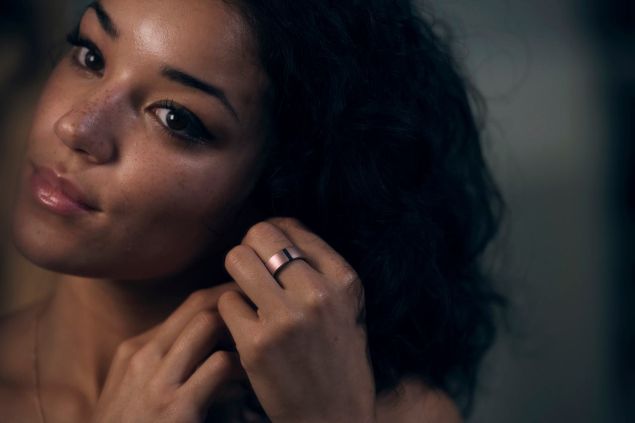 Personal-tech devices aren't, by and large, like fine wines: They don't get better with age. But there are exceptions.
One is the $199 Motiv ring, an activity tracker first announced a year ago at the Consumer Electronics Show, which finally started shipping to customers late last year. After several months of use, and despite a few drawbacks, I've found the Motiv to be a simple, unobtrusive and lightweight way to monitor my exercise, heart rate and sleep.
In its initial iteration, the Motiv felt somewhat unfinished, but announcements made last week at this year's CES, combined with recent enhancements, make it worth a look. The changes have nothing to do with the ring itself, and everything to do with its software.
At launch, the ring didn't support Android devices; its companion app only worked on iPhones and iPads. Yet even on iOS devices, your data remained locked within the Motiv app; you couldn't share it with the Apple Health app, which aggregates data from a wide range of devices.
Last week, though, the company announced that Apple Health integration will happen in 2018's first quarter, while an Android beta program will launch soon and full compatibility should arrive by the end of June.
Meanwhile, Motiv has already rolled out software changes that give you a better sense of your sleep data by capturing and quantifying restlessness, and says it will shortly allow users to trigger monitoring when beginning an activity, providing real-time feedback while they're still working out. All of which is good news if you're looking for an alternative to wrist-based activity trackers like Fitbit.
Buying the Motiv is a two-step process. After planing an order, you first receive a sizing kit with seven dummy rings so you can find the right fit for the right finger. The company recommends using your index, middle or ring finger; being rather salami-fingered, the only combination that worked for me was using the largest-sized ring on my ring finger.
Once you've settled on a size, you'll go online and enter a code to redeem your selection. While the ring is on its way to you, you can pass along your sizing kit to someone else, who'll earn a $20 discount if they order one too.
The Motiv may be a ring, but it's certainly not bling. A simple eight-millimeter, water-resistant titanium band, it comes in only two colors: slate gray and rose gold. A thin black line (all but invisible on the slate model) houses a tiny LED light that glows when the ring is transmitting data to the phone, or charging.
Indeed, pretty much everything about the Motiv is tiny. At 2.5 millimeters thick, it's so light you'll soon forget you're wearing it. Packed inside are an optical heart-rate sensor and three-axis accelerometer to track your activities.
Unlike other simple activity trackers that tend to be built around a 10,000-step-a-day goal, the Motiv's measurement of choice is something it calls "active minutes." These are calculated through a combination of movement and elevated heart rate whenever you're active for more than 10 minutes.
As are many other simple fitness trackers, the Motiv is much better at recognizing distance-based activities like walking and running than more stationary pursuits like an exercise bike or strength training. And while you can enter data on such activities manually, the awarding of active minutes seems a bit arbitrary or puzzling at times.
For instance, I might be awarded 10 active minutes for a casual 10-minute stroll—but only 19 minutes for a sweaty 35- or 40-minute turn on the stationary cycle. (Presumably, the new real-time monitoring feature will clear up some of the mystery.)
Nor am I completely convinced of the accuracy of its heart monitoring—a shortcoming I've found in many simple wrist-based trackers as well. I conducted several experiments using gym equipment that included heart-rate monitoring while wearing both the Motiv and an Apple Watch. In nearly every case, the Apple Watch and the gym equipment largely agreed with each other, while the Motiv usually registered lower rates.
In other words, the ring may be more useful directionally—in identifying periods of higher and lower heart activity—than in providing specifically accurate figures.
The ring comes with two tiny chargers that plug directly into a USB port. One of them includes a magnetic bracket that lets you keep it on a keyring; if you're at all like me, you'll almost surely lose the other one immediately. (To its credit, the company promptly sent me a replacement at no charge.) The company says the battery lasts three days between charges, which has been exactly my experience.
Despite the popularity of gadgets like the Fitbit, AirPods and Apple Watch, we're still in the very early days of wearable tech. As it evolves, you can expect to see sensors become smaller and less obtrusive, even as they grow more sophisticated. The Motiv ring is a step in that direction.
Rich Jaroslovsky is an Observer technology columnist and vice president of SmartNews Inc. in San Francisco. Reach him at richj@observer.com or @RichJaro on Twitter.