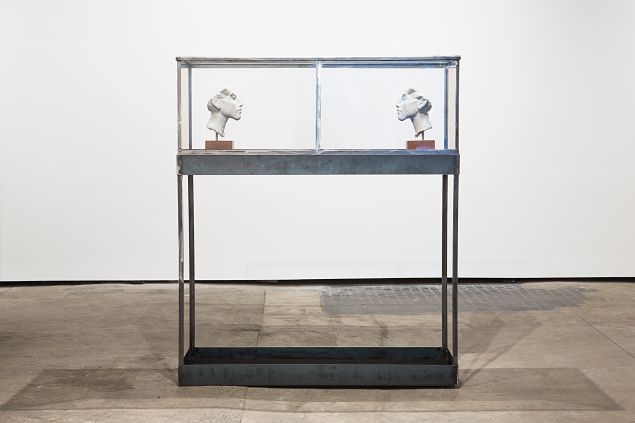 Native Son (Circus), 2006/2015, is the first object that you see when you enter the exhibition devoted to Terry Adkins at Lévy Gorvy Gallery on the Upper East Side. Before you pick up the reference on the wall behind you to Richard Wright's classic African-American coming of age tale, you're looking at a round cluster of ankle-high Zildjian cymbals.
The overlapping metal forms could be leaves in a low-lying Duchamp-ian plant. They're also a machine infernale. The cymbals sizzle at programmed intervals that seem random because the intervals are not fixed. The sound is discreet jazz percussion rather than anything that's intended to jolt.
Terry Adkins died of heart failure at 60 in 2014. A musician as well as a sculptor, he made works that were often reflections on music, usually assembled from found materials from cement to rope to rusted metal. And, as with Native Son (Circus), his sculptures could be music itself. The openings of his exhibitions were performances, with Adkins leading the band. This band of cymbals in Native Son (Circus) gives viewers a faint taste of those events.
The show at Lévy Gorvy, which now represents the artist's estate, is called "Terry Adkins: The Smooth, The Cut, and The Assembled." There's an eclectic feel to it, although rawness, if not a common denominator, is in the texture of much of what you see. There is a uniformly jagged edge on wooden oval shapes mounted on the wall that look like African shields. The blades on a set of long saws have the same uniform spikes. Tools like those saws and massive knives mounted vertically on the walls feel like talismans—odes to an artisanal past, or to the practice of sculpture?
"My quest has been to find a way to make music as physical as sculpture might be, and sculpture as ethereal as music is," Adkins said in a 2006 interview with Dana Roc, posted on the writer's website. "It's kind of challenging to make both of those pursuits do what they are normally not able to do."
This Adkins observation is often repeated. The man was ambitious, and that ambition wasn't limited to the relationship between music and mass.
In Matchbox Blue, 2003, Adkins arranged dozens of rusted, decomposing metal hangars to form a kind of body. A snarl of metal lines remind you of a Giacometti drawing, only with real sculptural volume. His other debt here seems to be to arte povera, the art movement in the 1960's built on the deployment of found materials, the humbler the better.
In Akhenaten, 2013, two molds of Egyptian busts stare at each other from a distance of four feet in a vitrine encased in metal. I thought of Alberto Giacometti's early ensembles, where he placed surreal landscapes in enclosures. Take away the two busts of an Egyptian ruler from Adkins's vitrine, and substitute two basketballs, and you head toward the irony of Jeff Koons. That's not where Adkins was going. His work is many things, but it isn't blithe satire.
On my second visit to the show, a fellow gallery goer was heard to say that he thought the exhibition looked like the work of a teacher, as if there were something amiss because Adkins wasn't stuck in a single medium or material. Adkins did teach at the University of Pennsylvania, and in the 2006 interview with Roc, he lamented that because his work did not sell well, he had no choice but to teach. Critics of Adkins might do better to consider the variety in his work from the perspective of a lifelong improvisatory musician who played a range of instruments. And let's not forget that Adkins was an experimenter until the end of his life.
One such experiment is a sculpture that doesn't share much formally with the other works on view. Columbia, 2007, is a black wooden disk, some six feet in diameter, that hangs on the wall. Adkins painted it in multiple layers of black. It's dedicated to a musician, Bessie Smith, one of the most recorded artists of her time. Smith made many records for Columbia, and enough of them sold so that the disc might be just as well be gold. But Smith died tragically in a road accident in 1937 at age 41, just one of the reasons why this silent monument to her is black. It hits you with a thud but the thud gives way to reflection. Smith's story provides a narrative that makes it more than abstract art. Not that he's made that process easy. Across the room, Bessie Smith Head, Frosted 2007, is a set of spheres in blown glass—all in a chilling white. Here, and in Columbia, Adkins was returning to his stated mission, to make music as physical as sculpture. And why should sculpture just speak, when it can sing?
David D'Arcy is a critic and arts journalist.