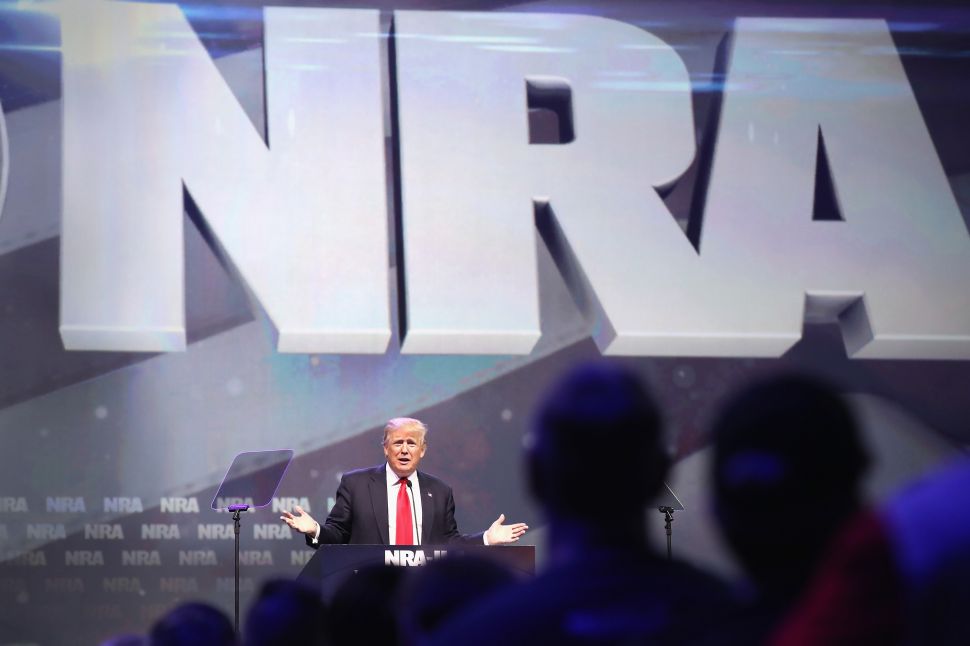 The National Rifle Association (NRA) has been swept into the Russia probe.
The FBI is reportedly investigating donations made to the NRA by Alexander Torshin—deputy governor of the Russian central bank and an ally to Russian President Vladimir Putin. Sources told McClatchy that Special Counsel Robert Mueller's office is examining whether Torshin used the NRA to funnel money into President Donald Trump's 2016 campaign.
The NRA reported spending $55 million on the 2016 elections, $30 million of which went toward Trump. But McClatchy's sources say that the total amount was closer to $70 million—a significant portion coming from dark money that concealed the identifies of donors.
A lifetime NRA member and a former representative of the Russian parliament, Torshin established the Moscow gun-rights group Right to Bear Arms. The organization has regularly worked alongside the NRA in gun lobbying efforts and has hosted multiple joint delegations in Russia.
At the NRA's 2016 convention in Kentucky, Torshin conversed with Donald Trump, Jr. and reportedly attempted to broker a meeting between Trump and Putin. The Russian banker has ties to many powerful conservatives in the gun industry, most notably California Congressman Dana Rohrabacher.
Torshin was implicated in a money laundering scheme in 2016 by Spanish authorities alleging that he helped Russian mafia funnel their money through Spanish properties and banks.
McClatchy's revelations arrive as Mueller's team has focused its attention toward suspicious financial payments linked to the Kremlin. Recent documents published by Buzzfeed show that former Russian Ambassador Sergey Kislyak received a $120,000 payout from the Russian embassy.
The House and Senate Intelligence Committees have previously requested email correspondence between Torshin and members of the Trump campaign in their parallel Russia investigations.