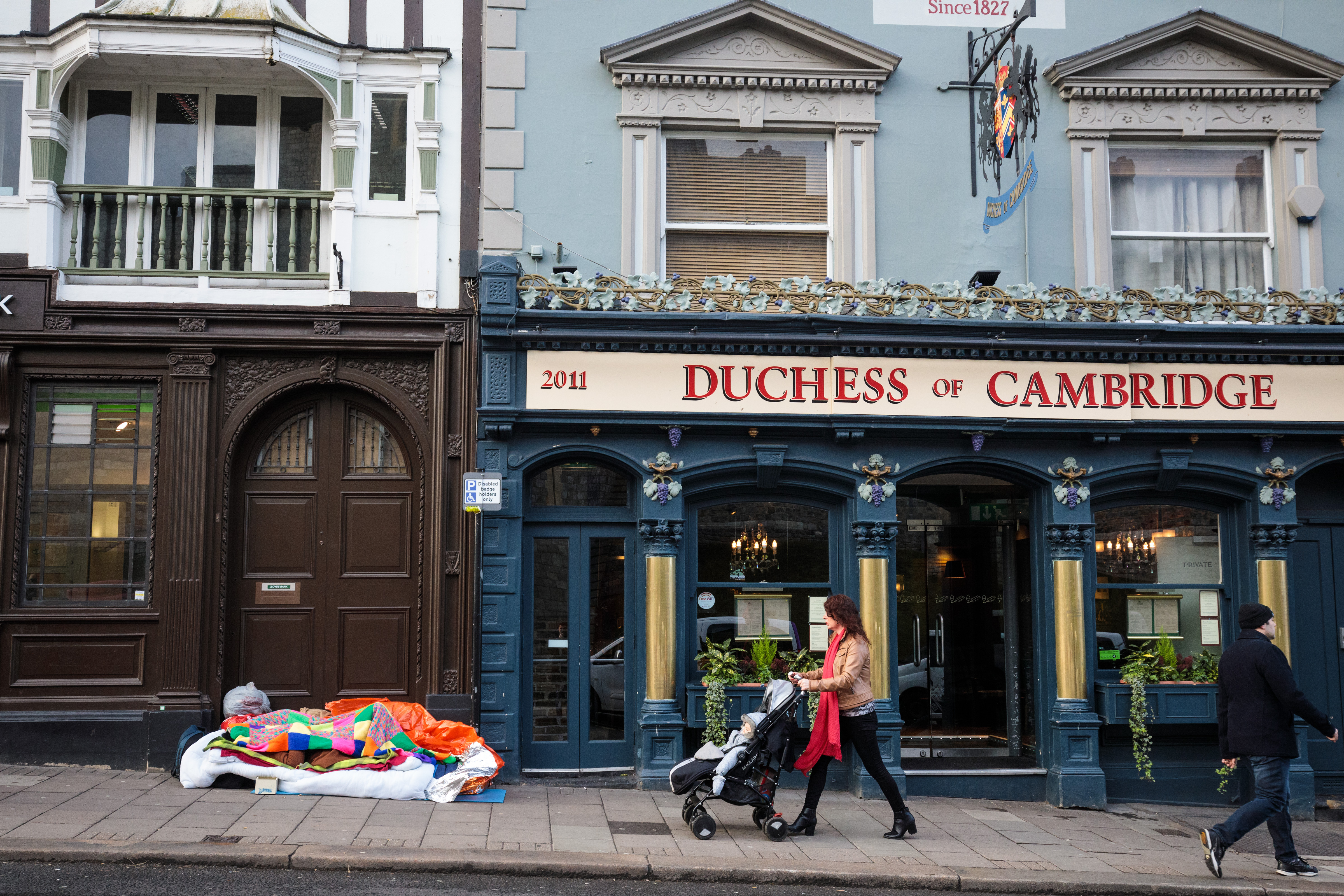 The night before the wedding of Prince Harry and Meghan Markle will see a unique protest, as over 6,200 Facebook users have pledged to sleep rough on the streets of Windsor. The #RoyalSleepOver is in protest to local council boss Simon Dudley, who wrote to police demanding they remove beggars ahead of the nuptials at Windsor Castle.
Perhaps it was not the smartest of political moves for Dudley to have tweeted his complaint about beggars while on a luxury skiing trip in Jackson Hole, Wyoming, but he still makes a valid point.
A quick look at the Facebook event shows that most of those pledging to attend are focusing on the ridiculous notion that the reason for Dudley's actions is that he doesn't want his rich residents to have to see the poor. In reality, the problem is that begging is simply too profitable in the area for it to stop without the law being enforced.
Protesters have also confused two issues that are not the same, namely begging and homelessness. Britain indisputably has a homelessness problem. The charity Shelter says 50,000 people are homeless, with 2,000 of these regularly sleeping out on the street. The rest are in temporary accommodation, so they at least have a roof over their heads, even if it's just a cheap hostel.
There are a number of solutions to homelessness, and by far the least desirable for all concerned is begging.
Both The Royal Borough of Windsor and Maidenhead and its begging population agree there is accommodation available for them, but it's in the dingy nearby town of Southall—well away from foreign tourists who generously fill begging bowls.
Figures provided by the local council suggest around 15 to 20 people have so far refused to move to the hostel in Southall and are therefore living in makeshift tents on the streets surrounding Windsor Castle. A further 80 families are living in hostels at the expense of the local taxpayer, including 122 children.
The council has drawn from this the fairly obvious conclusion that to end the rough sleeping problem completely it needs to do more than just offer housing. The extra push is for the police to enforce laws against begging, cutting off the income stream that is paying to keep beggars on the streets.
The reason for this is simple: beggars can be choosers. Begging gives people with problems, such as addiction and mental health issues, the choice to stay on the streets should they want to. Once their income stream is cut off, they are forced into shelters that provide social workers, proper meals and addiction support.
If you are a heroin addict, you might want to stay on the streets begging for cash to buy your next fix, but what you really need is help. Giving money to beggars might make you feel better, but every penny serves to keep that person on the streets that little bit longer.
The rough sleepers think that the council should open a hostel in Windsor. Presumably, they dream of a time when they can beg all day in the town, spent the money on alcohol and drugs, and then retire to their beds. But that will not happen whether a hostel opens or not because hostels in Britain do not allow people to stay there if they are under the influence of drugs or alcohol; it is simply not safe for the other residents.
As long as begging continues the problem continues, so police must do their bit to help these people, many of whom are unaware of their own needs or how to get themselves back into normal life.
Sleep out on the streets of Windsor before Prince Harry's wedding if you wish. He would probably welcome anything that highlights the plight of Britain's 50,000 homeless people. But if you are coming to Windsor to support keeping beggars out of the hostels they need to be in to survive, perhaps it's better to stay home.
Andre Walker is a Lobby Correspondent covering the work of the British Parliament and Prime Minister. Before studying journalism at the University of London, he worked as a political staffer for 15 years. You can follow him on Twitter @andrejpwalker