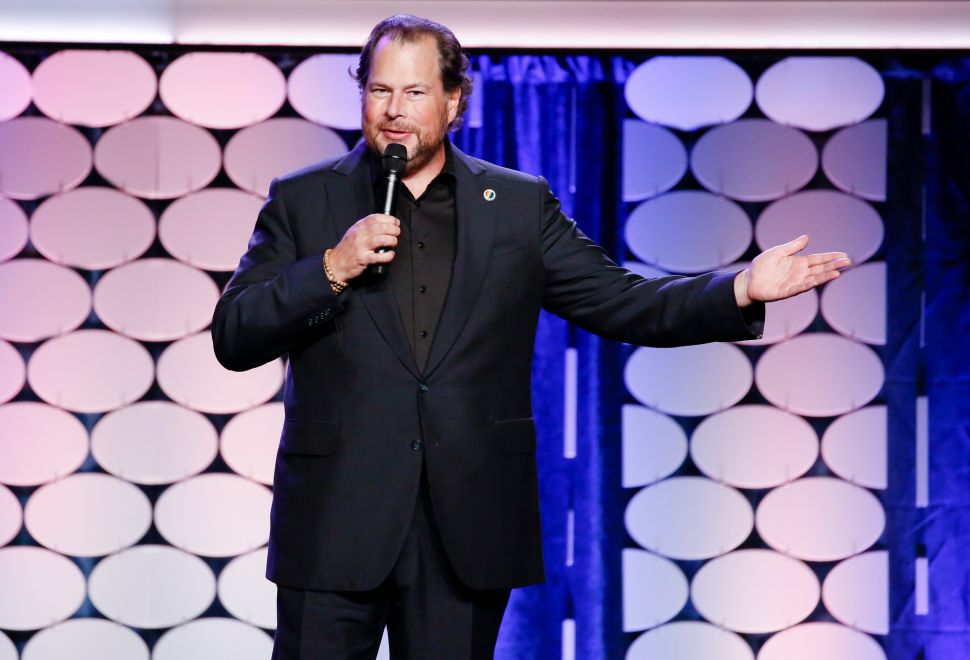 Consumer-facing tech companies like Facebook and Google are utilizing artificial intelligence to analyze their users' habits in order to predict future needs. On the B2B side, enterprise software giant Salesforce is equally fond of AI.
At the World Economic Forum in Davos, Switzerland, on Thursday, Salesforce CEO Marc Benioff reported the latest status of AI in his company—a robot named Einstein—now sits in on the company's weekly meetings and offers important insights.
"I have my top 30 or 40 executives around my table. And we figure out how we are doing as we look at all of this analysis. But now I have a new person with me, and it's kind of an empty chair. We have a technology called Einstein," he said at the conference, per a CNBC report.
"I ask Einstein, 'I heard what everybody said but what do you actually think?'" Benioff shared as an example of his interactions with the robot. One time, he said, Einstein questioned the sales report of a Salesforce employee in Europe. The employee was upset, but Einstein managed to quickly crunch his sales data and brought up evidence to back its argument.
In addition to assisting Benioff during his staff meetings, however, a more important function of Einstein is to make Salesforce's CRM (customer relation management) platforms, a flagship product, smarter.
On the technical level, Einstein eliminates the need for companies to manually prepare data input or build models on Salesforce platforms to fit organizations' needs. All Einstein needs is a set of raw data, sales data, for example, and the machine learning algorithms in Einstein will come up with models that can accurately identify sales leads and predict demand volume—similar to how Spotify recommends songs based on your music preferences, but on a larger scale.
Einstein is the first comprehensive application of AI in CRM platforms. Salesforce began building the technology in 2014. To consolidate research power, Salesforce acquired several startups specializing in machine learning, image recognition and predictive analytics in the following years, and introduced it in September 2016.
Originally naming it Optimus Prime, Benioff changed it to Einstein after the owner of domain name Einstein.com approached him and offered to sell it out of the blue. 
"Right then, I'll always say to myself, 'Why is somebody doing that?' And then I'll have an intuitive response: 'This could be our AI brand,'" he told Fortune last October.