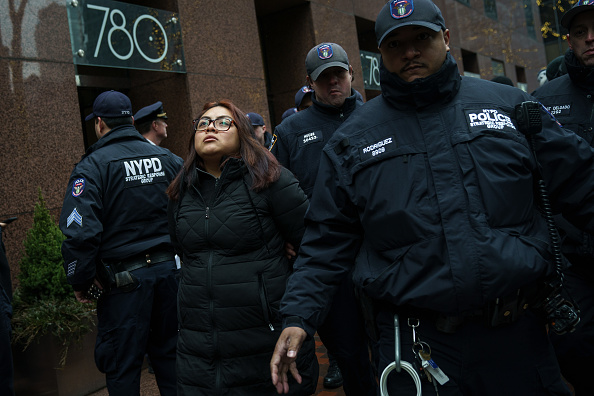 As Congress heads toward a possible government shutdown, Senate Minority Leader Charles Schumer maintained that there is "very strong support" among Democrats for rejecting a short-term spending bill that does not include protections for undocumented youth.
This Friday, government funding will expire. Democrats are calling for the spending bill to include a provision that offers protections for recipients of the Deferred Action for Childhood Arrivals (DACA) program for undocumented youth brought to the United States in their early childhood.
"The overwhelming number in our caucus have said they don't like this deal, and they believe if we kick the can down the road, we'll be back where we started from next time," he told reporters on the Senate floor on Wednesday afternoon. "So there's very, very strong support not to go along with their deal."
Schumer said 78 percent of Americans believe the Republicans will be to blame if there is a government shutdown and that Trump has repeatedly said on tape, "Our country needs a good government 'shutdown.'"
"We just had a caucus," Schumer continued. "We don't know whether the House will send us the bill, but the revulsion towards the bill was broad and strong. Number two, we Democrats believe that we wanna do everything we can to avoid a shutdown. But we Democrats believe if there is one, it'll fall on the Republicans' backs."
A number of Democrats have vowed to vote against any spending bill that does not include a clean DREAM Act, including Sens. Elizabeth Warren (D-Mass.), Kamala Harris (D-Calif.), Bernie Sanders (I-Vt.), Dick Durbin (D-Ill.) and Keith Ellison (D-Minn.), who is also the deputy vice chairman of the Democratic National Committee.
One Republican, Sen. Lindsey Graham (R-S.C.), has also said he will not vote for the funding bill.
Schumer said Democrats have been negotiating in good faith. He said the bipartisan bill proposed by Durbin and Graham is a "fair, down the middle compromise" that includes all of the issues Trump wanted to be addressed in a bipartisan agreement.
He said Trump and the Republicans want to pursue a "policy of intransigence" as they did when pushing the president's health care legislation as well as the tax reform bill.
"I challenge President Trump and Republican leaders to step up and be willing to take yes for an answer," he said. "We've been fair, we're happy to negotiate. We've been right down the middle when it comes to immigration. The time for political posturing's running short, I would tell our Republican friends."
House Speaker Paul Ryan, for his part, said it "makes no sense" for Democrats to bring about a government shutdown and cut off CHIP funding for states running out of money. He said "cool heads hopefully will prevail on this thing."
"We've been very clear," Ryan said. "We want to see a DACA solution. But a DACA solution has got to be a balanced solution. A DACA solution has to be a solution that also not just treats the symptom, which DACA is, but the root cause of the problem in the first place."
On Wednesday morning, a group of immigrant activists from groups like the DREAM Action Coalition and Common Defense protested outside of Schumer's New York City office to demand that he pledge to vote against a spending bill unless it includes the DREAM Act. Three protesters were arrested.
Yesenia Mata, political director of the DREAM Action Coalition, told Observer they are targeting Schumer to ensure there is a clean DREAM Act with no strings attached because they do not want to "throw anyone under the bus."
"Today, the protest was to push Schumer to ensure that he does get all Democrats on board, which he has the ability to do so," Mata said. "He has the ability to tell Democrats… to say we are not going to vote on this bill if this happens. So he has the ability to do that, so it is our duty to ensure that he does push for that, that he does say that."
Mata said Schumer has "completely failed" the DACA recipients and that they have not "really heard from him" in the past couple of weeks. She said they plan to continue pushing him in order to get him to take action.
"For us personally, at this point, nobody knows what's really happening because one day the president says one thing, the next he says another thing," she continued. "One day, DACA recipients are eligible to renew it, now it's repealed. For many DACA recipients at this point, DACA recipients are in limbo."
The next step, she said, will involve working to get elected officials they believe are not fighting on behalf of immigrant communities out of office and putting in individuals who will support them.
"It just shows the growth of the undocumented movement that we are not just organizing on the ground, but we are ensuring that we have people representing our community at the table," Mata added.
Angelo Roefaro, a spokesman for Schumer, told Observer the senator is meeting regularly with immigrant advocates "in the joint effort to provide relief to Dreamers."
"These fine young people are American in every sense of the word but for their status," Roefaro said in a statement. "The support groups know our strategy and support our non-stop effort to include the DREAM Act in any final budget deal. We are working hard, and in a bipartisan way, to make that happen."
This story has been updated to include a comment from Senator Schumer's office.